"For photographers Kiera Stevenson and Louis Bockner, Ben and Cari Lynn's wedding in Cranbrook, BC, was more than just a job. They had attended photography school in Victoria with Ben four years prior and so along with being beautiful wedding it was also a mini-alumni reunion. While they both worked autonomously throughout the day Stevenson took the lead on posing the wedding party and doing family formals. The wedding itself was held in the beautifully restored CPR Railway Museum's banquet hall which provided a perfect canvas for Cari Lynn to go to work doing some incredibly impressive and creative DIY decorations. In fact, when Bockner first walked into hall his first thought was to wonder how much money they had spent on a decorator. Imagine his surprise when he found out that almost everything had been made by the bride herself. Rose petals adorned each table, perfectly cut shimmering name tags directed guests, candles glowed from within wine bottles to mark the aisle and glowing light letters spelled out the bride and groom's names at their own table. It was an absolute treat to photograph such a personal and creative setting and having immaculately restored 100-year-old trains to do shots of the newlyweds on was pretty amazing as well. All in all it showed how much can be done with time and creativity combined with some good new fashioned internet inspiration." –Kiera Nicole Photography + Louis Bockner Photography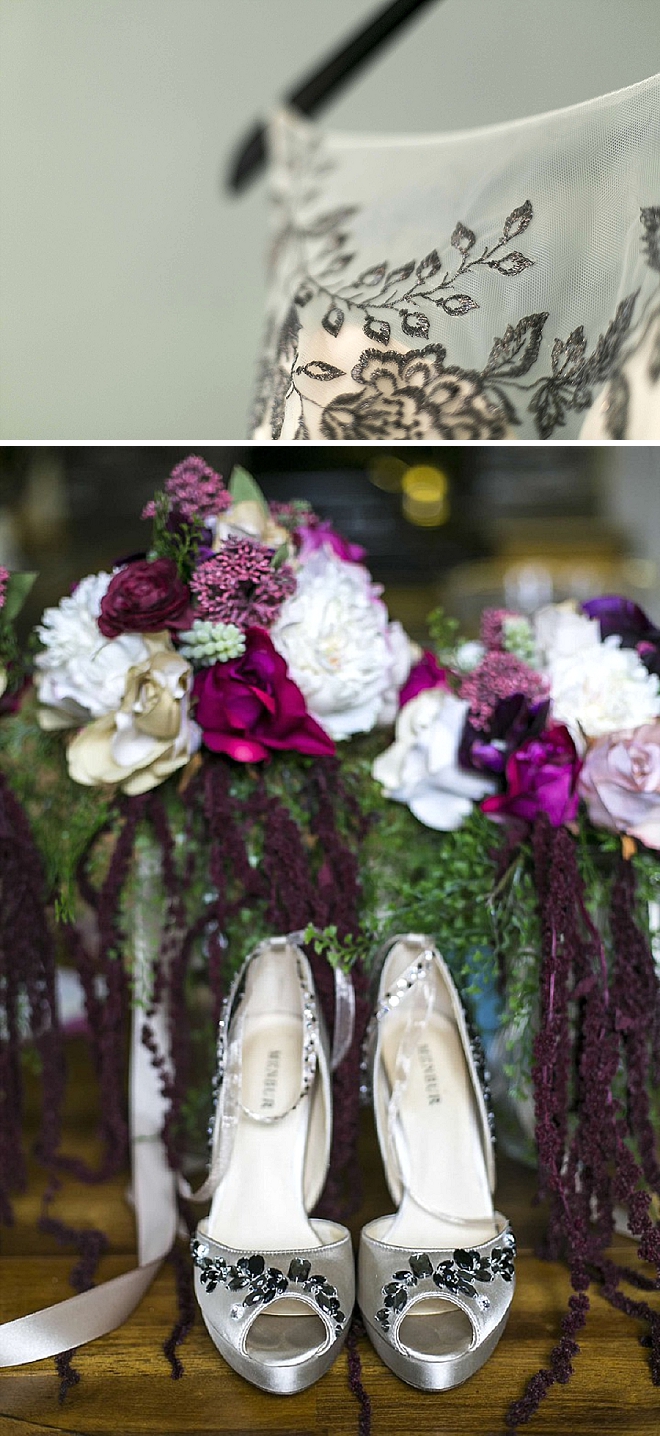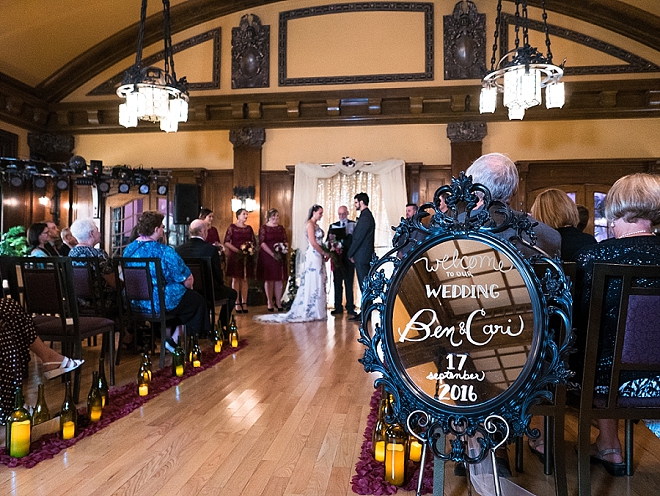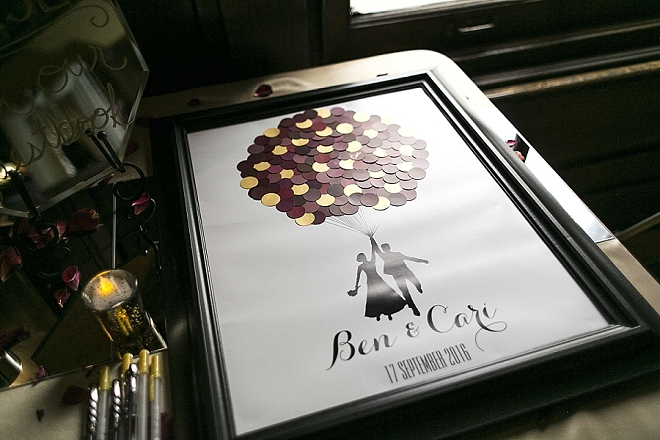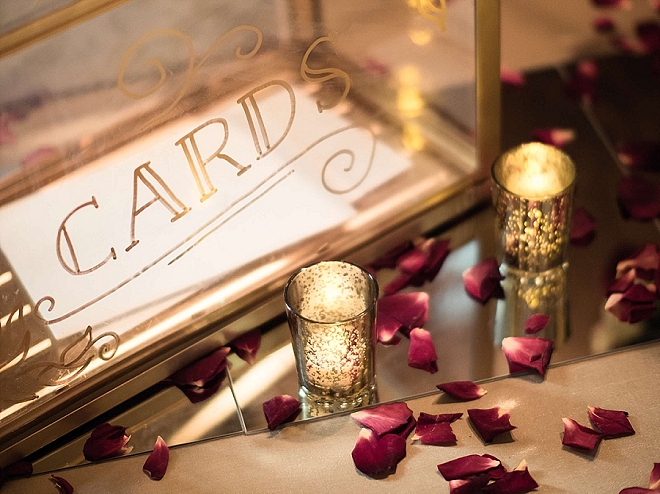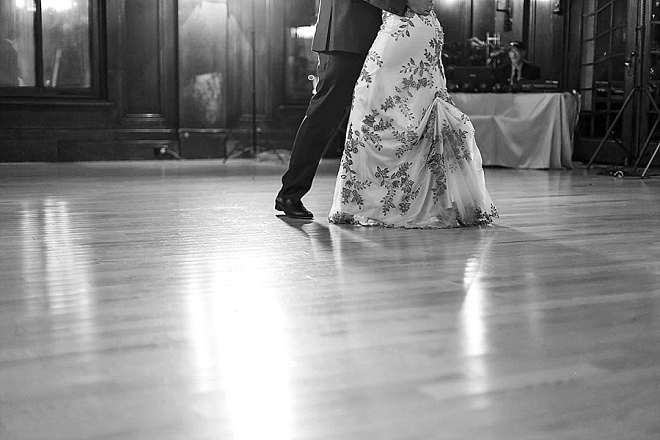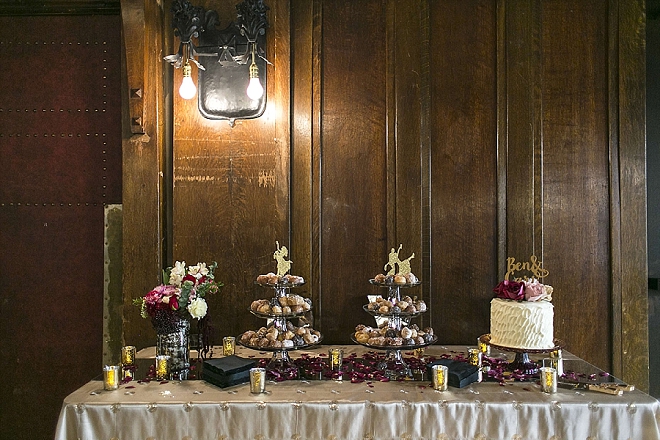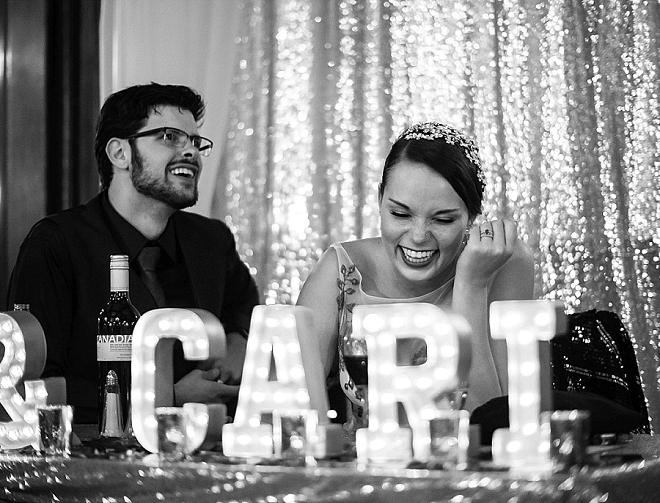 What is your favorite wedding day memory?
The ceremony was easily my favorite part of the day. Despite doing a first look and formal photos before the ceremony, I still cried the whole way down the aisle. When I got to the front, I knew I was about to have a makeup disaster on my hands if I didn't have something to wipe the tears with… so I grabbed Ben's pocket square! It saved me and I handed it off to my Matron of Honor. I think it may have been used to dry a few tears in the bridesmaids' section too. I got it together for the beginning of the ceremony, but when it was time to say or vows, I started crying again. One sentence in, I was completely choked up and out of frustration, I swore – loudly! It's unmistakable in the wedding video. Luckily, everybody laughed, and it helped me get through the rest of my vows.
What did you DIY for your wedding?
What didn't I DIY for my wedding?! DIY projects included: all of the flowers, the backdrop, signage, aisle runners, cake toppers, my veil, the ankle straps on my shoes, the crystal back necklace, painting the marquee lights, cutting the bottoms off of 100 wine bottles, place cards, preparing succulents as place card holders… and probably even more! We had exactly 51 weeks between the engagement and the wedding and I think I had a DIY on the go for it at all times.
Did you have a something old, new, borrowed and blue?
My Something Old was also my Something Borrowed, which was my Mom's vintage ruby birthstone ring. Nearly everything I wore was new, so that was easy. Lastly, m Something Blue was my ring!
Any advice for brides currently in the planning process?
Before taking on any DIY project, make sure it's actually worth your time and money to do it. For our names in marquee lights, I was studying very hard to make it myself and getting a bit concerned about how much work it would actually entail and what it would cost. Then, I stumbled upon the Heidi Swapp Marquee Love letter series from Michael's, which happened to be on sale for half off and after I stacked a "30% off your entire order" coupon, they came out to $7 each… there's no way I could have DIY'ed them for that cheap, and this way, the only effort I had to put in was painting them gold! -Cari, the bride
Event Credits
Photographer: Kiera Nicole Photography // Photography: Louis Bockner Photography // Venue: Royal Alexandra Hall // Catering: The HeidOut // Cake: Tim Horton's // Videographer: Legend Production Studios // Engagement Ring: Pristine Gemstone Jewelry // Bride's Attire: Maggie Sottero // Bride's Headpiece: David's Bridal // Bride's Bracelet: Jam Jewels // Bride's Earrings: Design by Kara // Bride's Shoes: Menbur // Bridesmaid's Attire: Adrianna Papell // Bridesmaid's Jewelry: Icing // Hair: Le Studio Blanc // Bride's Make-up: Amara Waites Makeup Artistry // Bridesmaid's Make-up: Hayley Nielsen Hair and Makeup // Groom's + Groomsmen's Attire: Tip Top Tailors // Ties: Moore's Clothing // Groom's Accessories: The Tie Bar
No related posts found.