Bridal makeup is one of the many decisions that a bride must make before her big day. Natural, bold, vintage, classic, glamorous, boho, edgy – there are many different looks to choose from, but how do you choose? Like most wedding-related decisions, there isn't one correct answer.
As a general rule, you'll want to wear more makeup than you normally do. Sweat, tears, and hugs are all hard on your makeup, so you'll want to make sure you start off by wearing enough. This will also emphasize your features in photos and ensure that your bridal beauty will shine through even in bad lighting and during ugly cries.
Photo: @sazanhendrix.
1. Choose your makeup according to a style (Pin It)
If choosing makeup for your big day overwhelms you, start by finding looks that you gravitate towards. Search Pinterest or Google for "bridal makeup" and pin or keep track of looks you like best (pro tip: Something Turquoise has an entire Pinterest beauty board here!). Once you've collected at least 30 images, examine the entire collection and see what connects them – dewy skin? posy pink blush? long and luscious lashes? Whatever it is, hone in on those commonalities and you'll eventually uncover your inspiration.
Generally speaking, there are three key bridal beauty looks with countless variations:
The Look: Feminine & Natural
Dewy skin
Medium coverage
Nude or pink lips
Neat and brushed brows
Peach or pink blush
Highlighted cheekbones
Light eyeliner
Iridescent eyeshadow in natural, earthy tones
Natural-style false eyelashes
Photo: EnzeBridal Etsy Shop.
The Look: Vintage
Winged black liquid eyeliner
Medium coverage
Nude eyelids
Red lipstick
Light or no blush
Bold brows
Half or full set of false eyelashes
Found On: Hair and Makeup by Steph, Photographer: Ciara Richardson.
The Look: Glam
Smokey eyeshadow and liner
Heavy coverage
Full set of false eyelashes
Bronzer
Contoured cheekbones
Bold brows
Lipstick of choice
Found on: The Wedding Co., Makeup: Bianca Harris and Erin Winn of The Look Beauty, Photographer: Svetla Vesnaya of Purple Tree Photography, Hair: Aisha Ebony.
2. Choose your makeup based on your venue & theme
If you already have your venue and/or theme, consider building your beauty look around it. Whether it's a beach or a backyard, your venue can give you cues on what type of beauty you naturally gravitate towards. For example, a beach wedding would be the perfect location for dewy highlighter, a touch of bronzer, and a soft, pink lip. A vintage style wedding would pair perfectly with a bold cat eye and vibrant red lipstick.
Found On: Beautylish, Makeup: Beauty By Petra L.
3. Choose Your makeup based on your dress
One of the most common ways to choose your bridal beauty is to base it around the overall style of your dress. If your dress features lace and flowing material, consider a soft, romantic look; a slinky, sexy dress calls for a smouldering smokey eye; and bold eyeshadow perfectly complements a non-traditional dress.
Photo: Carlos Serrao, Stylish: Maryam Malakpour, Makeup: Sabrina Bedrani, Hair: Dennis Gots.
4. Choose your makeup based on your signature look
If you're lucky enough to have a signature beauty look, simply step it up a notch on your wedding day. Go a little stronger and bolder with all of your makeup to make sure it shows up in photos and lasts all day.
Photo: Erich McVey.
5. Ask a Pro
If you've hired a makeup artist for your wedding day, don't be afraid to ask for their advice. After all, they're the expert. Most makeup artists offer a consultation and/or a trial session, so this is the perfect opportunity to find out what looks best on you. Don't forget to show them images that you like so they can get a clear idea of what you're envisioning.
Found on: The Wedding Co., Makeup: Bianca Harris and Erin Winn of The Look Beauty, Photographer: Svetla Vesnaya of Purple Tree Photography, Hair: Aisha Ebony.
---
A Makeup Must: Wedding Day Touch-Up Kit
---
Whichever look you choose, plan to have a wedding day touch-up kit. This kit should include mascara, eyeliner, blush, lipstick, and concealer. For bonus points, consider adding hairspray, bobby pins, and some blotting papers.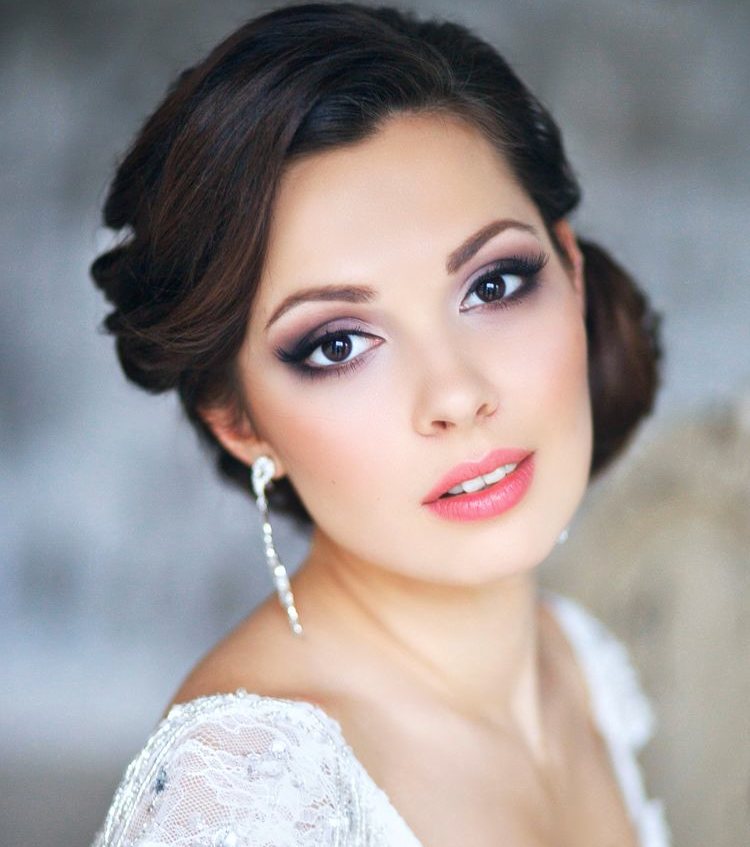 Found on: elstile.ru.
---
Kendra Hagerman is a fashion, beauty, and lifestyle writer who had a dreamy DIY backyard brunch wedding. Her and her husband are now the proud fur parents of Mona, a chiweenie rescue that is still getting used to the Canadian climate. You can find her on Instagram, Pinterest, Twitter, and Facebook.
---
No related posts found.