November 16, 2016
"Nikki and Dave's wedding was a perfect, beautiful day! The gorgeous, natural environment of Bass Lake, CA complimented the pure, positive energy of the whole day. It was one of those very special wedding days that had an easy flow and all felt so right for the couple! You could feel the deep spiritual connection to the lake for Dave's family as they have visited every summer for the last 25 years! I was so impressed that Nikki planned every single detail of the wedding and even made a seating chart with Dave and her Dad which was made from wood and chicken wire and had unique images of the wildlife and natural sights of Bass Lake, CA with each image assigned to one of the 12 tables. The Father of the Bride even surprised everyone by learning to sing and play piano and after his welcome toast and just before the couple's first dance he sang, "I hope you dance" by Lee Ann Womack while playing the keyboard. It was just so sweet and one of the greatest highlights of the day for the Bride and Groom and their guests along with their first dance, which was a choreographed ballroom dance to "Songbird" by Eva Cassidy. Lucy Clearwater performed the song live so beautifully it even brought some of the guest to tears. There was definitely magic in the air and even butterflies flying over their head during their first kiss auspiciously blessed the couple, which made for stunning photographs. It was a beautiful day by the lake, nothing short of magical. What a lovely way to enter into forever!" –Catherine Hall Studios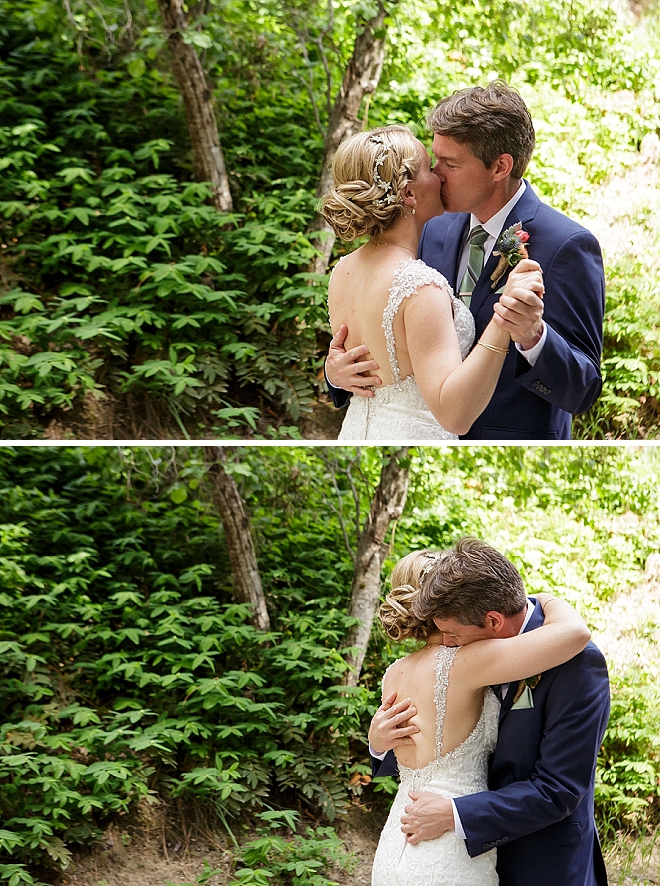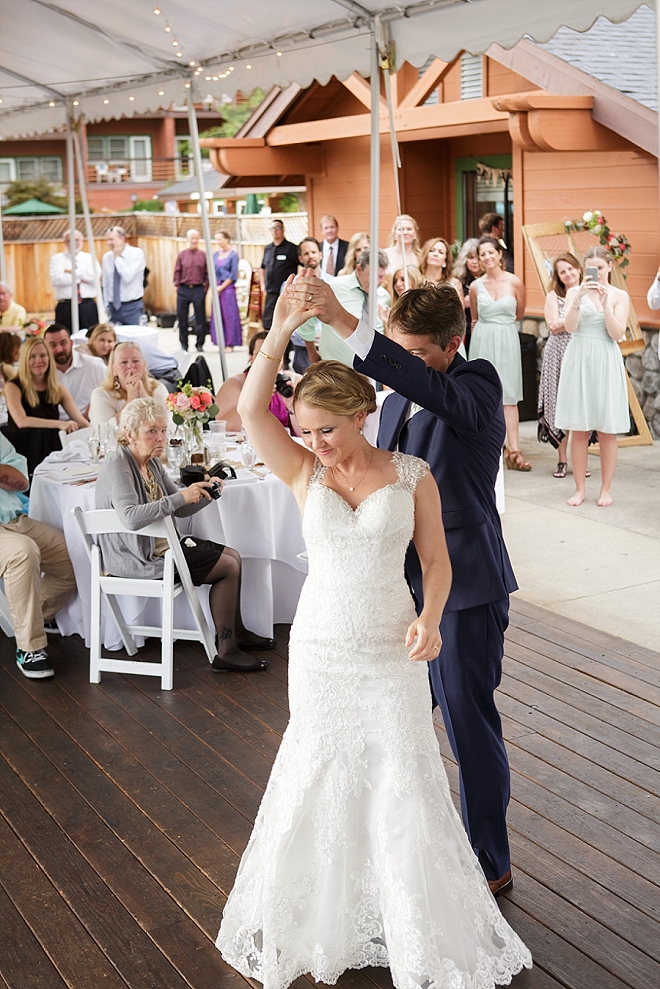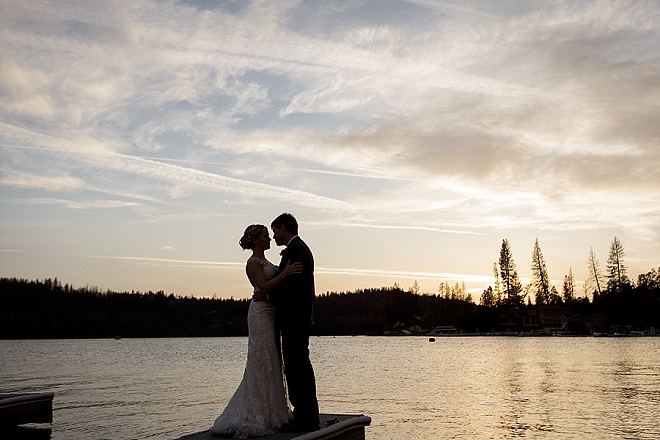 The Bride and Groom were close friends from junior high who reconnected almost 20 years later and fell in love. All of their closest friends, including mutual high school friends and family met in Bass Lake, CA. They rented a grooms cabin and 4 story bridal cabin on the lake for their wedding party and put on an unforgettable weekend of fun for everyone.
Bass Lake is a special family destination for the groom who has been nearly every summer for the past 25 years. It was the Mother of the Groom's favorite place to visit before her passing in 2009. Although the Grooms Mother was only there in spirit, his grandmother on his mothers side at age 93 made it to the special weekend and sat as a very special guest in the front row. The wedding palette was soft and romantic in light peach and sage. Florals included succulents, eucalyptus, peach roses and light pink and white peonies. The bride planned every single detail including, flowers, lighting, dinner menu, succulent topped cupcakes, invitation suite, and a seating chart that included 12 images of the wildlife and natural sights of Bass Lake, CA.
The couple gifted their guest with welcome canvas totes filled with a weekend schedule, an aluminum water bottle with the couples wedding logo and a CD with all the couple's special songs from the weekend and beyond. The bride's 6 Bridesmaid's bags also included sports socks labeled "Bride's Babe" and each girls name. They also received a tank top designed by the Bride that included a peach heart with the word "Yay!" on it in sage plus the wedding location, date and wedding hashtag (#NandDSoHappy).
The Father of the Bride surprised everyone by learning to sing and play piano and during his welcome toast he sung "I hope you dance" by Lee Ann Womack while playing the keyboard. It was one of the greatest highlights of the day for the bride and groom. For their first dance, the couple performed a choreographed ballroom dance to "Songbird" by Eva Cassidy which was performed live by Lucy Clearwater and brought the guest to tears.
Event Credits
Photographer: Catherine Hall Studios // Videographer: Family Branch Films // Venue: The Pine Resort // DJ: Carlos Rich of Big Pop Productions // Live Music: Lucy Clearwater // Officiant: Reverend Tom Kelly // Invitations: Imaginary Beast // Engagement Ring + Wedding Bands: Pave Fine Jewelry Design