Celia Grace just released their 2017 wedding dress collection and they are looking for help naming one of their stunning new dress styles in honor of an amazing woman – and they need our help! Some existing style names include Amelia (Earhart, pilot), Rachel (Carson, environmentalist), Eleanor (Roosevelt, humanitarian), and many more strong women from the US and around the world. The dress that we, that's right, the Something Turquoise readers get to name what is currently being called the Grey Goddess… isn't it stunning!?!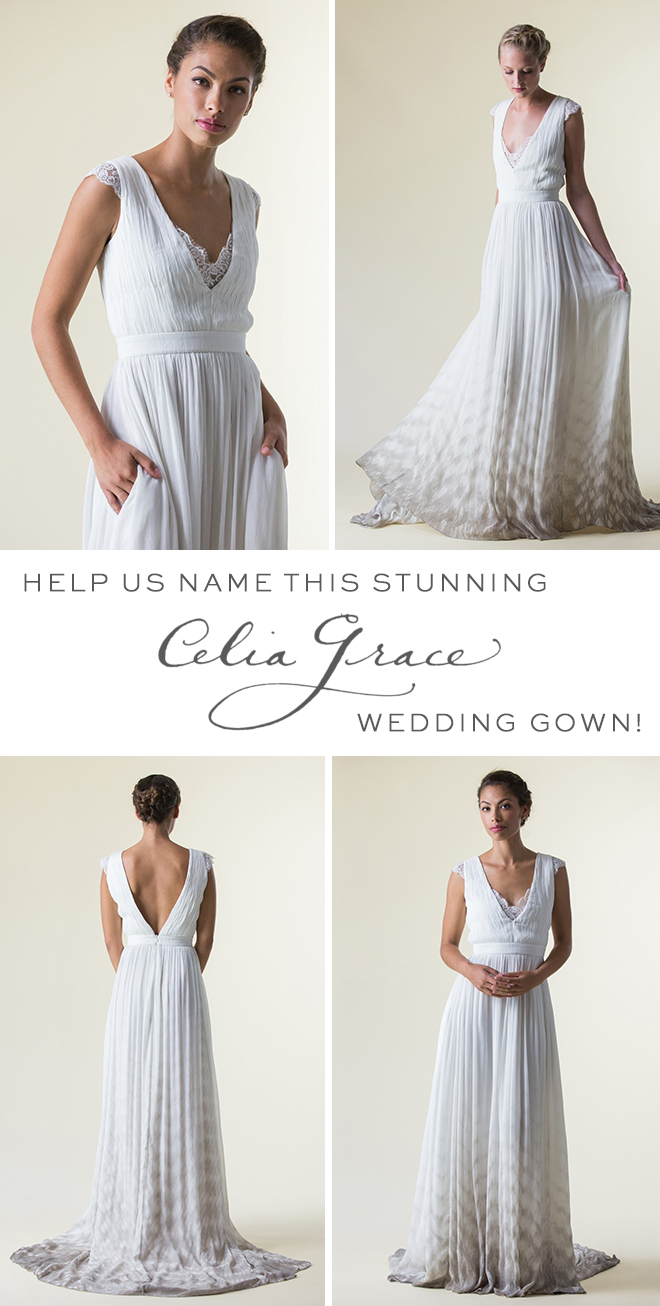 About The Dress
This ivory and shibori grey wedding gown radiates femininity and elegance. From the delicate lace cap sleeves to the hand-ruched bodice, to the shibori-dyed skirt, this dress is a work of art as unique and thoughtful as the bride who will wear it. The dress features a flowing chiffon skirt and an inset sash at the natural waist. A dramatic open back accentuates the shoulders, neck, and back. Pockets add a touch of whimsy and fun! The grey color used in this dress is all natural and made by a small sewing group in India that recovers flowers from temples and uses them to make organic dyes that infuse blessings into the very fibers of the dress. Each dress is hand tied and dyed to create the look of light dancing on water. It is fully lined and the bodice offers light support through boning, interfacing and bust cups. Invisible zipper at back. See it in action here.
Let's Brainstorm In The Comments
Let's brainstorm as many inspiring women as possible after whom this dress can be named. Public figures (past or present) are best but all suggestions are welcome. To suggest a name, simply share it in the comments below! You have one week. Next Saturday I will share our list with the fabulous ladies at Celia Grace and we'll announce the winning name on Saturday, November 26th!
---
---
Celia Grace is a fair trade wedding gown company that connects women around the world. Brides receive a stunning wedding gown that makes them look and feel more beautiful than ever, while the dressmakers work in safe conditions for fair pay so they can take their kids to the doctor and send their girls to school. By naming each dress after an inspiring woman Celia Grace continues this cycle of building positive connections between women around the world.
---
---
No related posts found.