Lindsey + Frank had a STUNNING day at Lumen, a gorgeous historic venue in the heart of St. Louis. When Lindsey initially reached out to me, she spoke of a romantic navy + blush themed affair filled with flowers and lace and their favorite things. Boy, they did not disappoint! Each part of their day was oozing with class and elegance and every last detail was perfectly planned and placed…and get this, it was all designed by Lindsey herself! This is not your average DIY wedding! –Kairos Photography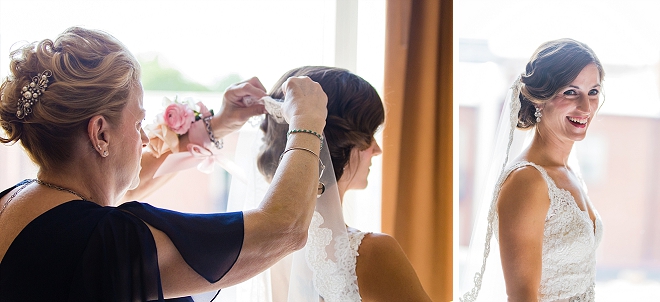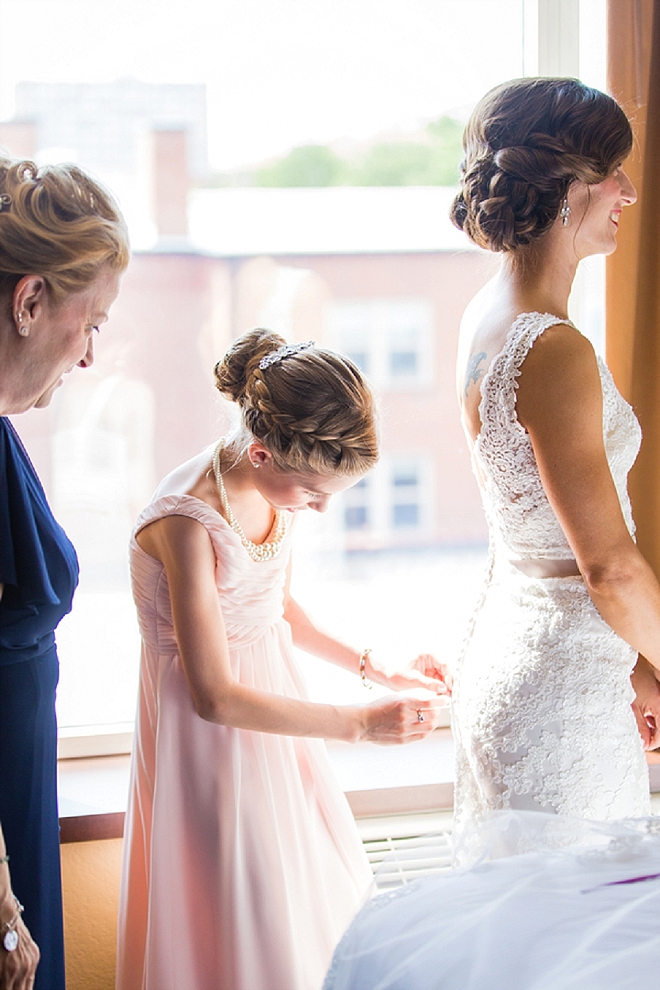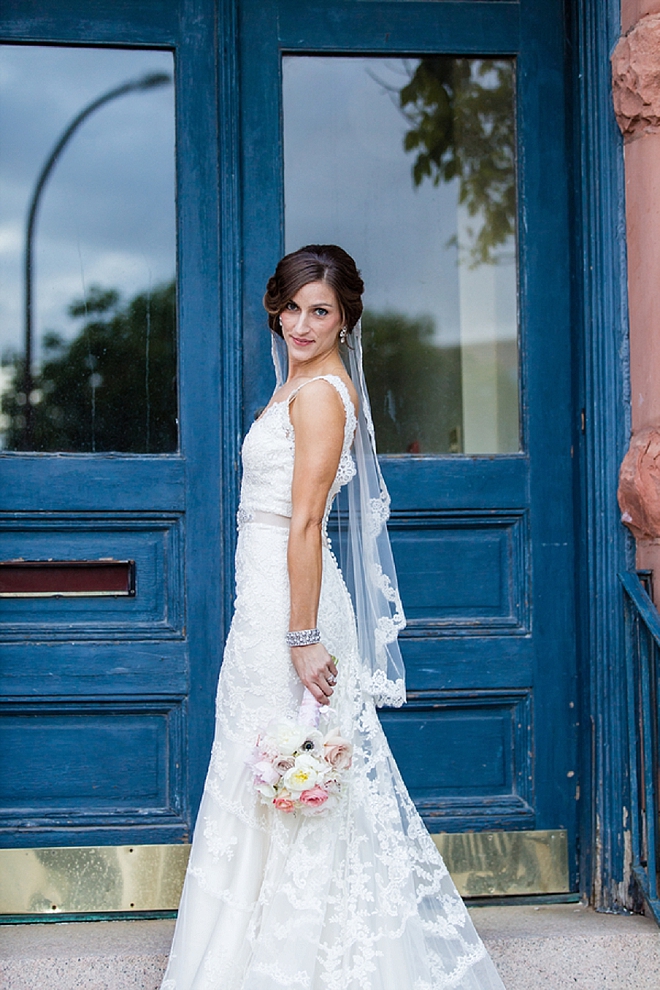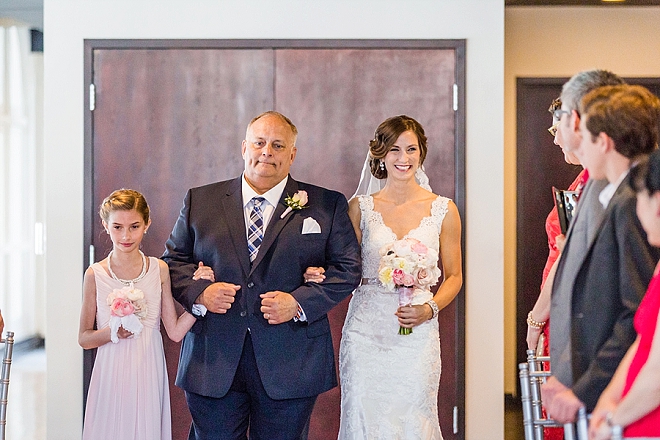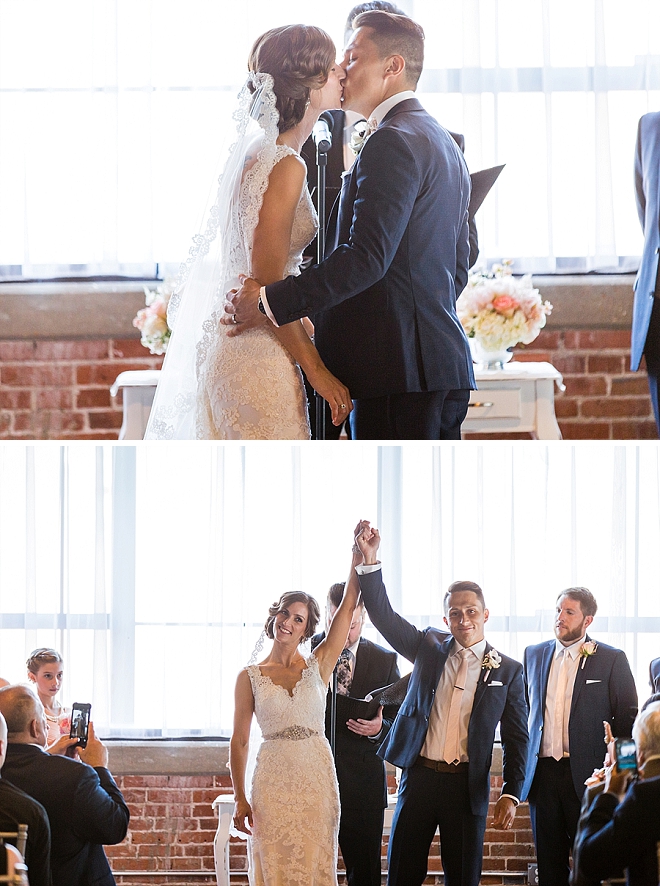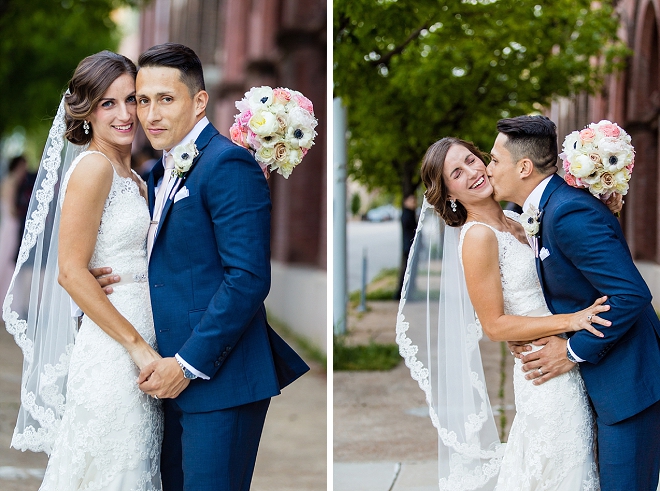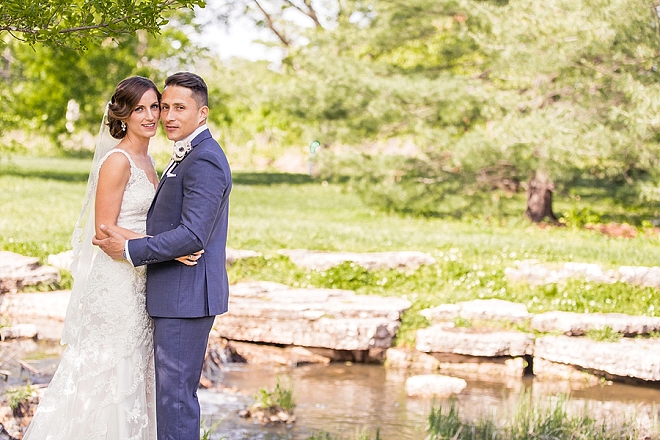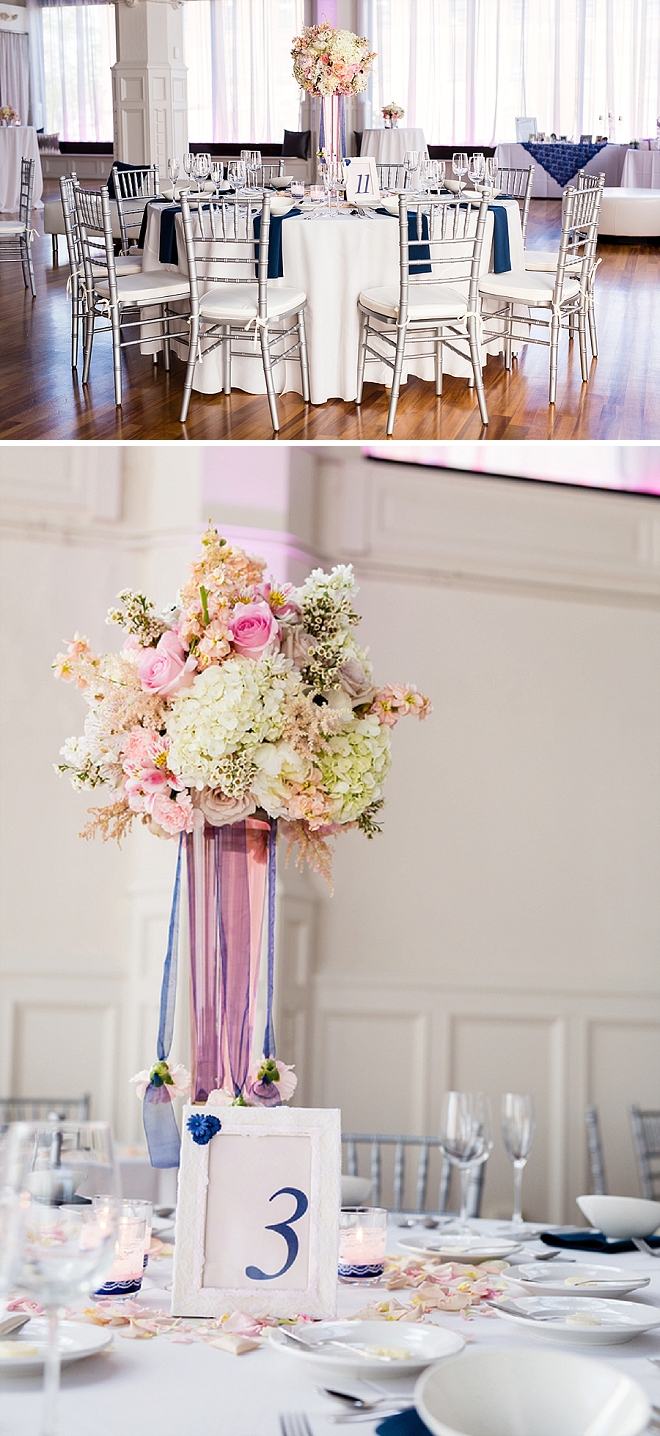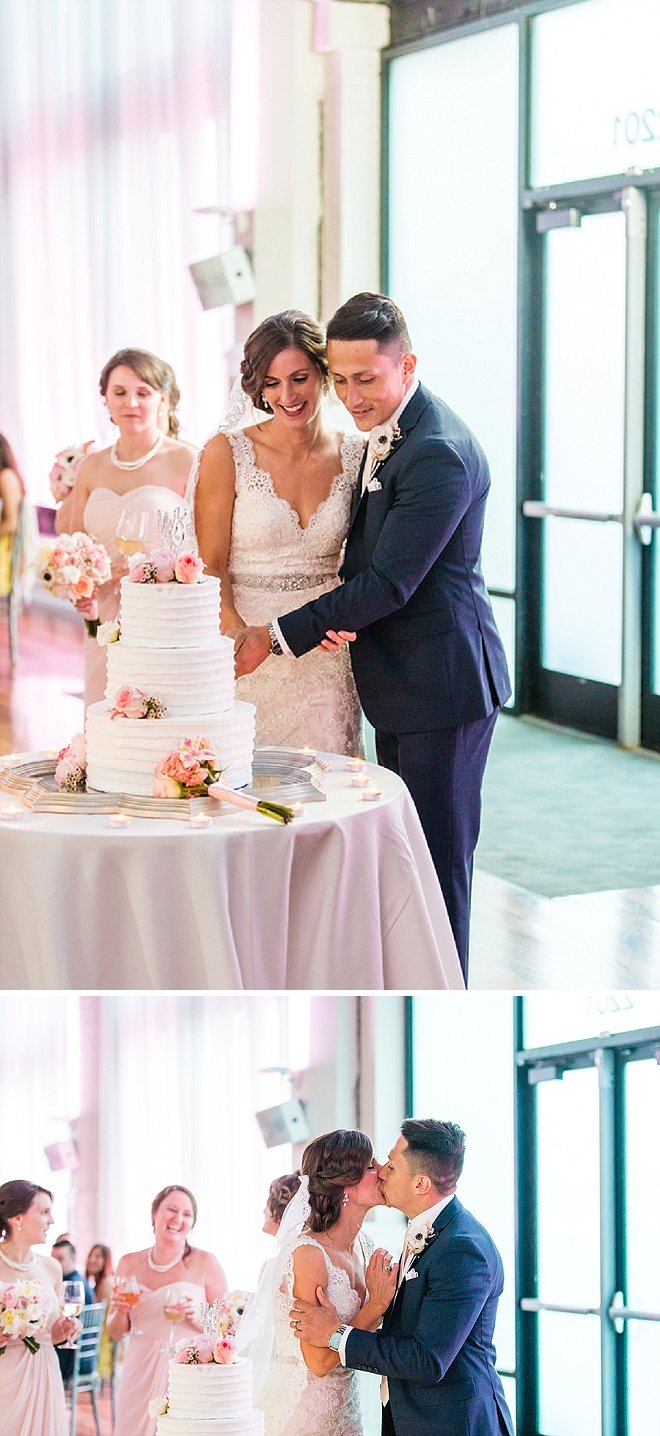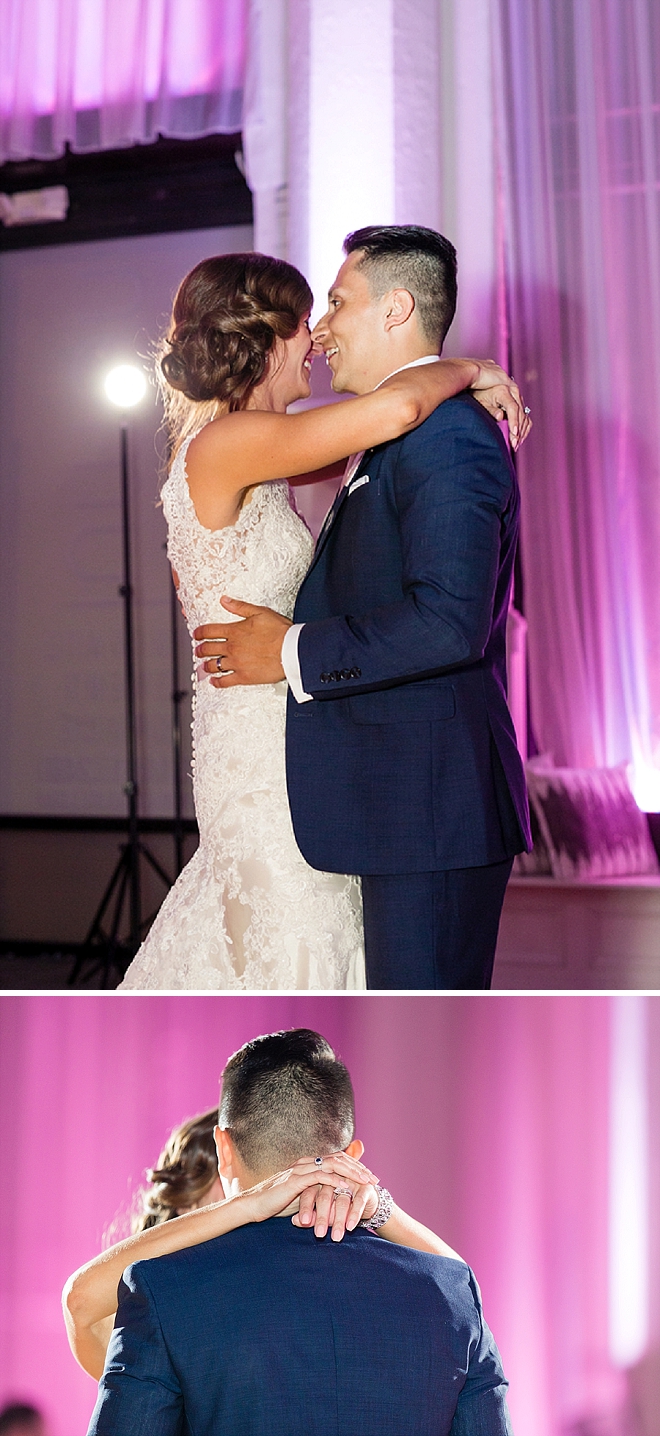 What is your favorite wedding day memory?
It's really difficult to choose just one moment from one of the most special days of my life that stands out the most for me. I had such a wonderful time the morning of getting ready in our suite at Moonrise Hotel with my best friends, sisters, mom and daughter. We laughed, we ate, we drank and had the best team get us all dolled up. What more could any girl ask for! My Mom helping me into my dress and putting my veil on is a moment that only happens once in your lifetime. That is a memory that will always stay with me. Another moment, I loved was the first look up on the balcony of the hotel. There's something special when seeing each other for the first time before you walk down the aisle. A private moment shared for just us. Lastly, my family lives in Cleveland, OH so we see each other maybe just a couple times a year. My Dad walking me down the aisle and our Father Daughter dance will always hold a special place in my heart. I'll never forget how nervous he was or the tears in my Mom's eyes. My wedding day is truly one of the best days of my life! So many wonderful memories to cherish all my life.
What did you DIY for your wedding?
I've always loved art and crafting. I knew from the beginning I was going to do a lot of our décor myself. Since I love everything old and antique, our wedding theme was "soft vintage romance." Our wedding favors were potted succulents which also served as seating cards. I purchased little white tins from the Dollar Store and added the accents myself. Our florist delivered the 110 succulents five days before the wedding and we transferred them into the white tins. The seating cards were recycled from the RSVP cards we received. I used clear labels and then cut the bottom of the RSVP cards. The holders were made out of ivory floral tape and stem wire which we twisted around a marker. A lengthy process but they turned out perfectly and were a big hit with our guests!
I designed our wedding guest book on Mixbook's website from the engagement pictures Kairos Photography took of us back in the fall. It was a great way to display the photos and incorporate a more personal guestbook we'd definitely revisit over the years. I filled the table with vintage pictures of our Parents and Grandparents wedding pictures and other old photos from our family. It looked beautiful!
All of the table numbers I created from the Dollar Store picture frames which I spray painted ivory and then overlayed with lace and pink ribbon. I purchased pink and rose Mylar paper from Hobby Lobby to print the navy table numbers. I also wrapped lace and ribbon around all of the table votive candles.
When you entered the reception, the venue had a niche wall which I filled with all kinds of personal items from baby pictures, the proposal picture, wooden letters of our last name initials, lace wrapped jars filled with fairly lights and candles, soccer memorabilia, Colombia and USA flags and a framed wedding invitation. It showed a little bit of us when you entered the venue.
The bird cage was a $6 steal from the local Antique Mall. A little bit of spray paint, some woven lace and ribbon topped with Dollar Store floral arrangements turned it into a unique card cage.
My nephew carried a sign down the aisle that read "Last Chance to Run" and then during the recessional he turned it around and it read "Don't Worry Ladies, I'm still Single!". I bought a piece of wood from Home Depot, painted it brown then painted over it in white ceiling paint and finally distressed it with sandpaper to give it an antique look. I stenciled on the lettering and then hand painted it very carefully! Adding the ribbon was the easy part!
Lastly, the altar was a hall table I found on Craigslist. I removed the hardware and filled the holes with wood filler. Then I sanded the entire piece down, painted it with white ceiling paint and then used sandpaper to distress it to give it the old antique look. New hardware was purchased from Home Depot and simply re-drilled into the drawers. This is definitely a piece we can keep for our home.
Did you have a something old, new, borrowed and blue?
My Maid of Honor and another bridesmaid surprised me with a something new and something old wrapped into one. They contacted my Mom to get a copy of my deceased brother's handwriting in 'love' and had it engraved into a heart shaped charm. I was in tears when they gave it to me the night of the rehearsal dinner. My florist attached it to my bouquet. My something borrowed and blue was an antique blue sapphire ring I borrowed from one of my bridesmaids that was her Grandmother's.
Any advice for brides currently in the planning process?
I know it sounds cliché to say "it goes by fast, so enjoy every moment!" But it truly does. From the minute you start planning to the DJ's last song, it is hard to believe it's over. Cherish every moment and have a lot of fun in the process! -Lindsey, the bride
Event Credits
Photographer: Kairos Photography // Venue + Catering: Lumen St. Louis // Videographer: Kairos Creative // Planner + Florist: Solstice Event & Design // Cake: Laulie Cakes // Invitations: Mixbook // DJ: Premier Entertainment // Engagement Ring: Huddleston Jewelry // Bride's Attire: Allure Bridals // Bride's Shoes: Betsy Johnson // Bridesmaid's Attire: Bill Levkoff // Bridesmaids Jewelry: Target // Hair: St. Louis Bridal Hair & Make Up // Make-up: Looks by Lisa // Groom's + Groomsmen's Attire: Bar III by Macy's
No related posts found.