A funny little fact that you might not know about me is that I was a traveling wedding hairdresser for 12 years before I started this blog. I love wedding hair and it was my favorite to work on behind the chair. So today I'm sharing my professional hair tips with you on wearing a gorgeous "side ponytail" for your wedding day hair style! The look is soft and romantic with a sense of playfulness. It's also a wonderful hairstyle option for your bridesmaids. If you never wear your hair up but are looking to keep your locks out of your face – this might be the perfect style for you!

Hair Style + Image Credits
1 LEFT: Image: Our Labor Of Love, Hair: unknown, Found on: Style Me Pretty // 1 RIGHT: Image: Tessa Barton, Hair: unknown // 2 LEFT: Image: Lovedale Photography, Hair: Jess Fx, Found on: Polka Dot Bride // 2 RIGHT: Image + Hair: Vivian Makeup Artist // 3 LEFT: Image: Candace Berry Photography, Hair: Jessica Fletcher, Found on: 100 Layer Cake // 3 RIGHT: Image: Justin Beck, Hair: unknown, Found on: Bridal Guide // 4 LEFT: Image: Alyssia B Photography & Brooke Bakken Photography, Hair: KL Artistry, Found on: 100 Layer Cake // 4 RIGHT: Image: Shelly Kroeger Photography, Hair: unknown, Found on: Brides
---
What Type Of Hair Works Best
No matter if you have long, medium or short hair, this style will work – ok, pixie cuts are the exception. There are endless options and combinations of ways that you can weave your curly, wavy or straight tresses into a side ponytail. From a few simple pins back to multiple layers of braiding or twisting; you can take it sleek, messy or somewhere in between. The side-pony creates the perfect foundation for lovely hair jewels, combs, and veils – making it easy to accessorize. If you have thin hair and want the long/full look, your stylist can make it work with the addition of a few of the clip-in type extensions for extra volume and length.
What Hair Color Looks Best
For this romantic, carefree style to look it's best – you need dimension in your hair color! If your hair color has a very solid, one-color look, the detail won't show up as well as it would with highlights for example. If you like your solid color, just have your stylist put a few baby highlights maybe a shade or two lighter than your original color, across your crown or just around your face – so that they will peak through and give you that sun-kissed look while adding a brightness to the style.
When looking for the perfect side-pony wedding hair style, my best advice is to search for styles within your hair color! ie. if you have blonde hair, search "blonde side ponytail" or "blonde ponytail wedding hair". This will give you a much better idea of how it will actually look in your hair. Save multiple images to show your stylist to fully convey what you are looking for.
Getting The Look
Although I like to think of myself as the DIY wedding queen — as an ex-hair professional, I do not recommend DIY wedding hairstyles (unless you are a professional!). Make sure to schedule a visit with your hairstylist for a "trial run" of this style to make sure that you're happy with the overall look for your wedding day. Styling your own hair for your engagement party, bridal shower and bachelorette party, on the other hand, is totally acceptable and these darling ponytail looks would be perfect!
Dirty hair is a must. One or two days dirty will give you a better foundation for your style. Start with dry shampoo, it adds volume, removes grease and will give you more texture. Curl or wave your hair first and use a working spray on each strand as you go. If you want to get really crazy, you can even pin each curl so it can cool before you let it down, which makes your curls last SO much longer. If you want to accentuate certain strands use a dry wax to piece them out. Once you are happy with your design, finish with a firm hold hairspray. Try not to move too much or touch your hair before portraits are complete; every single turn of your head will make the pony + curls get frizzy. It's always good to do slight touch ups after your ceremony so that your style remains fresh for the rest of the night.
Check Out These DIY Side-Pony Tutorials: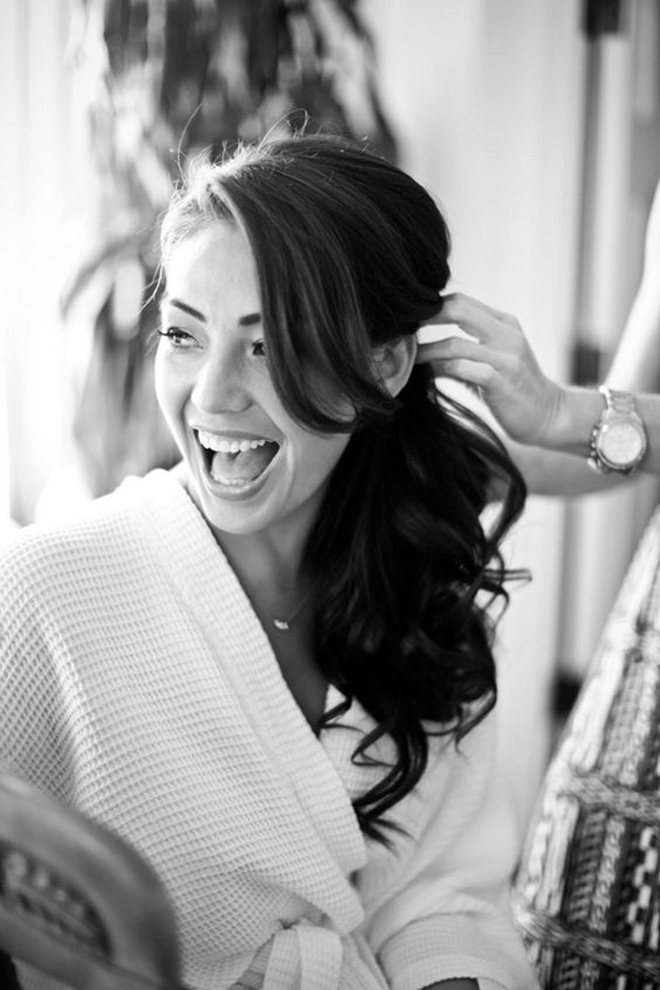 Image: Cristina G Photography // Hair: unknown // Found on: Style Me Pretty
---
If you have a specific wedding hair style that you want Jen to discuss, please leave it here in the comments and maybe you'll see it next month!!
---
No related posts found.