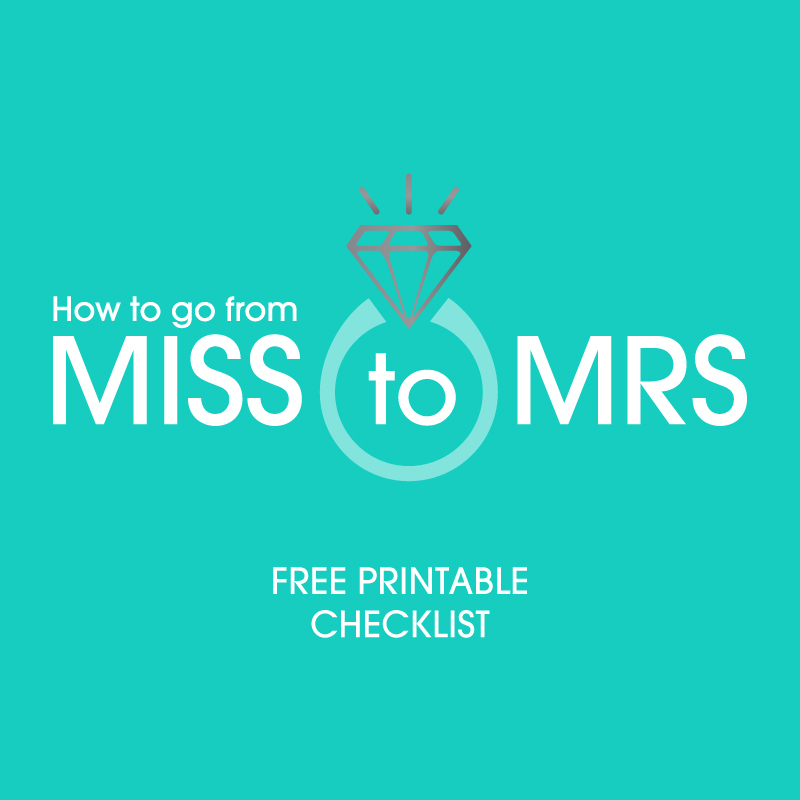 Name Change // How To Go From Miss to Mrs
I remember changing my last name and boy do I wish I had a chart like this to help, which is why I created one to share with you today! Once you're basking in that post wedding glow, try your hardest not to let it burn off as you start tackling this intense task. Think about this process in steps or phases to make it easier and less daunting. The initial process of obtaining your Marriage Certificate, Social Security Card and Drivers License can take up to two months to complete so you have some time to relax. After Step 1 + 2 are completed, if you can cross off 8 items a week, you'll be done in a months time… if you can do 4 a week, it will take you two months; which I think is totally acceptable. Below I go into detail about the process, what's involved and what you'll need to make the update. Keep in mind that all states are different and what is typical in California or New York might not be the same in your state. If you have any detailed or unique questions for any of the agencies – don't forget that you can always call and ask. All worries aside, know that in just 6 steps you'll finally, truly be his Mrs!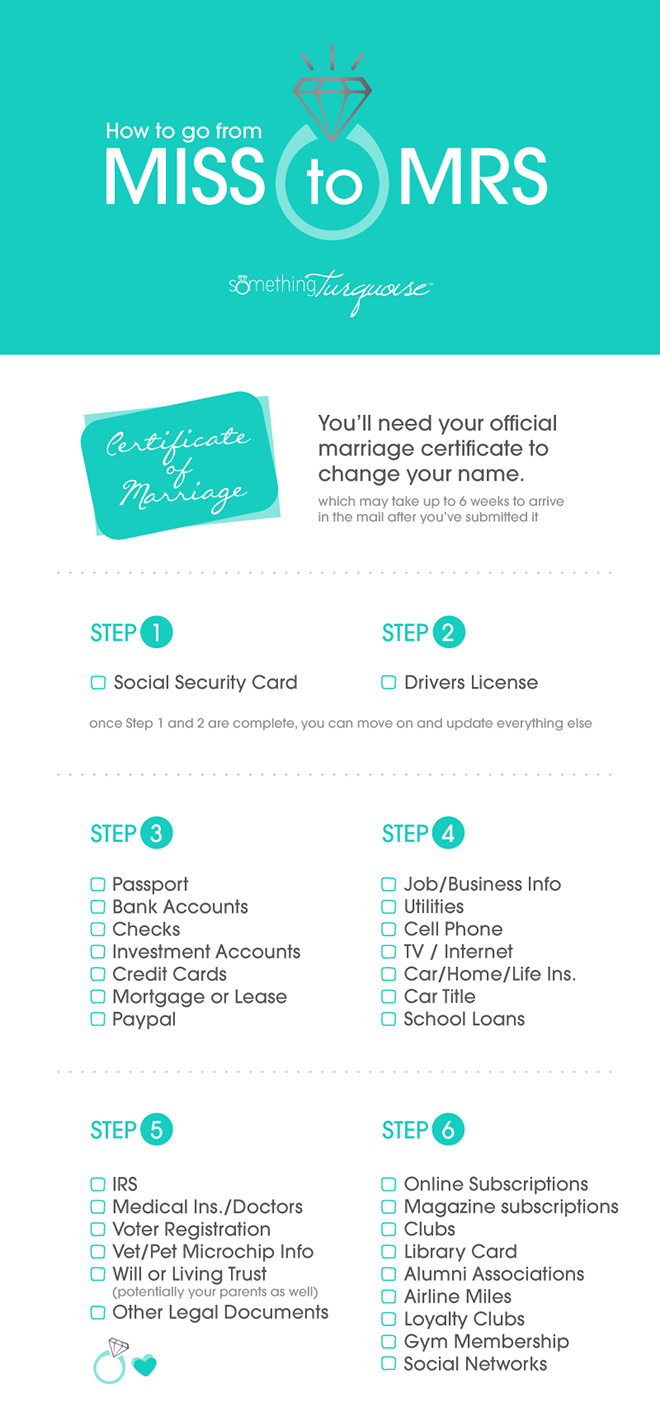 Certificate of Marriage
After you, your partner, your officiant and witnesses sign your marriage certificate (which usually happens right after your ceremony) you'll need to send it into the county registers office; the same place that you filed for it. From that point it could take up to 6 weeks to receive your official marriage certificate, as all states are different. Think of your marriage certificate like your birth certificate; it's the official record of your marriage and it needs to be kept in a safe place. The agencies below will not accept photo copies of your marriage certificate so many couples opt to pay a small fee to receive two or three official copies for safe keeping.
Once you receive this document in the mail – you can start the name change process.
Step 1
You'll need to start with your Social Security Card. I recommend going to your local office literally before the doors open, like 10 minutes before so you can be one of the first in line. Take the morning off work if you have to. There will be lots of people in the office doing many different things and if you arrive late, you could potentially sit for hours. You'll be filing to "correct" the name on your Social Security card and guess what – it's free! Your new card will take 10 days or less to arrive in the mail. You can find a little more info on the governments website here.
Step 2
Once your new Social Security Card arrives in the mail, you'll need to visit to your local DMV to update your drivers license. Since you do have to pay, this is a great time to take a new picture and update the information on your card as well. Each state will be different and charge different rates. You'll need to fill out a form and present your Marriage Certificate and your new Social Security card, so make sure to have both with you. Some states will even update your voter registration and your car title during this same visit. More information and the form you need to fill out can be obtained from your states DMV website. Your new drivers license can take up to 4 weeks to arrive.
Step 3
These items are the next big hurdle. Most banks will not only require you to bring your updated social security and drivers license but also your marriage certificate to update your name on your accounts, credit cards, mortgage and etc. Changing or adding a name to an actual house deed is a whole other issue and I recommend talking to a professional about that one. The biggie here will be your Passport which you might have to pay upwards of $165 to update, plus bring along a new photo. For more passport updating information you can visit the governments website here. Updating your Paypal can also be a bit of a task. I recommend updating your bank accounts first and then doing Paypal. You'll need to submit your marriage certificate to them and they require a document review process that can take up to a week to authenticate. Annoying but it's good that they're so thorough.
Do not book your honeymoon flight or hotel in your "new" name because it won't be legal yet!
Step 4
These items are fairly easy and don't require your marriage certificate. Some DMV offices will even take care of your car title at the same time that you change your drivers license, but some won't and will require a second in person visit to the office. Right after you update your bank accounts, make sure to tell your HR department so they can update your paychecks too. The other items can be taken care of when their monthly bills or statements come in the mail, using the arrival as a reminder.
If you own a business and have legal documents that need to be updated, I recommend discussing the changes with your business attorney.
Step 5
I like to think of these items as important but not as important as your bank accounts or your paycheck. You can change your name on your taxes during tax time. Many health care providers allow you to change your name online or at your next visit. You can re-register to vote on most states websites with just a few clicks. You can update your pets microchip on their next vet visit. However updating a will and/or living trust can be a bit of an undertaking and might require notarization and other potential fees. Being newly married you might also want to consider creating your own Last Will & Testament to protect you both… just in case!
Step 6
These items are things that you can update when you organically encounter them… like I'm sure you're going to change your name on Facebook the next day, lol. The next time you get that magazine in the mail, go online and change your name. The next time you visit the library, change your name. Same thing with the gym and other clubs. The only ones you'll need to change pronto are the ones you pay for as when that next payment hits your bank account, the name difference might cause an issue.
---
---
Print + Check
To keep you on track with your name change process, we created a free pdf. that you can download and print to check off your progress. Grab it below!
---
---
Graphics + printable copyright of SomethingTurquoise.com.®
---
No related posts found.