Hello my fellow DIY brides! My name is Kendra and I'm so excited to be a Something Turquoise Bridal Blogger. My intimate backyard wedding is just 3 months away, so I'm currently in full-blown wedding mode (cue the panicked smile).
Being a bridal blogger for Something Turquoise was a no-brainer for me. As a writer, I spend most of my time writing about fashion and beauty for my website, Kendra Found It, so I'm really excited for my 2 (overly hectic) worlds to collide. I'm passionate about creating things – whether it's an article, wedding invitations, or a batch of chocolate chip cookies – so I can't wait to share my tips, tricks, and honest experiences with you.
Image courtesy of: Norma Ibarra of La Pir0 // To see my entire proposal you can visit this post!
---
The Wedding Planning Process For a Non-Traditional Bride
---
I'll be the first to admit that I'm a non-traditional bride; in fact, until I met my fiancé, I wasn't even sure that I wanted to get married. I guess it's true: when you meet the right one, you just know. Wedding planning has gone surprisingly smooth for us as a couple because we started out by discussing what details were the most important to each of us (I suggest you try this with your own wedding planning – it really helps!). We both agreed that a small ceremony, mouth-watering food, and having a "non-traditional" wedding were our main priorities. These concepts make up the foundation of our wedding and we still find ourselves coming back to them as we make final decisions and iron out all the little details.
Step 1: Discuss what wedding aspects are the most important to each of you
Step 2: Decide together what your priorities are
Step 3: Write them out and use them to help make decisions, plan your budget, and guide you through the wedding process
Row 1 – LEFT: Image: Braedon Photography, Wedding Planning and Design: CCL Weddings & Events, Floral: Green Leaf Designs, Found On: Grey Likes Weddings. // RIGHT: Image: Emily Scott, art direction: bianca Sotelo, florals + styling: natasha kolenko, florals: torchio nursery, Found On: Apartment 34
---
Size Doesn't Matter (To Us)
---
After hours of research, countless emails, glossy wedding magazines, and about three billion Pinterest pins, we decided that our wedding would have a guest list of just 34 people; we would skip bridesmaids/groomsmen; and we would have a brunch wedding in the woods, complete with an eggs Benedict bar and mimosas. The entire wedding will be over by 6pm, so after we're hitched, we'll head to a local luxury hotel for some rest, relaxation, and room service. Instead of partying until the wee hours of the night, we decided that we wanted to enjoy our fancy-pants hotel, spend time together on our wedding day, and digest the entire celebration. I told you it was non-traditional!
In terms of décor, our wedding will feature pale pinks, dusty oranges, soft pastels, muted greys, and faded greens. I love DIY and crafting, so we're making all the décor ourselves – including 300 tissue paper tassels. To make the day extra special, we decided to add some personal touches like a polaroid guestbook, numerous Something Turquoise projects (like this DIY diamond card box that we made), and even the gold foil "Marry Me" balloons that my fiancé used when he proposed.
With only 36 guests, we will be able to spend time and talk to everyone
DIY-ing our decor means we save money and create memories together while we do it
An end time of 6pm means that we get to relax, enjoy the hotel, and bask in our special day
With any luck, my wedding will offer inspiration to others; until then, here are some of the ideas and images that caught my eye and helped us plan the tiny wedding of our dreams. 93 days to go! To stay up to date with my wedding planning process, follow me on Pinterest here and Instagram here.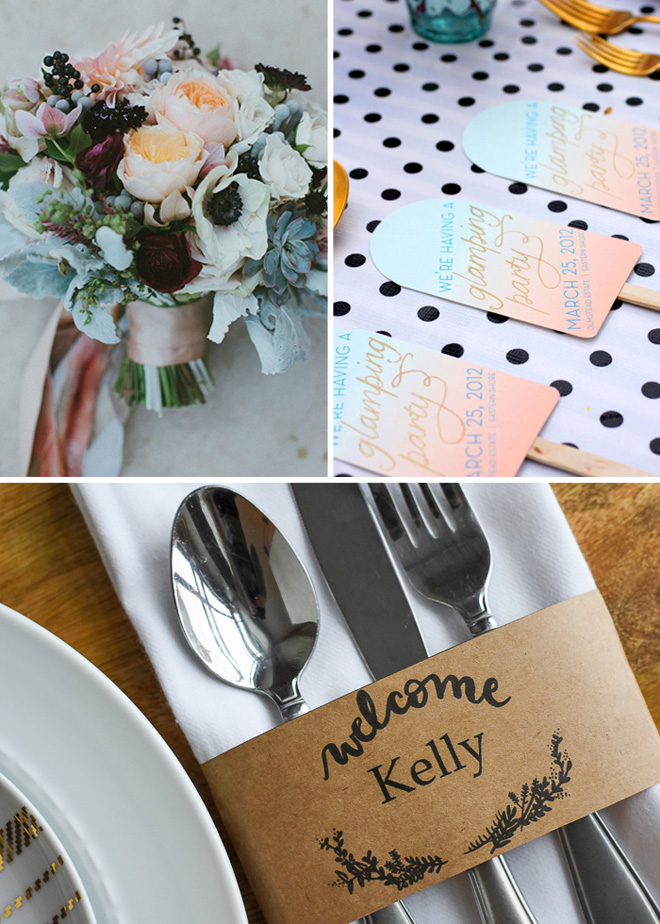 Row 1 – LEFT: Image: Apryl Ann, Florist: Coco Fleur, Found on: Southern Weddings // RIGHT: Image + Florals: @runningwildflorals Instagram // Row 2: Image: Tec Petaja Wedding Photography, Church pew rentals: All Occasions Party Rentals, Event planning + styling: Allison Sprouse of The Modern Hostess, Found on: Style Me Pretty // Row 3- LEFT: Drink a Diamond Glass Set – Urban Outfitters // RIGHT: Handsome Velvet Guestbook – BHLDN // ROW 4 – LEFT: Image: Les Loups of The Wedding Artist Collective, florals + tassels: Sullivan Owen, tenting + lighting: Loane Brothers, found on: Green Wedding Shoes // Row 5 – LEFT: Image: Les Loups of The Wedding Artist Collective, florals + tassels: Sullivan Owen, tenting + lighting: Loane Brothers, found on: Green Wedding Shoes// RIGHT: Image and printable found On: HGTV // Row 6: Image and Printable found on: Fantabulosity // Row 7- LEFT: Image: Scott Michael Fraser, Floral designer: Tangled Stems, Found on: 100 Layer Cake // RIGHT: Image and cake: Magnolia Bakery // Row 8: Project by: bramble workshop for designlovefest, Styled by: bri emery, Photos by: Brittany Wood, Found on: DesignLoveFest // Row 9 – LEFT: Image and DIY found on: Evermine Weddings // RIGHT: Image: Kayla Barker Fine Art Photography, Cake: Layered Bake Shop, Design and floral: The Southern Table, Found on: Style Me Pretty // Row 10: Image: Country Living, Caterer: Riveiera Caterers
---
Shop The Post
[show_shopthepost_widget id="1538443″]
---
Kendra Hagerman is fashion, beauty, and lifestyle writer that is DIY-ing her way to a dreamy backyard brunch wedding on July 16th, 2016. She enjoys pugs and pancakes, both of which will be found at her out-of-the-box wedding. Find and follow her on the social channels below for design, wedding, and fashion inspiration!
Pinterest // Facebook // Twitter // Instagram
---
No related posts found.