When I first met Courtney and Brandon at a little cafe in the hipster haven of Providence, I was immediately smitten and crossed my fingers and toes all night that they'd hire me. Courtney's ideas of how to intertwine their personal style and their wedding day got me from the get-go (as did her red lipstick). When I showed up to photograph the wedding, they couldn't have been more welcoming. They even had the cutest and most thoughtfully – unexpected gifts for me, sat me at a table for dinner with their cool designer friends instead of somewhere hidden away where we vendors usually sit, and allowed me to take them all over the property of the farm for photos and trusted my eye. I loved working with them and couldn't me more excited to see their wedding featured here today on Something Turquoise! If you love their wedding, you've gotta follow Courtney's blog Jeune Amour (you'll even see how she re-purposed some of the wedding pieces in her home! – Erin McGinn Photography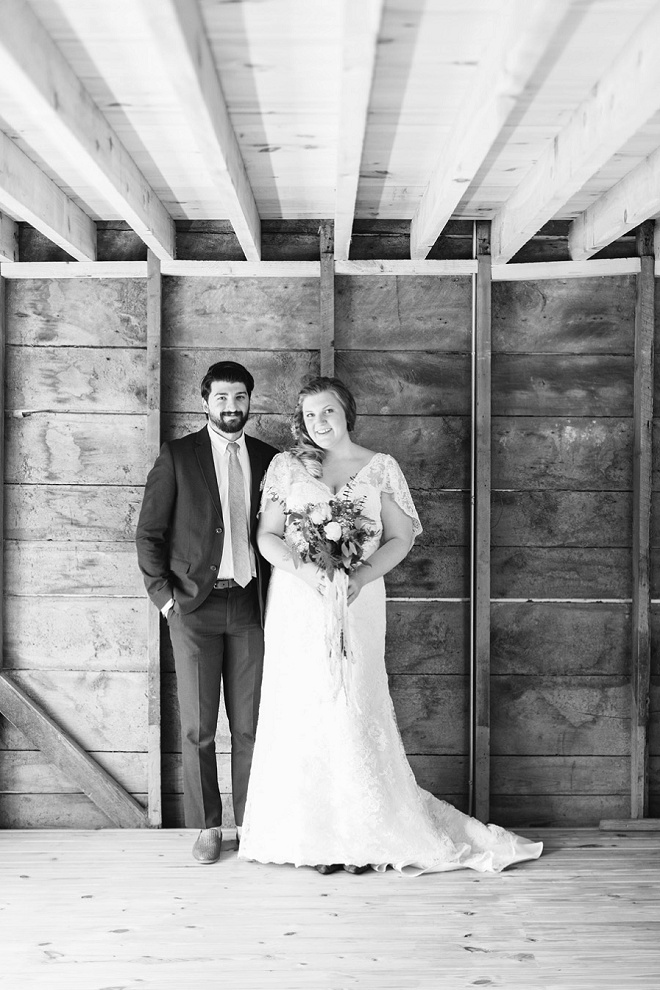 The Brides Story:
"Brandon and I are high-school sweethearts. You know the story: boy meets girl, girl gushes over boy for years before making a move, boy is oblivious, girl finally spills her heart out. You know – the stuff romance novels are written about. We've been together almost 8 years and I am still smitten with him to this day!
When Brandon asked me to be his wife, I visualized our entire wedding almost immediately. I'm kind of a control freak, so the planning began days after telling my family and friends. I sourced my dress on my first day of shopping and my venue was the first and only venue I looked at. I wanted somewhere local, outdoors and accommodating. I found all of that with Chamberlain Farm! Our photographer, Erin McGinn, was recommended to us and Brandon and I cannot say enough good things about her. The rest of our "vendors" are really just friends and family sharing their time and talents with us to celebrate our big day! We're so lucky to be connected to so many great people.
Our non-traditional wedding is filled with tons of personal touches: DIY gifts and floral arrangements, heirloom jewelry, hand-painted cakes, and cousin officiants. Though we didn't have a particular theme, we leaned toward more boho and vintage decor than anything else. All aspects of the day are meant to celebrate not only us, but the people who have known and supported us throughout the years. Our friends and family have watched us grow up, split up, move in with another, move to different states, and realize we were perfect for one another right in front of their eyes. We couldn't think of a better way to share our day than with each and every one of them!"
"The day is full of DIY decor. I worked with my cousin to create all floral arrangements, the best man's bowtie was made by me, I created pocket squares to gift the groomsmen, and I hand-stamped all the escort cards and place cards. The hand-poured soy candle favors were also handmade by my bridesmaids and myself. We also created handmade ribbon wands for the flower girls to pass out, and we prepped s'mores baskets for the fire at night! I also DIY'd some sunglasses for the flower girl's gifts, and my Mom painted chalkboards on wood-slabs for each child's place setting. Brandon and I are all about having personal touches in all aspects of the day. {I also love crafts!!!}
My "something old" was my necklace I wore from my mom's aunt. My great-aunt left me her wedding ring and engagement ring when she passed away and she left my mom a few pieces of gold jewelry {the necklace included}. My mom was much closer with her than I, so a few Mother's Days back my brothers and I got the rings re-sized and gifted them to my mom as a surprise! My mom lost her original wedding rings a few years ago and had been distraught since. Our cake was created by a good friend of mine and we wrote our own vows! Brandon and I also used the same toasting glasses my parent's used at their wedding. I think that's a cute little feature!" -Courtney, the bride
Event Credits
Photography: Erin McGinn Photography // Venue: Chamberlain Farm // Invitations: Appetite Paper // Transportation: Hampon Inn Raynham-Taunton // Catering: Chamberlain Farm // Cake: Garden Snake Cakes // DJ: Alliance Enterainment // Florist: Karl Pelletier // Lighting: Chamberlain Farm // Wedding Dress Boutique: Carmen Fashions // Bride's Dress: Kenneth Winston // Bride's Shoes: Steve Madden // Hair and Make-Up: Studio 2000 // Engagment Ring: Mullen Jewlers // Wedding Ring: Engaged Jewlery