DIY Wedding | Matt + Rachelle
"Rachelle and Matt's downtown rooftop wedding was a modern wedding heaven! Everything was beautifully planned and when Rachelle and Matt met with us to show us all of their ideas, we were beyond excited to photograph the wedding. We really love it when our bride and grooms are involved in creating something special for their wedding that is personal to them. One of our favorite DIY elements from this wedding was the custom, hand-made, geometric backdrop and centerpieces that they made themselves. This really added a fun and modern feel to the event. White paper flowers to the backdrop and reception space that Rachelle and her mother created together to complete the look." –E+E Photography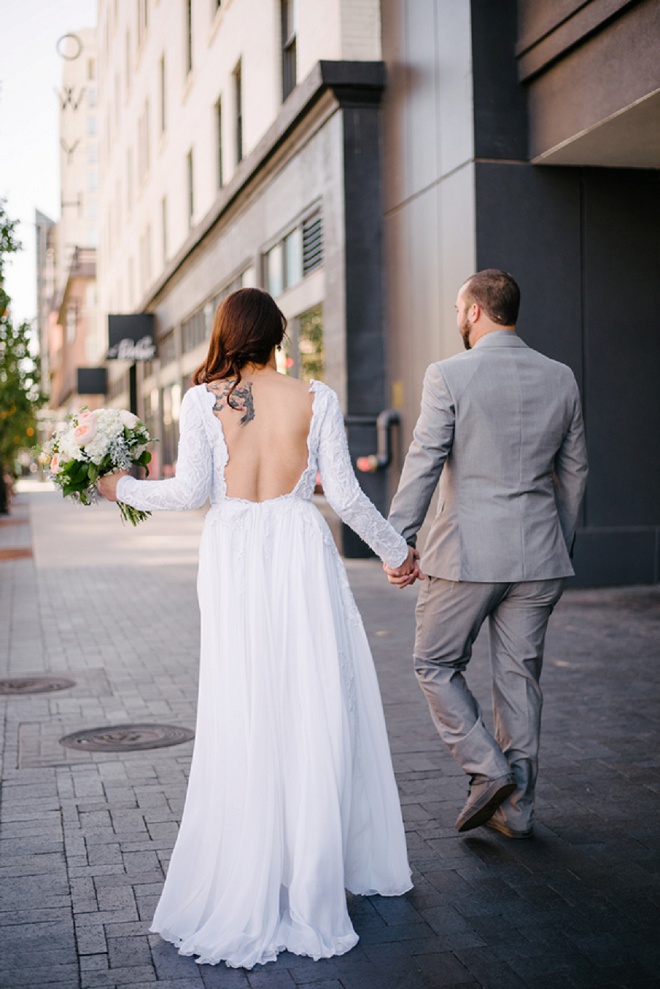 What is your favorite wedding day memory?
My favorite memory would have to be after the ceremony was over and we were making our way down the aisle. Matt and I got past our family making our way to the exit point when he grabs me with the biggest smile on his face dips me and kisses me! He didn't care that we were holding up the wedding party behind us, he just wanted to make sure I knew that he had never been happier!
What did you DIY for your wedding?
We did so much DIY! We made a 7 by 12 foot paper flower wall, which was my favorite! We made it out of butcher and tissue paper and metal panels which made it easier getting into the penthouse rather than one huge wall. Then we also made two 8ft by 5ft wooden hexagon backdrops that we used in the ballroom and the other for the ceremony. We also took some of the paper flowers and used them on the hexagons to tie it all together. My favorite part about those was you could see right through it and it didn't ruin the view from the penthouse. We also made matching wooden hexagons that we used as part of the centerpieces in the ballroom with lanterns. All the signs were handmade chalk signs for the cake, bar, and the guest book table. ( one of my best friends has the best handwriting ever!!! ) Then last but not least we made glowing tissue paper flower centerpieces that were on the tables outside for the receptions. We did the same tissue flowers as in the wall just in peach and white to give it a pop of color when they were glowing!
Something old, new, borrowed and blue?
I just had a couple things that were old. I love family heirlooms and so I wore my great grandmothers engagement ring on my right hand and had her vintage hat pins in my bouquet!
Any advice for brides currently in the planning process?
Give yourself plenty of time and don't be afraid to ask for help!! There are so many people who will love to help so don't forget that! But also don't be afraid to voice your opinion early on! It's your day not theirs, and they will understand! -Rachelle, the bride
Event Credits
Photographer: E+E Photography // Venue: The Owyhee // Florist: Boise at it's Best Flowers // Catering: Kindness Boise // Cake: Le Bisou // Invitations: Ann's Bridal Bargains // Bride's Attire: Laneige Bridal // Bride's Shoes: Dillards // Garter: Tara Veils // Bridesmaid's Shoes: Dillards // Hair and Make-Up: Two Rivers Salon // Groom's Attire: JC Penny // Cake Topper: Home Print 3D Toppers // Guest Gifts - Wish Bracelets: Krystles Weddings // Peach Tissue Paper: Pack It Wrap It
No related posts found.