"When I first posted the sneak peek from Christine and Collin's wedding, I began the post with something I had never said before, "Today, my little sister got married…'. If you had told me when I was younger that one day I would be one of the photographers for my little sister's wedding I would have laughed at you. Because I was also her Matron of Honor, co-photographers Crystal Brisco and Elizabeth Woody shot the parts of the wedding I couldn't shoot myself. The three of us together made my favorite wedding gallery of 2015. If it wasn't already apparent before I edited their gallery, I was reminded over and over how Christine and Collin had a wedding of intention. I use this word because everything, everyone and every part of the wedding happened because it meant something to the two of them. It was such an honor to witness the love their friends have for them, so many of them stepped up to help Christine pull off this beautiful wedding. For example, her best friend from college, Tyler Neill helped from start to finish to bring together all of her beautiful details and decorations to life. Each one of her bridesmaids contributed in a significant way to help transition from each part of the wedding to the next. I hope you enjoy these images as much as we have!" – Elizabeth Hoard Photography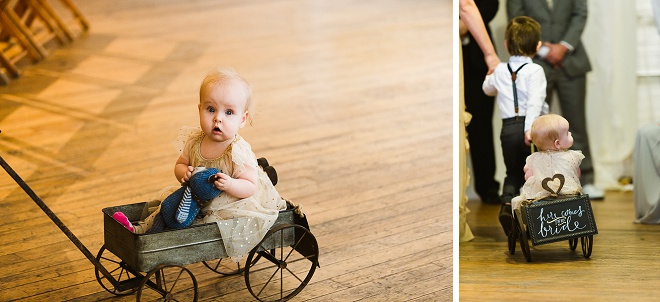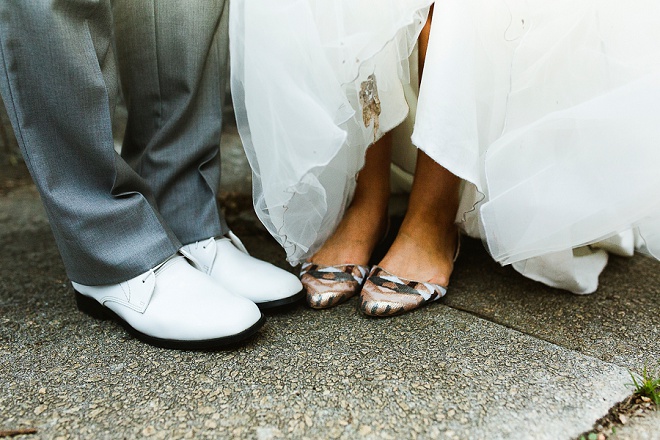 What is your favorite wedding day memory?
The moment I replay in my head over and over again is the ceremony! I was so nervous beforehand with the tears filling my eyes every five seconds. I was thinking, Great…I'm going to be balling my eyes out! Expecting the water works, after the initial tears of walking down the aisle with my daddy and looking into the eyes of the man I love, it was all giggles from there. I was the happiest I've ever felt making that commitment before all those I love. I kept swaying and laughing and looking at my girls and his groomsman and most of all staring at Collin in awe of our story and in excitement of what's to come. I'll never forget it.
What did you DIY for your wedding?
We had SO much fun DIY'ing so many things for our wedding. Note every time I say 'we' to follow that basically means this would not have been possible without all the help from my bridal party, friends and most of all my family. We DIY'd our own ceremony backdrop and reused it for the self-manned photobooth backdrop, selected and arranged our own bouquets and flower arrangements, DIY'd canvas art, hand-crafted signage, created a beautiful carpentry seat for the wagon my baby niece was pulled down the aisle in and so much more. We flipped the room of the ceremony into the reception and despite being at the venue all morning the day-of the wedding, we decorated every square inch ourselves. Even though it was hard work, having my hand in those details made it so special.
I loved using Something Turquoise for ideas and inspiration! With such fun articles, posts, tutorials and so many things to get a bride dreaming about all the possibilities. Thanks for spreading on the creativity!
Something old, new, borrowed and blue?
YES! My something blue was my most coveted piece of my mother's jewelry – her Lady Diana ring! It was stunning and I felt like a princess getting to wear it for an evening. After the ceremony, I exchanged my veil for my something borrowed which was my sister's tiara she wore at her wedding that was gold leafed with pearls! Another huge part of something borrowed was my mother-in-law's close friend lending us so many vases, candles and decorations from her daughter's wedding! Lastly, something old was tons of old brass candlesticks at varying heights for an eclectic feel on the head table.
Any advice for brides currently in the planning process?
Always refocus on the foundation of this event, which is getting to marry your best friend. It's easy to stress out so much during this process, but having the security that the purpose will happen no matter if the tablecloths aren't the perfect color or the Best Man forgot the wedding band {that didn't happen to me by the way!}, that it will be all worth it no matter what. I wish I was reminded of this more so I could let some details go and just enjoy seeing it all come together! -Christine, the bride
Event Credits
Photographer: Elizabeth Hoard Photography // Co-Photographer: Crystal Brisco Photography // Co-Photographer: Elizabeth Woody Photography // Venue: Robinson Art Gallery // Florist: Shamrock Wholesale Florist // Catering: Panini Catering Memphis // Cake: Sweet Cakes Custom Cakes // Invitations: Vistaprint // Officiant: Iron and Fire Ministries // DJ: DeepBlu Entertainment // Transportation: Carriage Tours of Memphis // Rentals: Affordable Party Rentals // Engagement Ring: Shane Co. // Bride's Attire: Low's Bridal and Formal // Hair: Salon 387 // Make-Up: Kasey Acuff Makeup Artist // Bridesmaid Attire: Rent the Runway // Bridesmaid Attire: BHLDN // Bridesmaid Attire: Macy's // Bridesmaid Attire: Dillards // Groom's Attire: Men's Warehouse // Groomsmen Attire: Men's Warehouse