Hi all, it's Lauren from I Love Love Events back again, this time with some amazing ideas for the animal lovers out there. We've all seen the shots of the bride and groom all dressed up with their pups at their feet and it is out-of-this-world adorable, but – how do you include your pets if your venue doesn't allow dogs? Or if your pet is anything like my lovable, furry, maniac, what if Fido isn't well behaved enough to get an invitation to the big day? While it would be such a great memory to have your pet present for your "I Dos," if that just isn't possible, there are lots of other ways to pay tribute to your fur children. Here are a few of my favorite, super creative ideas.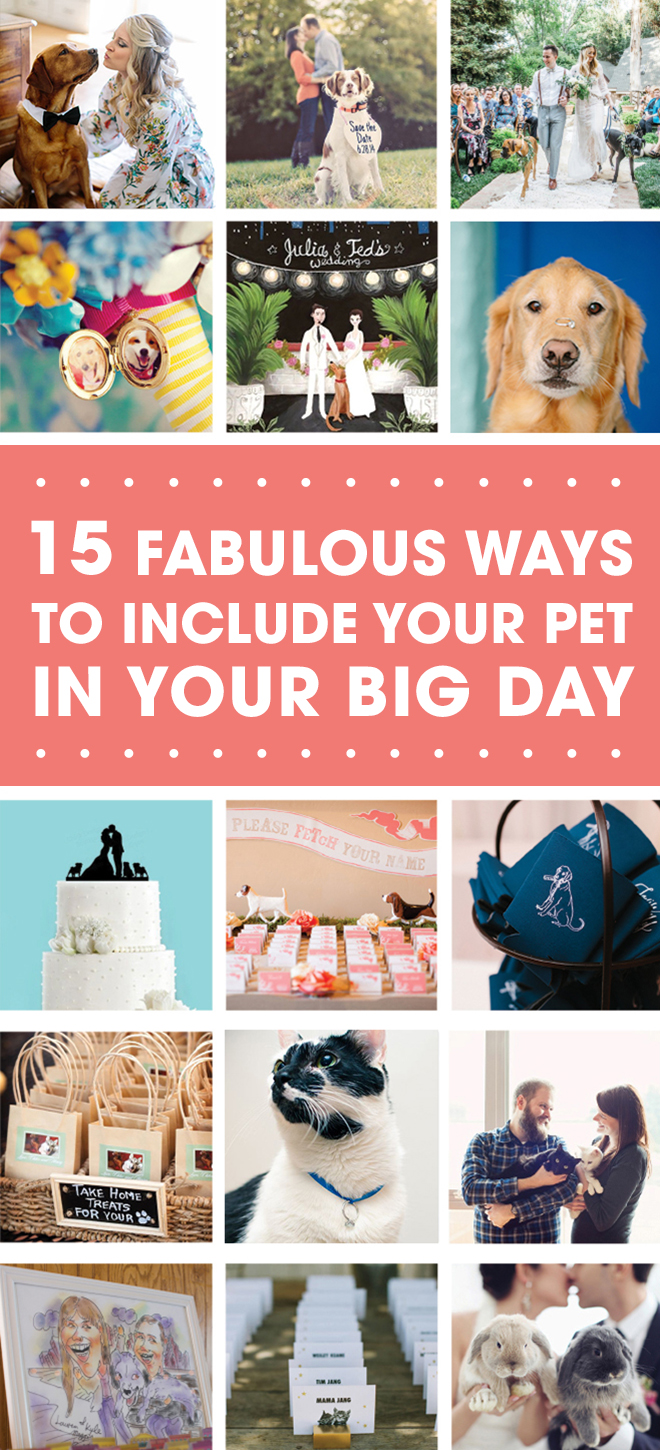 ---
HAVE YOUR PUP AROUND WHILE YOU ARE GETTING READY
Photography: The Grovers // Via: Brides
---
BUY A CUSTOM CAKE TOPPER WITH YOUR FUR BABIES INCLUDED
Cake Topper: Chick Design Boutique via Etsy, $21
---
PUT YOUR PET IN THE DETAILS, LIKE THIS ESCORT CARD DESPLY
Photography: Caroline Tran // Event Design: Amorology // Paper: Brightly Designed // Via: Amorology
---
USE YOUR PETS IN THE RECESSIONAL
Photography: Melissa Fuller Photography // Event Design: Intertwined // Via: 100 Layer Cake
---
GIVE YOUR GUESTS A FAVOR DEPICTING YOUR FURRY LOVE
Photography: A Bryan Photo // Event Design: Mariee Ami // Via: Southern Weddings
---
HAVE FIDO DRAWN INTO YOUR INVITATIONS
Custom Drawn Invitations: Le French Circus via Etsy, $275
---
CARRY THEIR LIKENESS WITH YOU DOWN THE AISLE
Photography: Sarah Yates // Event Design: Sitting In A Tree Events // Via: Style Me Pretty
---
HAVE YOUR CAT HELP YOU PROPOSE
Photography: Dhareza Maramis // Via: Love Meow
---
PUT FLUFFY FRONT AND CENTER ON YOUR SAVE-THE-DATES
Save The Date Sign: Rustic Natural Beauty via Etsy, $20
---
GO ALL OUT WITH AN ANIMAL THEME
Photography: Let's Frolic Together // Event Design: Lavender and Clove // Via: Green Wedding Shoes
---
USE YOUR PETS IN YOUR PORTRAITS
Photography: Sonya Khegay // Event Design: Ajur Wedding // Via: Ruffled
---
PAY HOMAGE TO YOUR FUR CHILDREN BY SENDING HOME "DOGGIE BAG" FAVORS
Photography: Laura Ashbrook // Planner: Encounters Events // Via: United With Love
---
USE YOUR PET IN THE DECOR
Photography: Lizzie Photo // Event Design: I Love Love Events // Via: Something Turquoise
---
USE YOUR (WELL BEHAVED) DOG FOR THE DETAIL SHOTS
Photography: Mirelle Charmichael
---
INCLUDE YOUR CATS IN YOUR ENGAGEMENT PHOTOS
Photography: Autumn L. Rudolph Photography
---
BONUS DIY IDEA: EMBELLISH A LEASH FOR YOUR FURRY ATTENDANT
---
Via: Free People
---

---
Lauren Koster is the owner of I Love Love Events, a New York based wedding planning company that specializes in the unique and handmade look. Her eclectic style and modern hipster vibe always has us entranced. We always love when she graces our blog with her monthly "Steal This Style" article. Want to know more? You can personally follow or find her from these links below:
website // blog // instagram // facebook // twitter // pinterest
---
No related posts found.