Since I started writing this blog, my life has been filled with a type of gratitude that I cannot explain. Every follow, every comment, every Pin and every project of mine that you recreate touches my heart and leaves me feeling so very thankful! I'm grateful for every single day that I am able to run this blog and make crafts for a living, and I know that I have said this exact same thing for the past 5 years but it's incredibly true. I don't mind shedding a few tears in my home, by myself, while pondering my appreciation for this blog and my life in general – but I don't enjoy doing that in front of people, although over this past year it's been a bit of a habit for me. Sometimes the best way to move beyond happy tears is with a little joke. So I designed some silly Thanksgiving card printables for all of you saps out there like me who'd like to say thanks, but without all the mushy stuff. Download, print and make these cards in less than 5 minutes to show your Thanksgiving host or hostess your appreciation for them, or anyone in your life really. I hope you have a wonderful holiday and again, I am thankful simply for the fact that you stopped by today during your busy schedule! Gobble, Gobble! xoxo, Jen.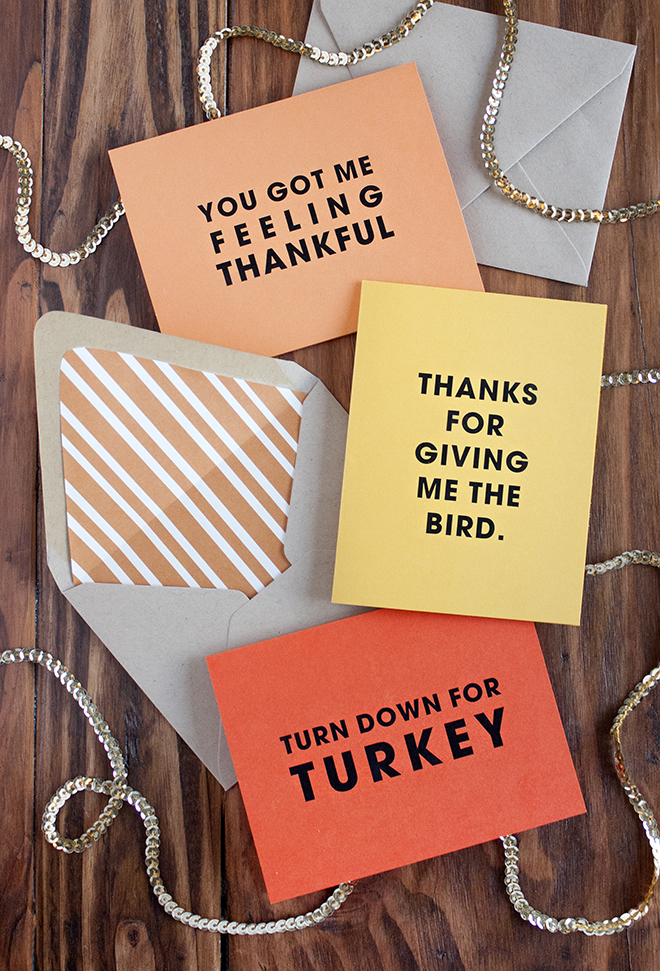 Simple How-To:
Download your choice of card.
Print onto 8.5″ x 11″ cardstock.
Cut on the lines provided and fold in half.
Makes a 4.25″ x 5.5″ folded card to use with an A2 sized envelope.
Optional Envelope Liner:
Trace the top flap of your envelope onto the striped paper.
Cut out your trace about 1/8″ smaller.
Insert into your envelope.
Glue to the top flap of your envelope with a glue stick.
Grab My Free Card Printables:
---
All images + free card downloads copyright of SomethingTurquoise.com®.
---
No related posts found.