Hi guys, it's Lauren from I Love Love Events with some amazing inspiration to share! We've all heard of the farm-to-table trend that's been happening for a while in the world, well, like many trends, the wedding industry is taking it to a whole new place, a super awesome, fresh place! They are literally bringing the farm to the table and incorporating everything from parsnips to pumpkins into the tablescapes. Not only is it beautiful and unique to add fruits or veggies to a bouquet or arrangement, but it's a cost effective way to bring in different colors and textures. And as the collage below shows, this trend spans all seasons and all styles of weddings. Here are 15 fabulous ideas on how to add some flavor to your wedding decor by using fruits and veggies!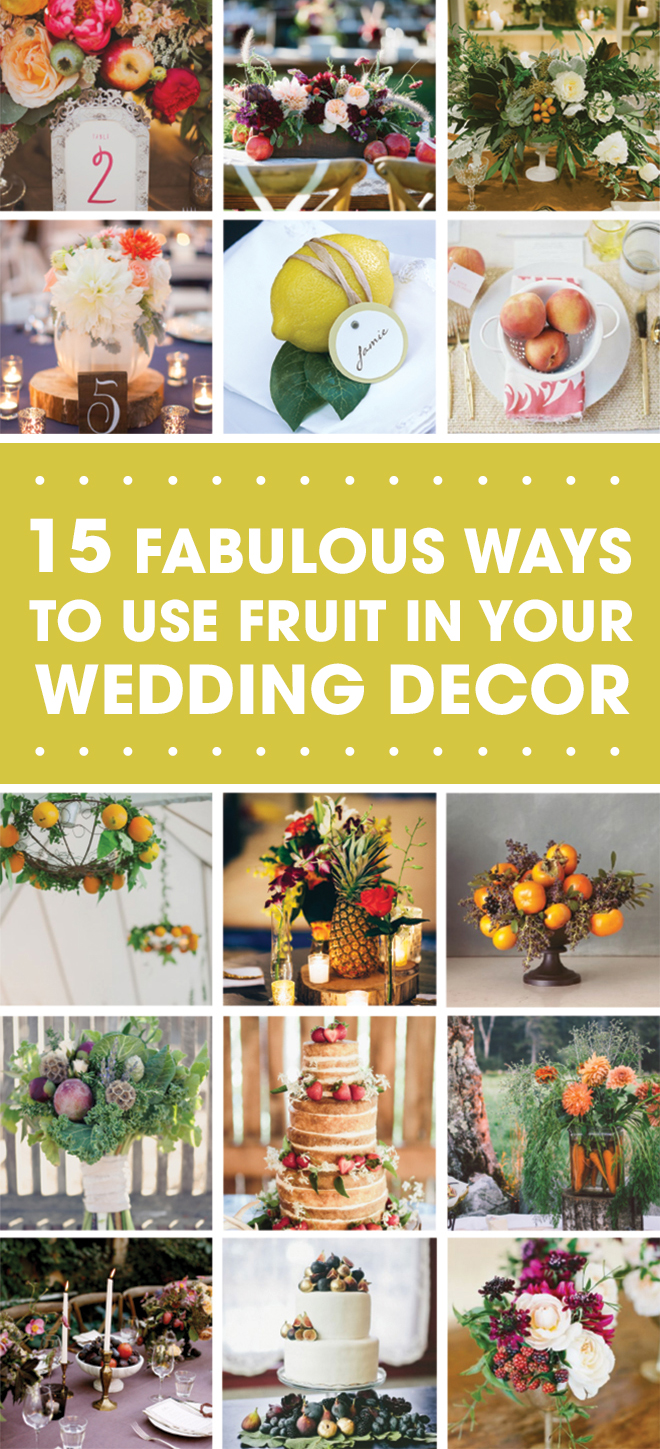 ---
Add Honeycrisp Apples To Your Centerpieces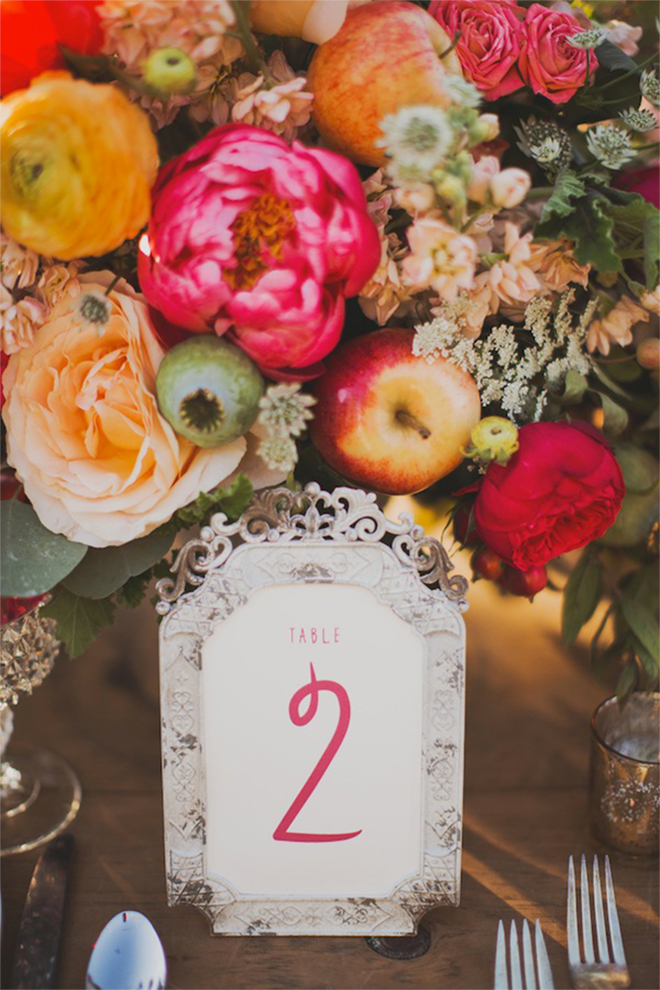 floral design: Petal and Print // photo: Nessa K Photography // via: Ruffled
---
Add Kumquats To Your Centerpieces
floral design: Rueben Antonio // design: I Love Love Events // photo: Shutter Sam // via I Love Love Events
---
Wrap Lemons With Tags For Your Seating Cards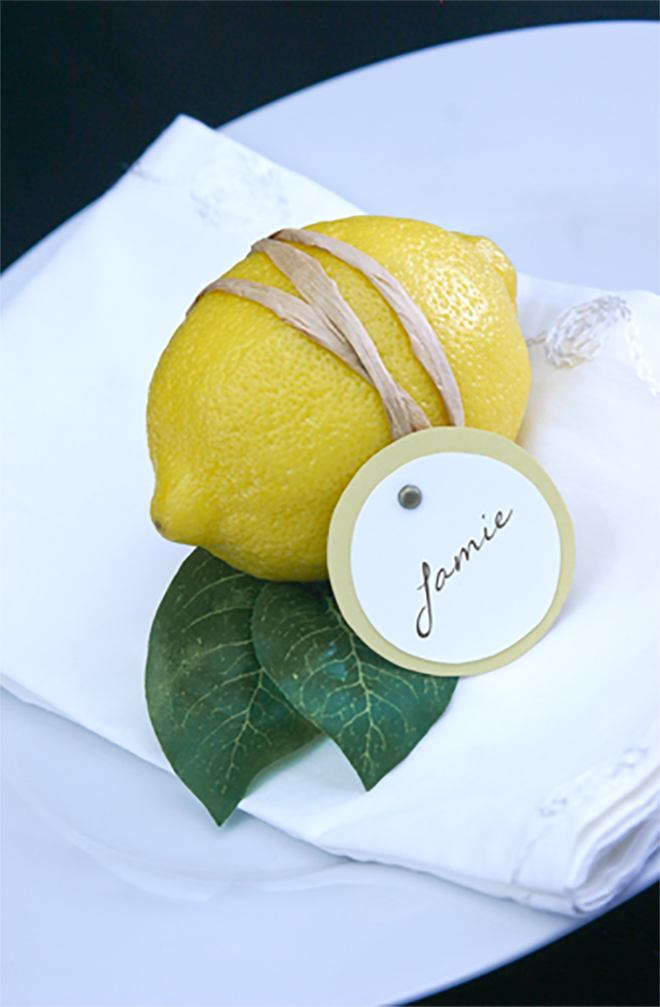 design: Emma Lee Elizabeth Designs
---
Fresh Peaches For Favors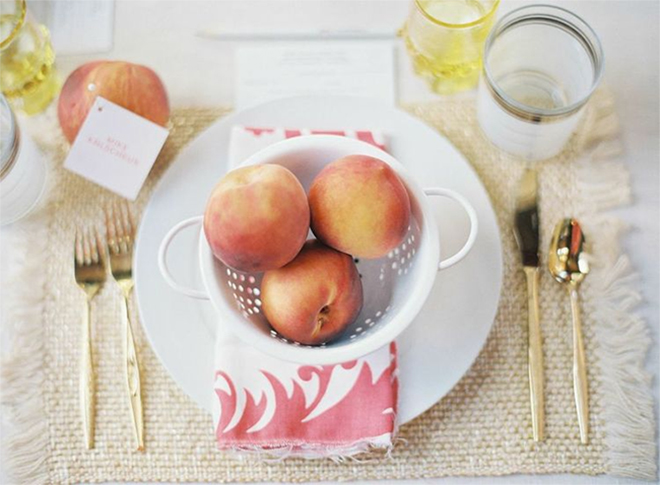 design: Sitting In A Tree Events // photo: Jen Huang
---
Pomegranates Make Gorgeous Table Embellishments
design: Orange Blossom Special Events // floral design: Primary Petals // photography: Marianne Wilson Photography // via Green Wedding Shoes
---
Faux Pumpkins As Vases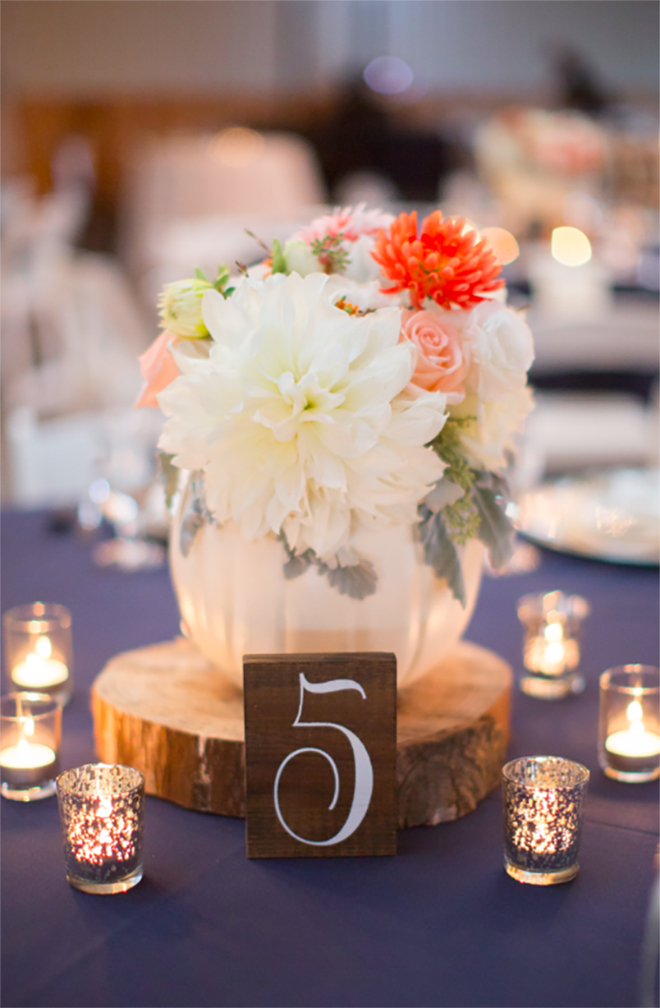 floral design: Destiny Hill Farm // photo: Kelsey Kradel// via Rustic Chic Bride
---
Add Pineapples For A Tropical Look
floral design: Flowers by Serena // photo: Jess Jackson // via Hello May
---
Suspend Oranges On Vines
photo: Stacy Able Photography // via ModWedding
---
Champagne Grapes + Persimmons = Swoon
---
Use The Entire Carrot!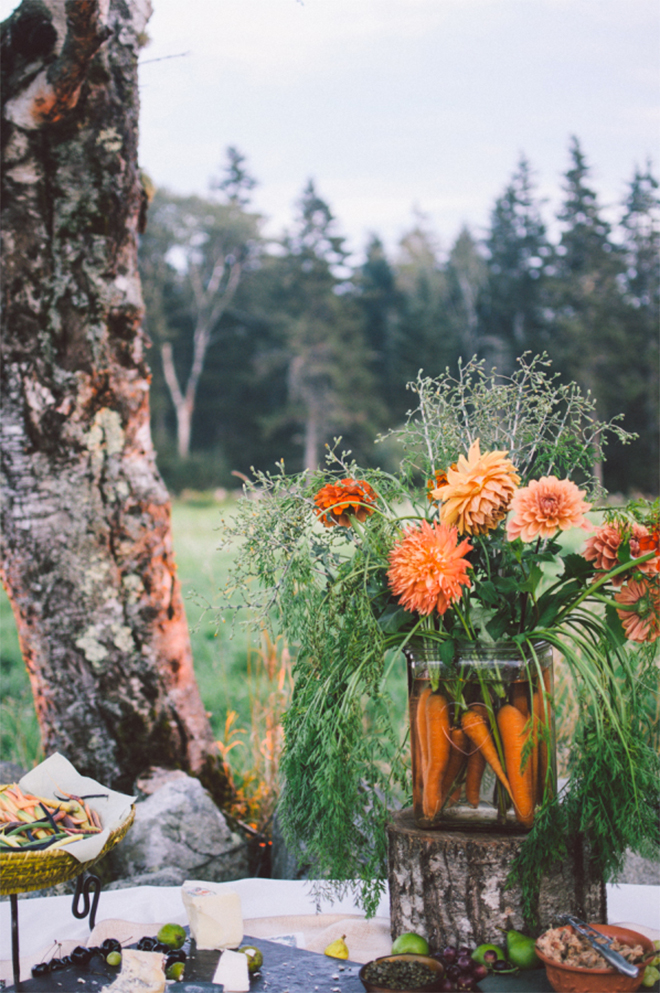 florals: Lyonelle Clark Landscapes and Gardens // photo: Zwickerhill Photography // via Style Me Pretty
---
Lettuce Makes Fabulous Foliage
florals: Stems Design Studio // photo: Leif Brandt // via Wedding Chicks
---
Sweeten Up Your Cake With Strawberries..
cake: Mandy Baker // photo: John Shim Photography // via Style Me Pretty
---
…or guilded Figs!
florals: Seed Florals // photo: One Love Photography // via Burnetts Boards
---
Marble Bowls Of Fruit Are Pretty And Delicious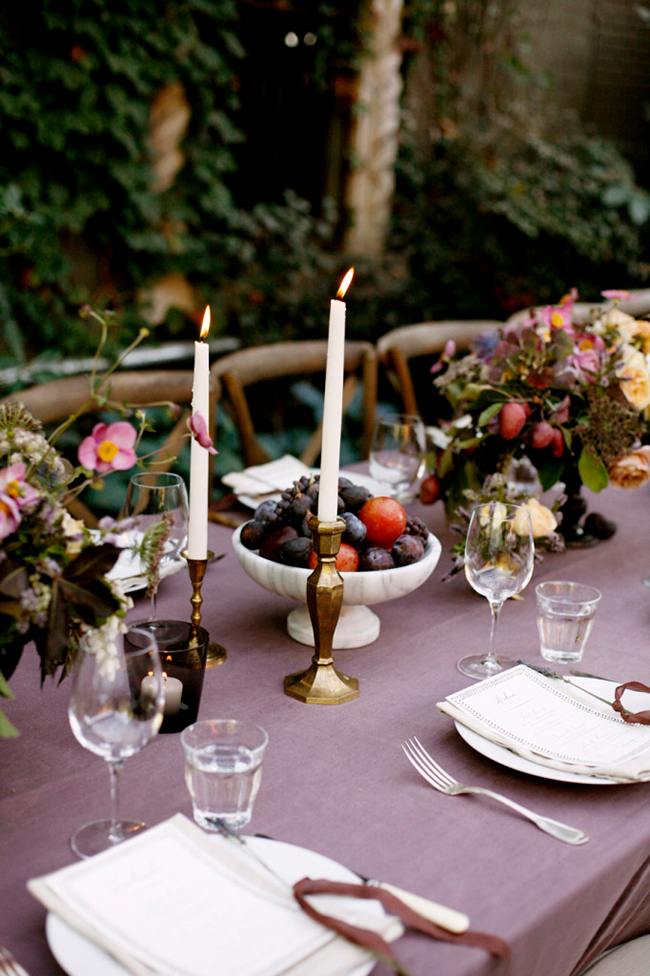 floral & event design: Makenzie Powell Floral and Event Design // photo: Belathee // via Something Turquoise
---
Add Springs of Blackberries To Any Flowers!
florals: Michael Daigian Floral Design // photo: One Love Photography // via Style Me Pretty
---
BONUS: Dot Your Bouquet with Cherries
florals: Poppy and Mint // photo: Ashley Jayne Photo // via Burnetts Boards
---

Lauren Koster is the owner of I Love Love Events, a New York based wedding planning company that specializes in the unique and handmade look. Her eclectic style and modern hipster vibe always has us entranced. We always love when she graces our blog with her monthly "Steal This Style" article. Want to know more? You can personally follow or find her from these links below:
website // blog // instagram // facebook // twitter // pinterest
---