"Alix and Eddie are just a bundle of joy! From the first time I met them, through their engagement session and especially at their wedding day, there was so much love, care and kindness in everything they did. I felt so honored I got to photograph their wedding and celebrate such a wonderful time with them. We danced, laughed and cried! They are incredible people, inside and out and of course their wedding couldn't reflect anything but that! Cheers to Alix & Eddie!" – Vic Bonvicini Photography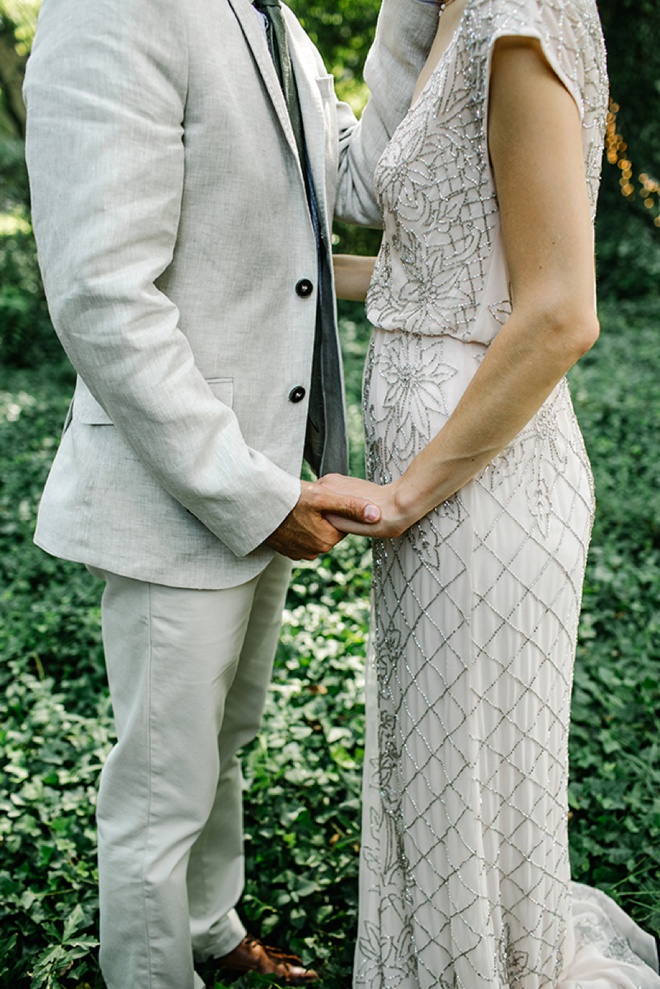 What is your favorite wedding day memory?
Is it possible to choose just one??? My favorite thing about the day was all of the little moments I shared with Eddie and with our guests. I made a conscious effort to pause whenever something meaningful was happening and to not rush past the little moments in the excitement of the day! Because of this, I have amazing and vivid memories from throughout the day. When I look back, I remember hugging my mom while getting ready, reciting a favorite poem to Eddie during our first look, looking out of an upstairs window as all of the guests gathered outside, a sweet moment with my cousin just before I walked outside for the ceremony, standing with my dad just before walking down the aisle towards Eddie, looking out at all of our dear family and friends while standing at the altar, my nieces dancing and twirling and running around the dance floor, and many other small moments that came together to make the day as special as it was.
What did you DIY for your wedding?
Throughout the process, as I made plans and dealt with vendors, it didn't feel like we were doing so much on our own. But when it came down to the final weeks before the wedding (and especially the day of!), it quickly became apparent that we had taken on some part of every element of the wedding ourselves. Luckily, I have an amazing family who pitched in to make sure all of the details came together!
My husband is a designer, so his expertise was incredibly helpful. Some grooms don't want to be involved in all the crazy planning, but mine was alongside of me every step of the way! He designed our invitation suite, all of the signage for the wedding, and our seating chart. And he made all of the delicious red and white sangria for the reception. He also contributed much needed advice and opinions throughout the planning process.
I am a potter and wanted to incorporate my work into the wedding. I made our ceramic cake toppers, with a quote from a favorite ee cummings poem, the ceramic stands for the table numbers, and the cup and plate for communion, as well as all of the flower vases for the reception tables. I also made the cakes (we had small cakes at each table instead of one large one), which were dairy and grain free, because several members of my family (including me!) have severe food allergies.
We didn't have a wedding planner so I planned the wedding myself, but my incredible family helped to execute all of the final details. I designed the flower arrangements and made my own bouquet, but some dear friends put together the arrangements for the reception tables and made the magnolia leaf place cards. My dad made our altar structure and my aunt and cousins decorated it with cloth and eucalyptus leaves. Another aunt made the corsages, boutonnieres, and a beautiful wreath for behind the head table, to designate the bride's and groom's seats. My aunts, uncles, and cousins set up our reception tables.
Our reception music came from playlists that Eddie and I made. But my brother and my sister-in-law are both amazingly talented musicians, so they played all of our music during our ceremony. My brother also played and sang the song for our first dance as husband and wife, as well as for the father/daughter dance. And he acted as DJ during the evening, setting up sound equipment, making announcements, and generally making sure the dancing portion of the evening ran smoothly.
Something old, new, borrowed and blue?
Although I didn't follow this tradition, I did borrow and wear my grandmother's jewelry, which was so special to me. I loved that she wanted to contribute to our special day!
During our ceremony, we also incorporated a Mexican unity tradition, known as a lasso ceremony. The lasso that we used has been part of many, many family weddings and was first used by his abuelito and abuelita. It was so meaningful to us to have something both old and borrowed from them.
Any advice for brides currently in the planning process?
Take time to process as you go, rather than just allowing the excitement to propel you forward. Over and over again during my planning process, people told me that it would fly by in a second and that I'd barely even remember my wedding day. I made a conscious effort to slow down, observe what was going on around me, think about and even write down how I was feeling, and focus on the true meaning of our day. Eddie and I read books about marriage together, talked about and planned for our future, and prayed together frequently. As a result, I felt completely present on our day and I have so many good memories. I got to take in each moment and I clearly remember the day! Taking time to process afterwards is a great idea too. Debrief the day with your groom. Recall moments that you had alone and together so that you have a full view of the day from each other's perspectives. Write down the things you never want to forget! – Alix, the bride
Event Credits
Photographer: Vic Bonvicini Photography // Videographer: Michael Chandler // Venue: The Veranda // Officiant: (Bride's brother) Pastor Zach Bohler // Music: Luc Bohler (Bride's brother) and Kelsey Bohler (Bride's sister-in-law) // Catering: Katie Lou's Cafe // Flowers, Cake, Makeup, Cake Topper, Communion Cup + Plate, Table Number Holders, Centerpiece Vases and more: DIY by the Bride, Alix Joye Studio // Invitations, Sangria, Signs, Seating Chart and more: DIY by the Groom // Rentals: Peachtree City Party Rentals // Rentals: Classic Canopies // Engagement Ring: Jennifer Dawes Design // Dress: Needle & Thread // Jewelry: Borrowed from Grandmother // Shoes: BCBG // Hair: Sylvia at Red Dahlia Salon // Groom's Attire: Jacket - H&M, Pants - Banana Republic, Tie - J.Crew // Flower Girl's Crown: Flower Crown Society