"Britt and Derek's wedding day was the epitome of a DIY wonderland. When I arrived to Britt's hotel, she and her bridesmaids were putting together dainty bouquets for the girls the carry, sipping on champagne and wrapping up hair and makeup. After tucking two small pink rosebuds into her hair, Brittany slipped into her one shoulder, ruffled wedding dress – she was absolutely radiant. Once we arrived at the MAAS Building, Brittany proudly showed us their incredible handy work. She and Derek had completely transformed the space. She added a bar area, hightop tables with wildflower centerpieces, and carefully hung market lights. Other incredible details included their polaroid guest book, handmade soap favors and fire-pit area. After an extremely touching ceremony, complete with readings from The Velveteen Rabbit and support from their adorable adopted pit bull, Brittany and Derek snuck away with us for some portraits showcasing the incredible Philly murals. They returned to celebrate with their family and friends. From their first dance, to dances with their parents, the celebration was unparalleled. Rather than a wedding cake, the couple opted for a food truck featuring delicious donuts! This was such an incredible day with a couple who put so much love and care into their wedding." – Samantha Jay Photography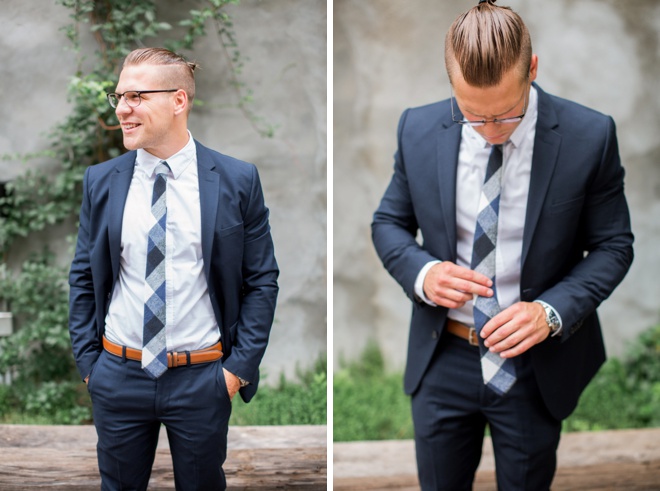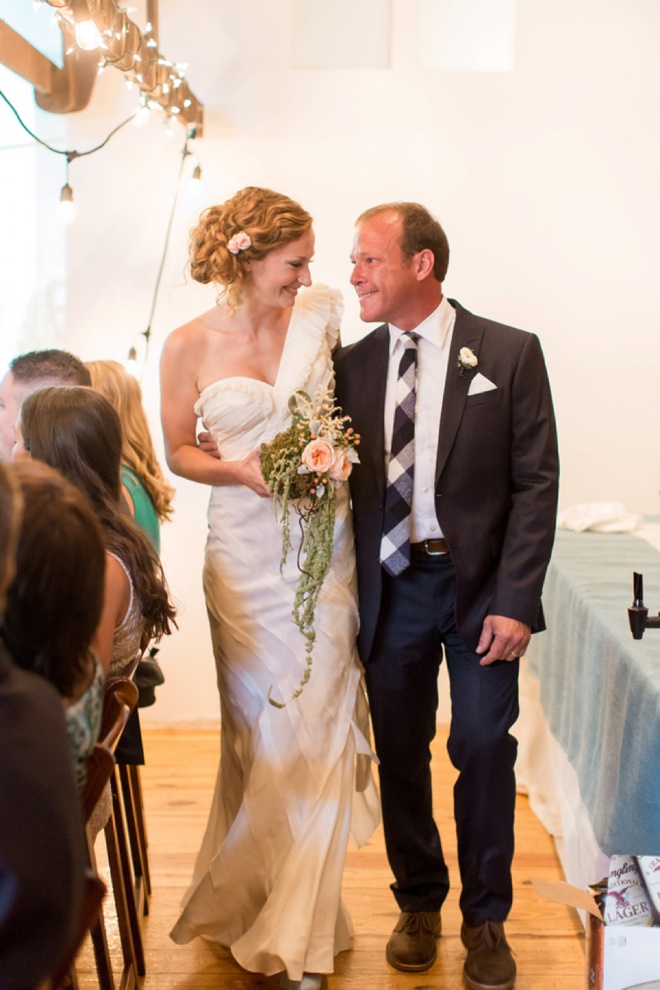 What is your favorite wedding day memory?
There were literally too many amazing moments of the day. If we had to pick just one, it would have to be walking down the aisle as husband, wife, with our dog Mason. Walking down together while being showered with hugs by our family was the greatest feeling ever. It was also amazing having our families there. Our families are scattered all over the place, so it made it an extra special day to have so many great people surrounding us. There was one time during the ceremony that when I looked into the audience and everyone was just crying tears of joy, that was an experience that was so moving and something I will never forget (make sure you do that!). I can also tell you about the most challenging part of the day –> having to wait all through the beautiful ceremony to kiss my future husband. That was awful! They should change that around for future weddings. Kiss in the beginning!
What did you DIY for your wedding?
We tried to infuse as much of our personality into our wedding as we could manage. We started by picking a venue that would allow for the most flexibility and quickly realized how wide open this left things for us to fill in. Derek's uncle was able to serve as the officiant and incorporate aspects of our history into the ceremony. Derek's best friend Ryan was able to perform the ceremony music which included a song that my Dad wrote for me as a child. We also picked out readings that were special to us including an E.E. Cummings poem, The Velveteen Rabbit excerpt, and a Leo Marks poem. Britt made decorations that were scattered throughout the ceremony and reception. These included flowers strung up and down railings, beams, and walls. We bought old fashioned lights to string throughout the ceremony room, which also served as the room for music and dancing. I also made an elaborate hanging tapestry of colored wax paper cones that welcomed everyone into the reception following the ceremony. We cut up pallets and painted them with chalkboard paint for our event times. We were able to coordinate our favorite foods from some of our favorite places (a deli in our hometown and our favorite taco shop). Derek brewed and bottled three styles of beer for the wedding (a light and dark wild ale, and a pale ale). Our parents made desserts for everyone (our favorite kinds of cakes and cupcakes) and I was also able to get a gourmet donut truck to come and give out donuts. We ordered and stamped our own napkins, silverware, plates, bowls, and cups to be compostable. We made five flavors of soap for the favors (oatmeal stout, lavender, pomegranate cranberry, shea milk and honey, and sandalwood oatmeal). We did plan to hold our own photobooth, complete with decorated masks and props, but unfortunately never was able to get it running in the craziness of the day. Derek made a giant Jenga game for people to play with in the outdoor lounge area. We also created the centerpieces and hanging vases scattered in trees along with the bridal parties bouquet (all with live flowers!). Hmm.. I'm sure there is more, but the gist is, we wanted to be able to look around at our wedding and say, "Wow, this is all us." And we definitely accomplished that goal big time! It was crazy during the process, but totally worth it.
Something old, new, borrowed and blue?
This was the last thing that I had thought of to be honest. I had so many other things that I was focused on. One of my bridesmaids asked me if I had all of the categories covered and I said no so she shoved a ring that was passed down through her family for me to count for the something old and borrowed (you can have two for one right?). A few days before the wedding I realized that I did not have shoes so I was running all over searching for something and found these great light blue shoes, I was so relieved! I counted my "new" as my dress from BHLDN. This was literally the discussion we were having on our way to the ceremony and we managed to figure something out for each category minutes before I walked down the aisle!
Any advice for brides currently in the planning process?
This is a tough one for me. I think that the only thing I can suggest is to just try to enjoy the whole process. When things get challenging (and they will!) learn how to delegate. I had done so much for the wedding and didn't feel comfortable in handing anything out because I did not want to be a bother. My friends and family were telling me constantly to give them tasks and the only person I felt comfortable in giving any work to was my mom. I was really scrambling to get everything accomplished up to the second I was forced to sit down to get my hair and makeup done. Set a deadline for yourself to be the day before the wedding and make sure that the only thing that you have in your hand the morning of the wedding is a cocktail, not zip ties and tape like me! If you are stressed just think about how it will all be worth it when you are looking around and surrounded by all the beautiful and thoughtful things you have created for your magical day. My final advice for the wedding day is be present. Stare at your new wife/husband, smooch constantly, and enjoy every second of that day!
There were so many people that helped to make our amazingly personal wedding happen. Mom Decker was constantly helping and getting her hands dirty. There is no way I would have felt comfortable in taking on all that I did without having the support from her. Dad Decker was so positive and encouraging when times got a little too frustrating. He also cleaned up the entire day after the wedding because someone had a little too much fun (Britt). Mom Lapiska was up the night before the wedding baking our favorite cakes the morning of the wedding. Dad Lapiska was our time keeper and pushing us to finish the tasks that needed to be completed. Our siblings (Bobby, Laurel, Connor, and Hunter) did every order that we barked at them with zero hesitation. There were many others, including The Shearn Family, The Messa Family, Natalie Holmes, Jennifer Martin, Terry Howard, and Ryan Shubert who went above and beyond to make our day incredible. Our families and friends really came together and helped us create the best day of our lives so far. We are so lucky to be surrounded by so many amazingly supportive and loving people.
I hope our story inspires you! – Britt, the bride
Event Credits
Photographer: Samantha Jay Photography // Venue: The Maas Building // Officiant: Uncle Patrick Shearn // Flowers: The Philadelphia Flower Market // Catering + Desserts: Ben's Morrisville Deli // Desserts: Undrgrnd Donuts // Invitations: Wedding Paper Divas // DJ: Nate Chaney, White Label Wedding DJs // Videographer: Zimm Productions // Dress + Bridesmaids Dresses: BHLDN // Brides Shoes: Sears // Hair + Makeup: Taffeta Hair and Makeup Designs // Men's Attire: H&M // Ties: The Tie Bar
No related posts found.