"Such a beautiful, intimate wedding on New York City's lower east side between a violin maker and a Broadway violinist. All the decor including florals were handmade by the couple!" – Brian Hatton Photography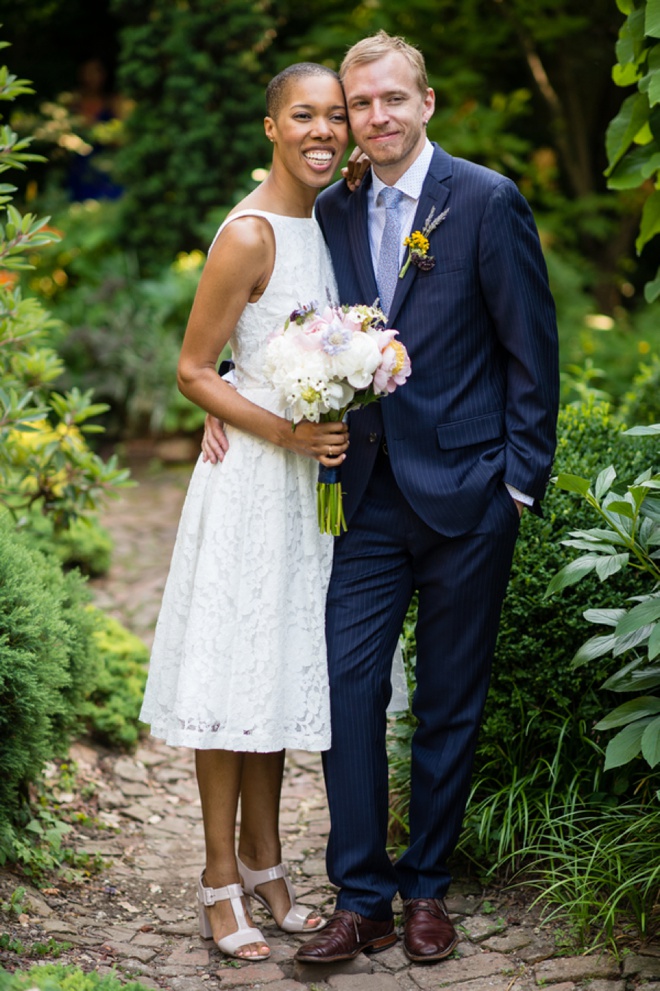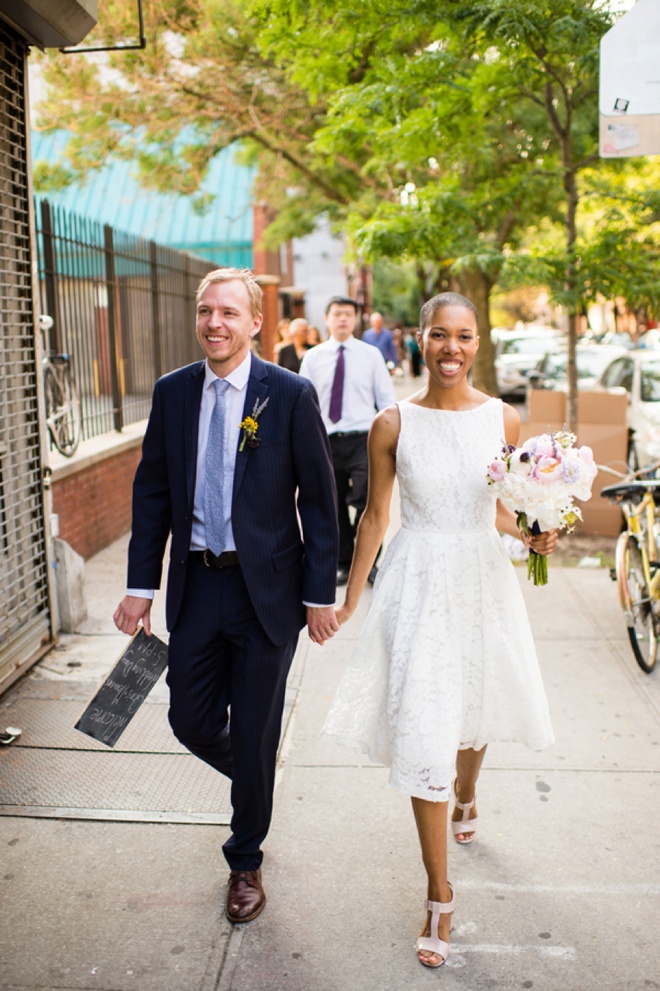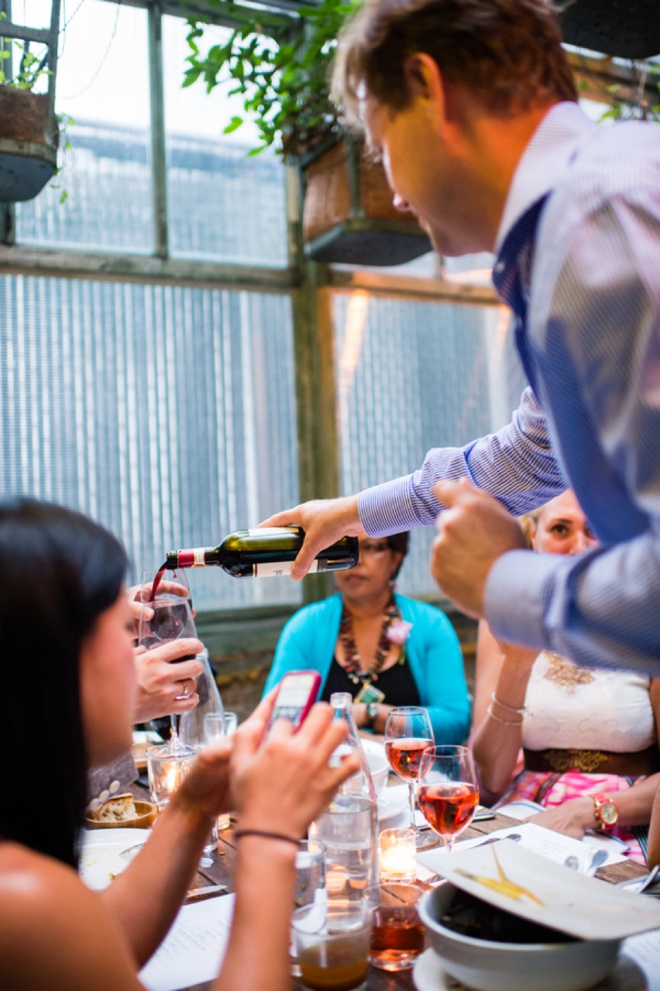 What is your favorite wedding day memory?
There are so many moments that were amazing. It's hard to choose just one. My husband said that his favorite moment was when he first arrived at the garden. Almost all of our guests already live in New York. The most they had to do to get there was just hop on the subway. But he said, when he got out of his cab the whole area (the lower east side) was filled with our friends. He saw a couple of our friends having a pint in the bar around the corner, some were roaming the neighborhood streets, and others helping to set up. One of my favorite moments was when I turned the corner to walk down the aisle. I was, obviously, the last person to arrive at the venue. My bridesmaid and I had stayed in a hotel nearby the evening before. So other than a few last minute planning texts I'd been sort of isolated from everyone. Even though I had invited all of these people, it felt like a great surprise to turn the corner and see them all standing there. I couldn't contain my emotion and cried my entire walk down the aisle.
My husband bought my engagement ring from Catbird. The ring was made by designer Satomi Kawakita. When we realized that Satomi had a workshop in the city the obvious choice was to go directly to her to choose our wedding bands. It was one of the highlights of wedding planning. We made an appointment and met with her in her beautiful space in TriBeCa. There is a small showroom but the majority of the space is given over to a light and airy workshop. We all got on very well. My husband is a craftsman himself. He builds, repairs, and restores violins for a living. Because of this he is interested in the way other people work and their workshops. Satomi gave Chris a tour of her workshop and they talked about welding and setting stones. It was an amazing and intimate experience to see how her beautiful jewelry is made.
What did you DIY for your wedding?
I made the bouquets and boutinniers for the ceremony. My bridesmaid Hannah and I went to the Chelsea Flower Market a few days before the wedding to pick flowers. My husband is from England so his and my family met for the first time the day before the wedding. His mom made shepards pie (which was basically our rehearsal dinner) and while our families ate and chat, while I made boutonnieres on our coffee table. I made the bouquets the evening before the wedding with lots of help from my maid of honor and father in law. We basically stuck the flowers together in different arrangements until we all agreed it looked good! It was so much fun! My husband made the wooden table numbers as well as the name plates for all of our guests. He also made the built and painted the chalkboard welcome sign. We picked the walnut from Condon's Lumber Yard in white plains. I traced hearts on the wood with a pencil and Chris cut out the shape on the bandsaw in his workshop. He then stamped the names and numbers with a steel punch one letter at a time.
Something old, new, borrowed and blue?
Yes. My something old was my late mother's beautiful Cartier watch. There were many something news most notably my dress and shoes. Actually, I'm not sure we did borrow anything. Chris says we borrowed expertise. For instance his father tied a Windsor knot in his tie. The something blue was the navy ribbon tied around the bouquets.
Any advice for brides currently in the planning process?
Be yourself and have the wedding you want!!! – Monica, the bride
Event Credits
Photographer: Brian Hatton Photography // Ceremony: 6bc Botanical Garden // Officiant: Captain Cait Field // Ceremony Music: Allan Pray // Reception + Catering + Dessert: Edi and the Wolf // Invitations: Wedding Paper Divas // Rings: Catbird // Dress: Alice and Olivia // Shoes: Prada Sandals // Bridesmaids Dress: J.Crew (regular shop, not the wedding shop) // Hair: Levels Barbershop // Groom's Attire: Macy's Suit, J.Crew Tie // Shoes: Camper // Groomsmen Attire: Marks and Spencers // Flowers and Decor: DIY by the Bride! // Wooden table numbers, wooden signs and placecards: DIY by the Groom!
No related posts found.