A funny little fact that you might not know about me is that I was a traveling wedding hair dresser for 12 years before I started this blog. I love wedding hair and it was my favorite to work on behind the chair. So today I'm sharing my professional hair tips with you on incorporating your full fringe style into your wedding day hairstyle! Thick, fine, long, short, tapered, or swept… no matter how you rock your full bangs for your everyday style, there is a way to make them look their finest (and not get in your way) on your wedding day!

Hair Style + Image Credits
1 LEFT: Baby's Breath Crown: Whichgoose, $88 // 1 RIGHT: Hair: Hair & Makeup by Steph, Image: Ciara Richardson Photography // 2 LEFT: Hair: unknown, Baby's Breath Crystal Hair Vine: Twigs & Honey $395, Image: Elizabeth Messina // 2 RIGHT: Hair: Fiore Beauty, Image: Sarah Yates // 3 LEFT: Hair: Bouffant, Image: Navy Blur, via Rock My Wedding // 3 RIGHT: Marie Bridal Headband: LoBoheme, $168 // 4 LEFT: Hair: Hair & Makeup by Steph, Image: Ciara Richardson Photography // 4 RIGHT: Hair: unknown, Image: She Wanders, via Ruffled
---
What Type Of Hair Works Best:
Almost all hair types work for full bangs, with thin/fine and extra curly hair being the least of which. If wearing full fringe is part of your everyday hairstyle, then by all means wear them on your wedding day. Typically you'd want your hair to be at least one or two days dirty for optimal style structure – but with bangs you want them squeaky clean. It might sound a little crazy, but you can actually wash just your bangs in the sink the morning of your wedding so that they are bouncy, shiny and full of life – all you bang people know exactly what I'm talking about.
Keep your hands out of your bangs! Best tip ever. Try not to touch or play with them too much. Have your makeup artist even pin them up and out of the way with a tissue. The more handling the more greasy they will get and the last thing you want is oily fringe at the end of your special day.
What Hair Color Looks Best:
All hair colors look super fab with full fringe, but the brunettes have this style on lock. There is something so striking and sexy about a brunette with shiny full bangs.
Highlights too close to your fringe part or sides above your ears is the only color issue you need to be aware of. If your colorist isn't your stylist, make sure they know about your hair cut and wedding day style plans before they highlight your hair.
Shine makes full fringe look luxurious – but be cautious when adding spray shine as too much will look oily as the day progresses. To amp up the shine of your locks, you can deep condition regularly and even start taking hair-skin-nail vitamins up to a year before your wedding day. Keep in mind the vitamins only effect NEW growth, and since our hair grows about 5-8″ per year, you'll want to give yours a head start.
Getting The Look:
Having a gorgeously sculpted full fringe wedding day hair style needs to be left to the professionals, period. Do not try to DIY your own bangs, no matter what you read on Pinterest or see on YouTube, lol.
If you are lucky enough to have a hair dresser that is doing both your cut and wedding style – you are golden. Ask them to bring their shears with them to give you a last minute fringe trimmy-trim after your wedding day style is complete, right before you walk down the aisle. If that is not an option for you, try to make an appointment just for a bang trim within the week of your wedding day. All bang-peeps know their favorite amount of "grow-out" days, so stick to that schedule and do a little pop-in with your stylist; usually they can accommodate you while they have a color or deep conditioner processing.
Do a trial run. I recommend this for all styles but ones with bangs in particular because you never really know how yours will look with your wedding day style until you see it in action. This way, if the style of fringe that you have needs to be modified or certain areas need to grow out – you'll know ahead of time. This would be especially true if you are going to have an updo as you'll want symmetrical lines that accentuate your special style.
Headbands of all types (from sparkles to florals) are a popular choice to embellish full fringe styles, since they sit perfectly atop your bang part. Headbands are a wonderful addition or substitution for a veil and can even be added after your veil is removed, for a unique reception look.
---
How stunning is this shot of the groom kissing his bride with her adorable full fringe?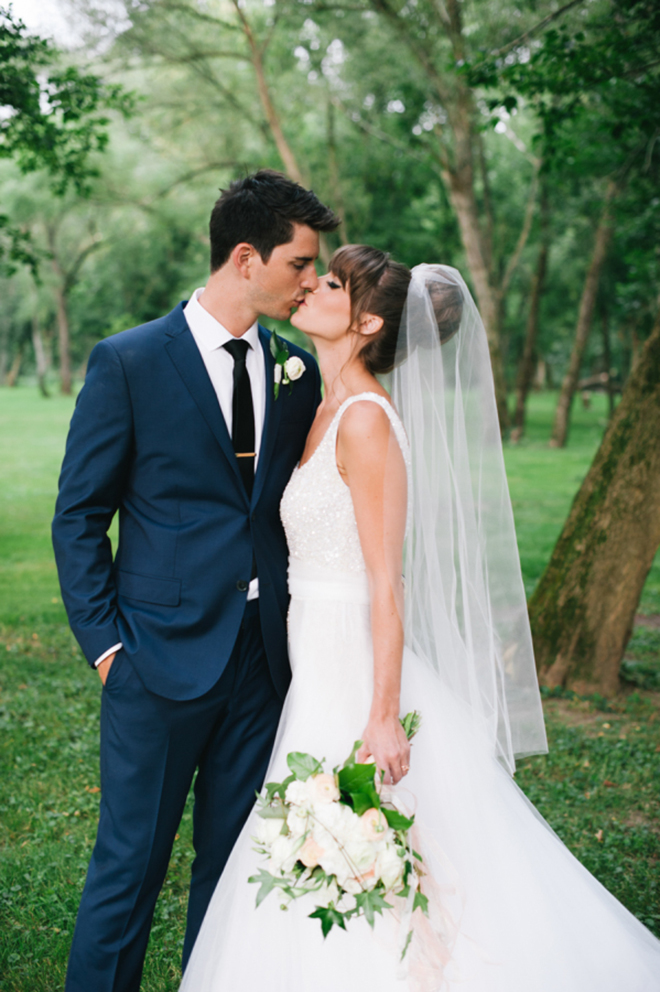 Hair: Tame Your Mane, Image: Lydia Jane via Style Me Pretty
---
If you have a specific wedding hair style that you want Jen to discuss, please leave it here in the comments and maybe you'll see it next month!!
No related posts found.