"Kayla and Joe were married in their church in Carrollton, GA after doing a sunrise first look at a local park. After the ceremony, their reception was held in a beautiful loft space near the one of their favorite date spots, a coffee bar. The couple are both coffee fanatics and avid readers and wanted to incorporate that into their design so their parting gifts were personalized bags of their favorite coffee beans and the tables donned some of their favorite vintage books. Kayla's grandmother use to own a flower shop so all of the flowers were hand crafted by her with the help of Kayla and her mother, making the beautiful arrangements even more special. This sweet Georgia couple left no stone unturned, tied all the decor together organically using white pumpkins and pulled off a fabulous DIY fall wedding. I very much enjoyed getting to capture their beautiful day, their love for one another and the sweetness they shared with their friends and family members." – Jessica Williams Studio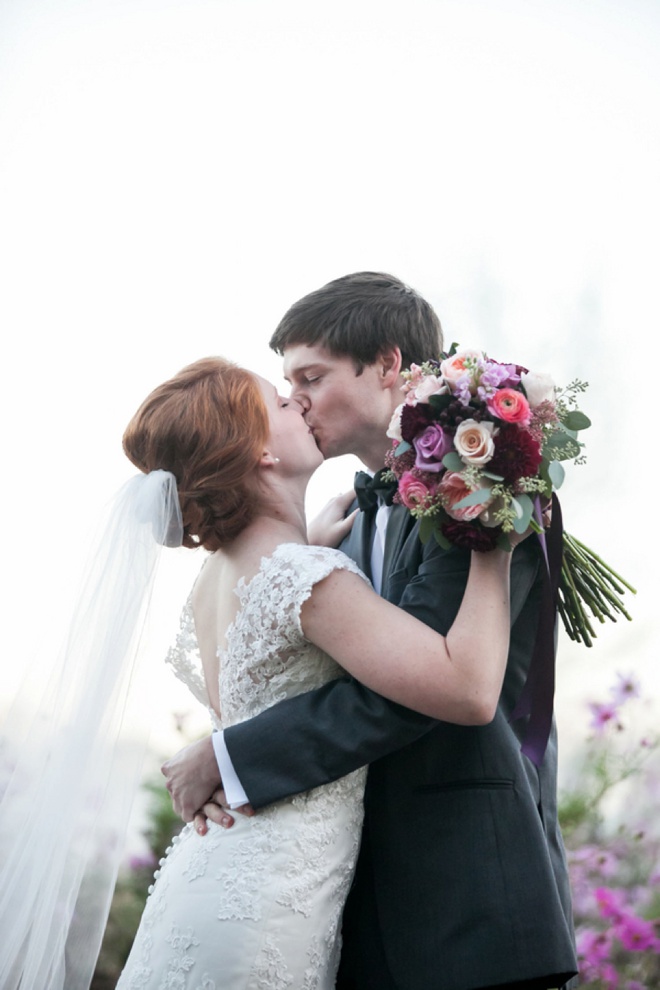 What is your favorite wedding day memory?
Every time I think back on our wedding, I am immediately brought back to the moment of walking down the aisle. It was such a special moment. Joe and I had already seen each other before the wedding for pictures and our "First Look" but walking down the aisle was still so surreal. I was so nervous before the wedding – stage fright more than anything – but walking into the church and seeing Joe at the end and all our loved ones in one room was such a special, heart-warming experience!
What did you DIY for your wedding?
Goodness, so much, and I loved every second of it. We made thank you cards/crossword puzzles to put at everyone's seat at the reception. We DIY-ed the wedding programs – I bought a template from Etsy and added our own details. We put together the favors: small bags of coffee from Bowdon Coffee Roasters – where Joe proposed and I worked at the time. And all the decorating was DIY. I did all of the chalkboard signs, with a lot of inspiration from Pinterest, of course! My grandmother did the flowers, and mom's rock star friends made it all come together beautifully in the reception hall.
Something old, new, borrowed and blue?
Yes! I actually didn't really plan to have them, but my family made it happen, which was so special. My grandfather lent me his rosary for my something old and borrowed. It got placed within my bouquet. My grandmother gave me the sapphire ring that my grandfather gave to her for their 50th Wedding Anniversary for my something blue. Lastly on the morning of the wedding, my mother and father gave me pearl earrings for my something new.
Any advice for brides currently in the planning process?
Let your loved ones help! We utilized so many people's talents and kindness when they offered. Our DJ was actually Joe's uncle! He was great. My grandmother who used to be a florist did our flowers, which was very special to me. My mother's friends were also so helpful when it came to setting up the reception hall the night before; decorating the church; and even rushing to the hall after the ceremony to make sure the flowers made it onto the wedding cake. They were the best wedding team a girl could ask for!
Reflecting back on the day, I am so incredibly grateful for the amazing people in our lives that made the weekend so perfect! From my family-in-law throwing a magical rehearsal dinner, our amazingly fun and easy to work with photographers, Jessica and Justin, to all our family and friends who traveled from all over to be there with us. It was a wonderful day and so special to us. – Kayla, the bride
Event Credits
Photographer: Jessica Williams Studio // Ceremony: Our Lady of Perpetual Help Catholic Church // Officiant: Father Rafael Carballo // Reception: RSVP // Music: Ceremony (Pat Reynolds), Reception DJ (Tim Brown) // Catering: Debra Gibbs of Bowdon, GA // Invitations: Minted // Engagement Ring: Cook's Jewelry // Dress: Mori Lee // Shoes: Badgely Mischka via Tradesy // Bridesmaids Dresses: Allure Bridals // Hair: Shear Magic Salon // Men's Attire: The Squire Shop // Getting Ready Robes: Plum Pretty Sugar // Guest Book: DIY via Shutterfly // Program Template: Swell & Grand // Coffee Favors: Bowdon Coffee Roasters // Stamp for Coffee Favors: Hunter and Co Designs // Cake Topper: Better Off Wed // Cocktail Napkins: For Your Party // Flowers, makeup, thank you cards, programs, favors, decor, signs and more: DIY by the Bride + Groom!
No related posts found.