"What a sweet wedding day! I honestly cannot pick just one favorite moment from this wedding! These two are so adorable and in love and it really showed the entire day long. White Crest Farm was the perfect setting for this rustic southern wedding, and Petal Pushers Floral Event and Design did a fabulous job with the décor and floral arrangements! Rebecca was a very hands on bride and had lots of DIY projects from the wedding. It was so fun to see everything come together on the wedding day." – Laura Barnes Photography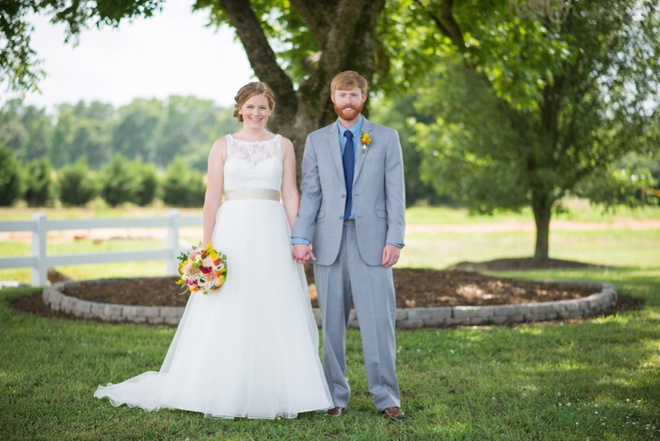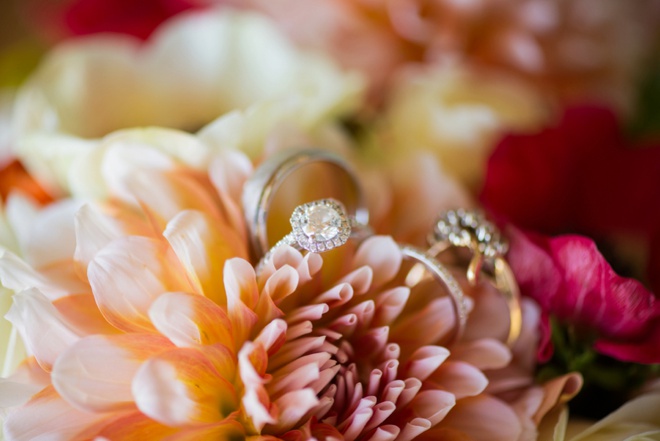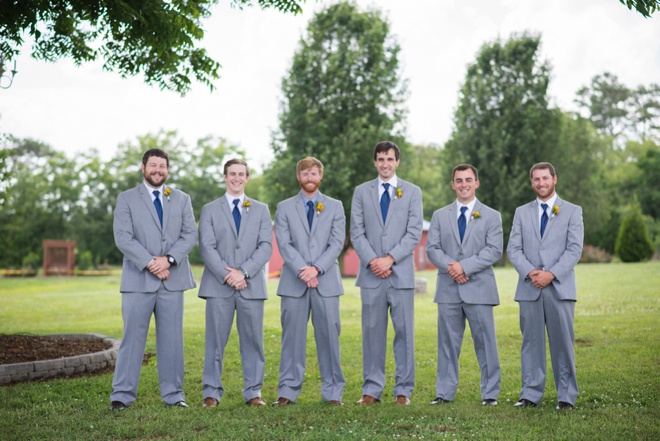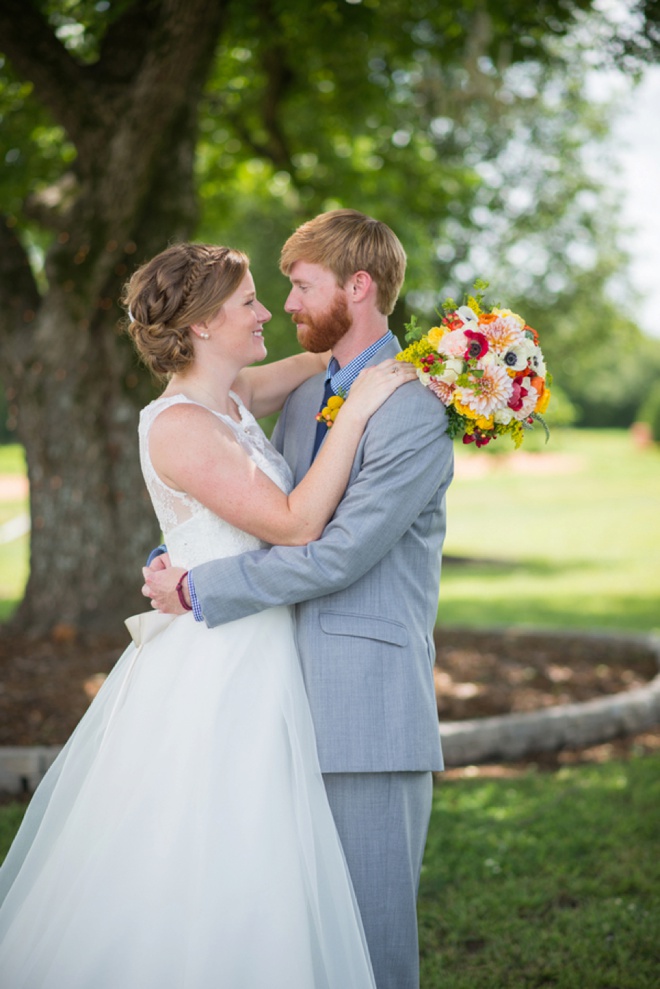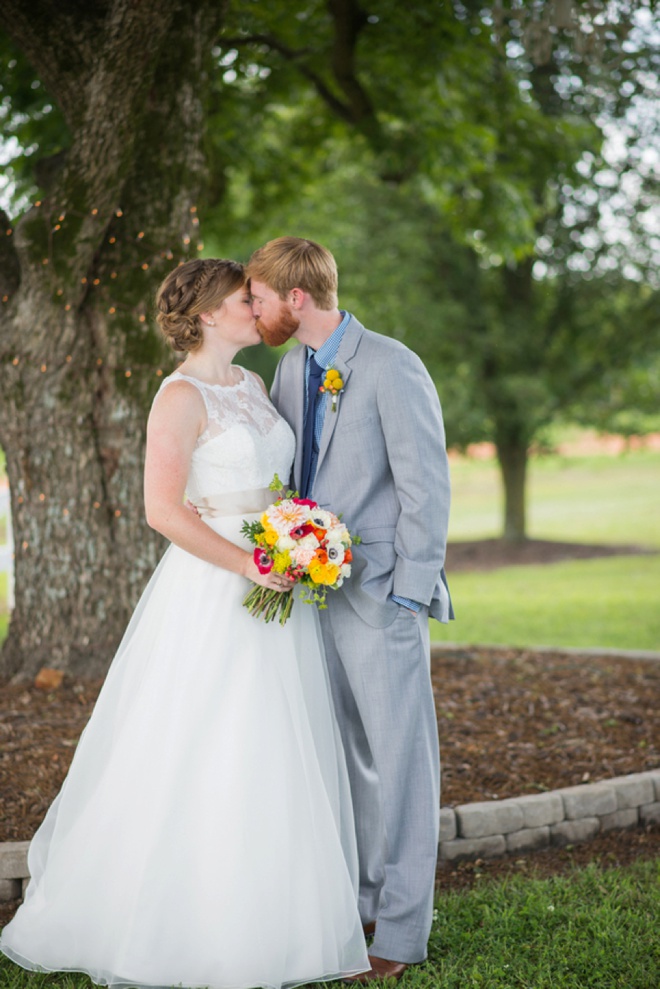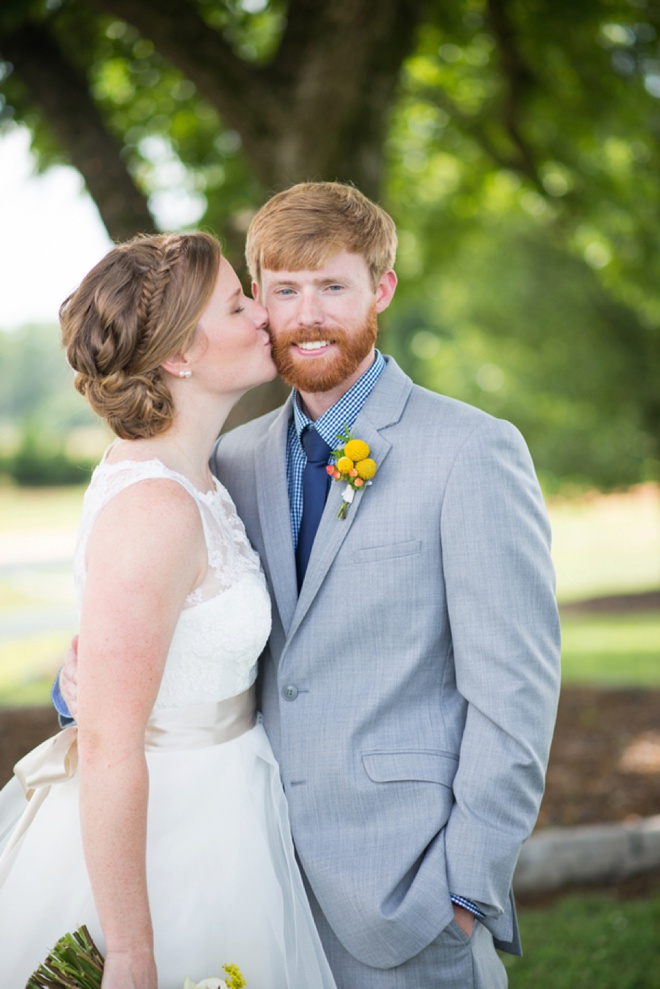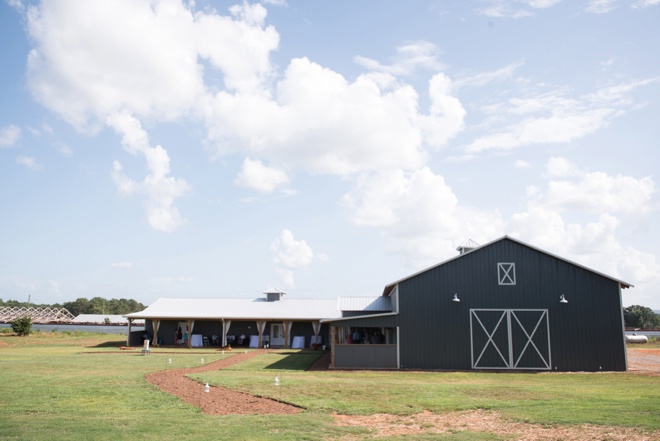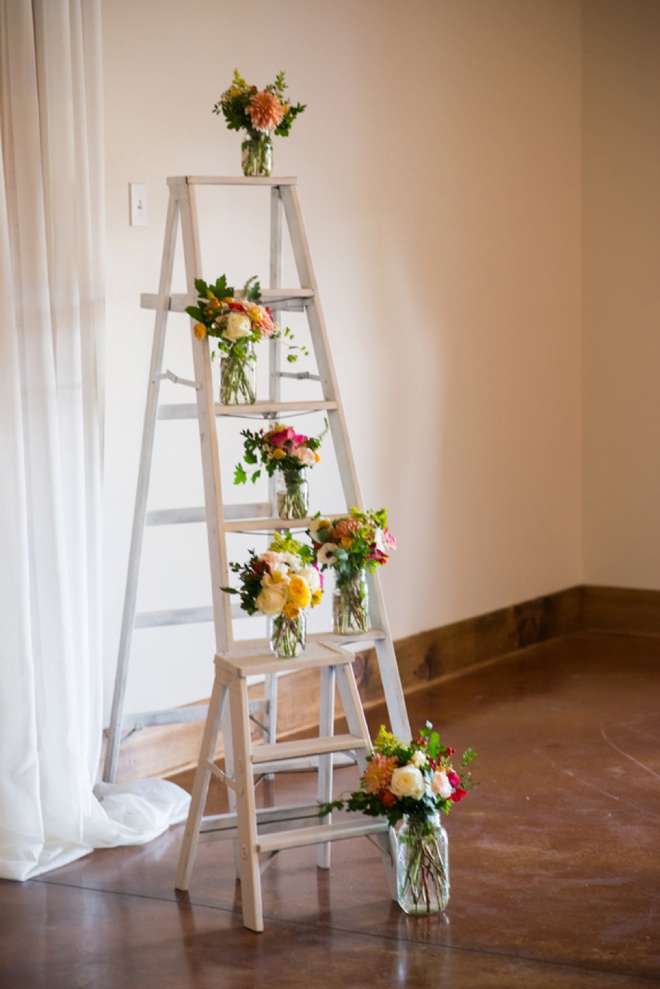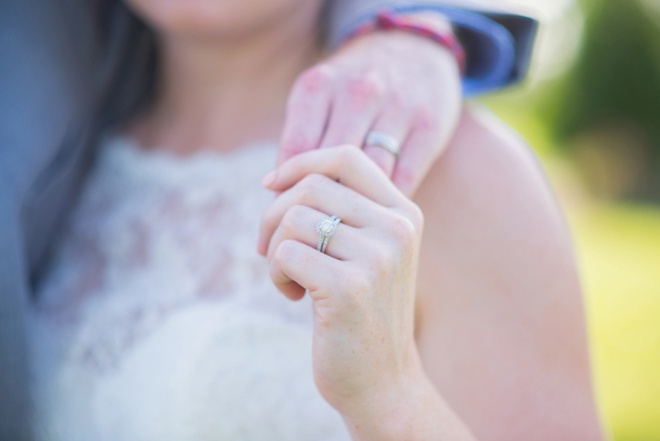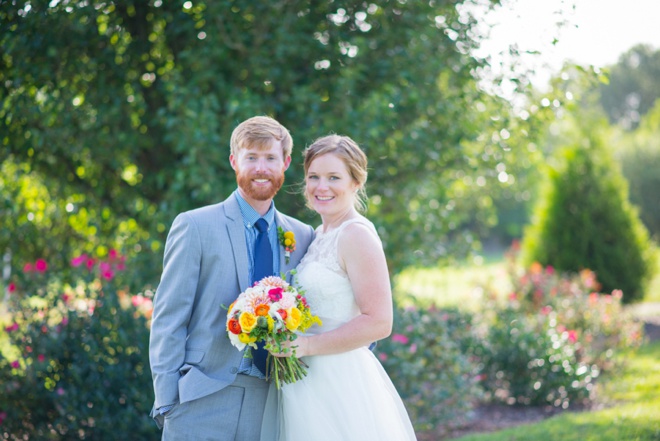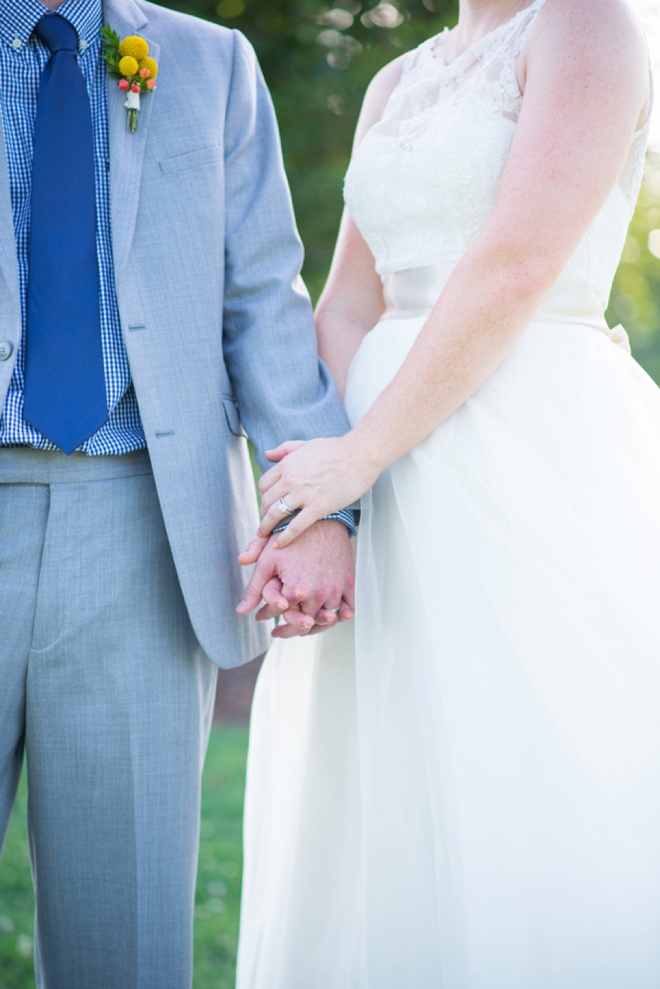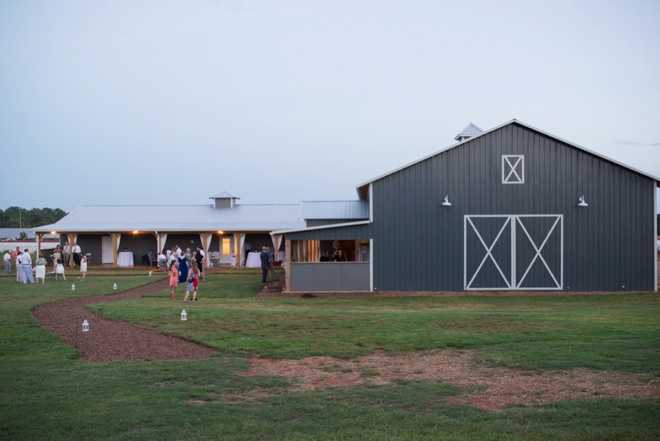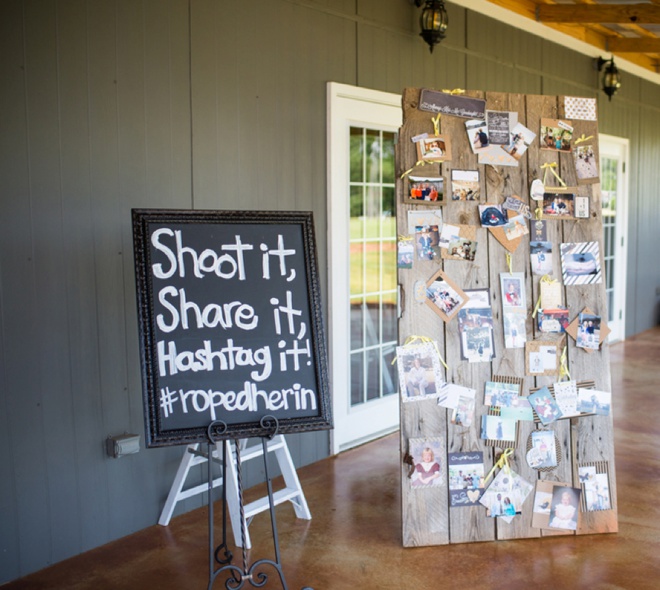 What is your favorite wedding day memory?
The whole day was absolutely amazing – everything that I had ever dreamed of, but two parts stick out to me the most. First, Lee and I had been in a long distance relationship for the entirety of our relationship. So just knowing that we wouldn't have to leave each other for the week after we said "I do" had to be the best part. From about date number three I knew that he was the one, now I get to spend my life with him! My second favorite part were our favors. Lee graduated from Auburn with a degree in forestry. When we met he had two dogs, Cedar and Willow (yes, named after the trees.) So because of his dogs, part of our favors were actual trees. We gave away Eastern Red Cedars, Weeping Willows, Willow Oaks, Fringe Trees, and Dogwoods. The favors were a surprise to him that I worked out with his former boss. Still to this day, when we see our guests they talk about how unique our favors were.
What did you DIY for your wedding?
The wedding was a complete team effort! First, our venue was amazing. The family that owns and runs the venue are friends of our's and worked their hardest to make this day perfect. In a meeting with them I showed them the alter that Lee and I liked and that we planned on building, but she said that she loved it just as much, built it for us, and it is now a permanent part of the venue.
Getting close to the wedding and seeing the alter in person I was still stuck on what I wanted to add to it. I searched Pinterest (of course) and found my inspiration… Ladders! My mom and dad had a tall one, my aunt and uncle donated another tall one, and my mom found two more at yard sales. They painted them white and our florist put flower arrangements in mason jars to set on the ladders. That's all the alter needed added. It was so simple, beautiful, and perfect. We ended up with two on either side. The venue had 4 sets of double doors that when the doors opened after the ceremony, we placed short ladders with flower arrangements on them as well.
My husband cut tree cookies and painted them in polyurethane to use as part of our centerpieces. On top of them, we reused the flower arrangements from the alter (we had the ceremony and reception in the room so we had a cocktail hour for the switch) with lanterns with candles in them that we bought at Hobby Lobby.
The venue had a big chalkboard that they loaned out to us that I wrote our hashtag on (#ropedherin… our last name is Roper).
The groom's cake was made by Lee's aunt. She has been in cake decorating contests and volunteered to make his cake as her gift to us. It was inspired by Auburn's Toomer's Corner and made out of his favorite cake, funfetti, with homemade sprinkles.
My mother-in-law took on the task of making the signs. She made a sign out of wood and painted Rebecca <3 Lee Wedding with an arrow pointing towards the venue. She made a sign for our memory table, We know you would be here today if Heaven wasn't so far away. For the table, we blew up pictures of my dad's mom, my mom's dad, and Lee's mom's parents. They all had such an influence on our lives and felt like it wouldn't be right not having something for them at our wedding. She also made the signs with the Willow and Cedar painted on them that we placed in front of the tree favors.
I didn't want a traditional guest book and had no idea what to do about until the week before the wedding. My mom and I, again in Hobby Lobby, found inspiration. We blew up our favorite engagement picture, found a frame, and matted it so that our guests could sign around the picture.
I was a babysitter for a family for a long time; they actually became a second family to me. For one of our showers, she got a bunch of pictures of us from babies to our engagement pictures and made a beautiful collage of us. We reused those pictures on an old wooden door at the entrance of the ceremony for our guests to see.
I opted out of a veil and made my hairpieces myself. Nothing fancy, just something to fit my personality. Plus, I didn't want to take away from the back of my dress (it was what drew me to the dress).
My husband's friend and groomsman, Kyle, made a life size Jenga set for us to use during the cocktail hour and reception.
My brother got married in May of 2014 and one of his groomsmen made an Auburn corn hole set that we used as well.
My mom has been in a our church's handbell choir for 25 years. Ever since I heard them play Cannon In D with our church's organist, I knew I wanted to walk down the aisle to that song. There was no piano or organ at the venue so the handbell choir and organist recorded Cannon in D for the processional and Water Music for the recessional.
Something old, new, borrowed and blue?
I didn't really focus on this part. However, I did end up with all of them except something blue. For my something old, I wore my grandmother's ring. She gave it to me before she died and told me it was the first piece of jewelry she ever bought herself. My something new, other than my dress, was a necklace that my mom and dad gave me. It can actually be my something borrowed, too. When I was born, my dad gave my mom a necklace with a pearl charm. Pearls just happen to be my favorite so they took the charm, put it on a new necklace, and gave it to me the night of our rehearsal dinner. Dad, being the man he is, replaced that necklace with another for my mom.
Any advice for brides currently in the planning process?
Start early!! Enjoy being engaged, but start planning as soon as possible. Starting early will make the end so much easier and less stressful. Things will go wrong, but at the end of the day you will be married and that's the whole point right? My cake almost melted, but that didn't bother me. Every girl dreams of their wedding, but you have to remember your man. It's no longer just you. It is easy getting carried away making your dream wedding come true. If he wants to help plan, let him! It is his day, too. – Rebecca, the bride
Event Credits
Photographer: Laura Barnes // Venue: White Crest Farm // Flowers: Petal Pushers // Catering: Nancy Dixon // Cakes: Kay Collier an Agnus Mitchell // Invitations: Wedding Paper Divas // Officiant: Tommy Greer // DJ: Just in Time DJ // Engagement Ring: Diamonds Direct // Dress: J. Andrew's Bridal // Bridesmaid Dresses: Azazie // Hair + Makeup: Mallory Wortman // Men's Attire: Mr. Burch Formal Wear
No related posts found.