"I love this wedding from head to toe. Great venue, beautiful couple, fun partying, perfect lighting, creative decor – seriously, I can think of nothing to complain about. The venue was especially perfect because Fess Parker was where Marty proposed to Geraldine! My favorite part about this wedding is the amount of unbridled happiness in everyone's faces, especially the bride! It was pretty hard to find a picture in my catalog that didn't have Geraldine smiling from ear to ear. She wins the trophy for happiest bride of 2015 in my opinion!" – Danto Photography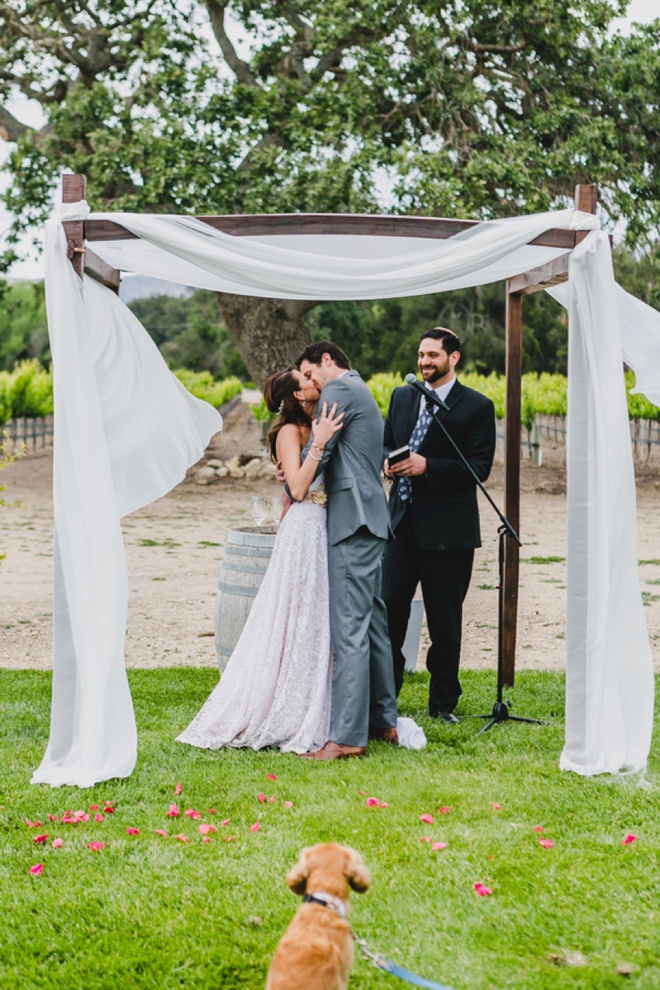 What is your favorite wedding day memory?
It's so hard to pick just one! We loved every minute of it because we put a piece of ourselves in every aspect! The venue was especially special because it was the same place we got engaged exactly one year earlier. Seeing the spot where Marty got down on one knee, as I walked to marry him, put me in the best mind set! But one memory stands out… It was cold and overcast all day, which is not at all what we were planning on. But, just as the processional started, the clouds parted, the sun came out and I could feel the heat on my neck. It made for the most amazing walk to my soon-to-be husband! And I will never forget seeing his face under the chuppah! *side note, this venue was so fortuitous! We actually had booked another venue but had to change it with 35 days to go before the big day! Fess Parker was incredible and helped us get everything in place for a smooth and fun experience. Can't thank them enough!
What did you DIY for your wedding?
Oh my goodness! What didn't I do? My favorite is probably the favors we gave to all our guests. We had wine glasses made with our names and wedding date. Then, I sprayed chalk paint on the bottom to make it possible to write on them. During cocktail hour and the reception, we had the glasses out with chalk pens for everyone to write their names on them! This way they can keep track of their glasses all evening, and it's fun! The glasses were also theirs to take home and enjoy! But we truly had our hands in everything! The chuppah was made from reclaimed wood that was then sanded and stained; I found glass doors while on tour at another venue and made those into signs at the start of the aisle; the wood directional signs were made using scrap wood at a local hardware store; centerpieces were wine and $1 store bottles that I spray painted silver; table numbers were fun facts about us and I glued corks together as the number holders; the place cards were lovingly made by mother-in-law; my dad made his special sangria to serve throughout the evening… I also made some special frames for my mom and dad with words I knew were special to them, and space to put a photo from the wedding once they came in. I could go on and on!
Something old, new, borrowed and blue?
Oh yes! I love traditions like this…
New: My beautiful Madeleine Fig dress!
Old: My mom's bracelet that she gave to me years ago.
Borrowed: My sister's tiara that she wore at her wedding. Though, I styled it differently on the back of my head.
Blue: My shoes! They were so comfortable too!
Any advice for brides currently in the planning process?
Your wedding will be the best day of your life! Here are some tips that helped me:
Find some inspiration pics of what your dream day would look and feel like, then as you are planning, keep going back to those photos. It's easy to lose focus with so many beautiful things out there. Stay true to your original vision!
Think about what is important to you and your significant other – is it music? food? family? And try to incorporate details to bring those aspects of your personalities into the big day. No part of a wedding "has" to be any way. For example, we love music; he loves 80s and I'm a 90s girl – so we made CD's of the cocktail hour music we specifically chose to give out. We also had an olive bar since my husband loves olives, and donuts for dessert since neither of us care for cake. The guests loved our personal touches!
Focus on the important things to you! There are SO many parts to a wedding, from Save the Dates to Invitations, Ceremony to Reception. Keep in mind what you want to focus on and go crazy! Keep the rest simple for your own sanity. Will your guests remember the invitations or the music played or the food served or the decor… you get it.
HAVE FUN! Being a DIY bride is the best! You get to put yourself into the wedding and the guests will feel it and notice it. It is tough, but you will look back at the memories and photos and all the work will be more than worth it!
We couldn't have pulled off this beautiful day without the help of family and friends – some of whom were also vendors! We are so thankful to everyone! – Geraldine, the bride
Event Credits
Photographer: Danto Photography // Venue: Fess Parker // Hotel: Meadowlark Inn // Wedding Planner: Megan Ondercin Event Design // Officiant: Groom's cousin, Rabbi Jeremy Fine // Flowers: Hidden Garden // Catering: Brides friend SaraBeth // Donuts: El Rancho Market // DJ: Spotlight LA // Vintage Rentals: My Lovely Events // Rentals: Elite Events // Engagement Ring: Cut Carat // Dress: Madeleine Fig // Shoes: Badgley Mishka // Hair + Makeup: Norma Blaque Studios // Bride + Bridesmaids Shorts: Lola Lane Gifts // Best Husband Ever Shirt: Crazy Dog Tshirts // Special Map Gift: Secret Room Homestyle
No related posts found.