"I knew I was going to love Annie & Jason when I first met them during their engagement session. Fast forward to their wedding day and my husband and I felt like we were photographing our friends wedding day. They definitely did the wedding day 'right'. They made it uniquely theirs. Including their family and friends in their ceremony, spending the months leading up to their wedding day hunting for vintage glass jars and old cameras, getting photos of their families marriages, to even going out to a farm to pick flowers for their day all to incorporate into their special event. It wasn't just the decorations though – it was also Annie pinning her grandmothers handkerchief to the inside of her dress and embroidering her Dad's tie with a special message. It was the pure joy that was SO evident in Annie and Jason and their friends and family there to celebrate them. We have not doubt they will have an amazing life ahead of them!" – Smith Photos + Ink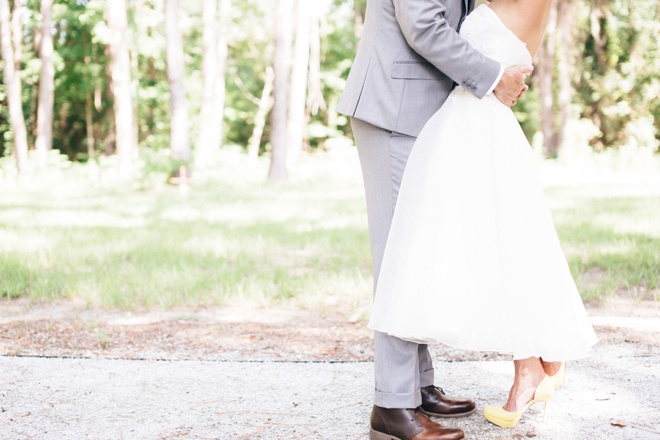 What is your favorite wedding day memory?
Our wedding day was AMAZING from beginning to end. We wanted to have a small wedding, just our closest family and friends and we were able to do that, which was so great. It is really hard to pick out one moment, but I would have to say that is was this: after dinner, everyone was milling around mingling and having a great time. Jason and I went with Jessica to have some pictures taken around downtown Charleston. This time, with my new husband, walking around a city that we both love so much, was perfect. Just the two of us (followed by our photographer, snapping away of course), having a moment to ourselves to revel in the day and the reflect on the fact that we had just gotten married! After all the pre-wedding craziness, it was so great to just have that little bit of time together. I will always remember that.
What did you DIY for your wedding?
For the ceremony, we designed (with a little help from an online template) and printed our programs. We also had handkerchiefs for all the ladies that my mom and sisters and I rolled and tied with tags designed and printed for us by the woman who did our invitations.
Although our bouquets and boutonnieres were done by a florist, we did all the flower centerpieces for the reception. We spent a year finding and collecting vintage bottles and jars for all the tables. The morning of the wedding my parents and I stopped by a local farmers market, Rosebank Farms, to buy the flowers to fill all the jars.
We also created a tribute to all of the strong marriages that we have been inspired by over the years by putting together a display showcasing the wedding pictures of all of our married guests.
For our "guest book" we found an artist on Etsy who designed a poster of the Charleston Skyline in our wedding colors for everyone to sign. That way we can frame it and display it in the house, along with our wedding photos.
My sister-in-law created the tags for table assignments, which we displayed on paper straws, which along with a mason jar glass for each guest to use during the reception, became the favor. She also printed the table numbers which were affixed to vintage milk jugs to distinguish which table was which.
Something old, new, borrowed and blue?
Old: Pinned to my dress was a handkerchief that had been my grandmother's, and which my mom carried at her wedding. My engagement ring is also an heirloom. It was given to my husband's grandmother by his grandfather… he bought it in Nuremberg, Germany in the early 1940's (the two met while serving in Germany during World War II).
New: My dress and shoes were new.
Borrowed: I had to borrow my mom's diamond earrings, when I realized I only had one of mine with me!
Blue: I wore a blue garter under my dress.
Any advice for brides currently in the planning process?
Don't forget the purpose of the day. It is so easy to get caught up in the hubbub of everything, and you just forget why you are doing it all. Stay true to yourself and to your fiancé. There is always going to be pressure from outside sources, but this is a day to celebrate the love you and your fiancé share and the commitment the two of you are making to each other. And don't sweat the small stuff… odds are, you are the only one who is going to notice when things go wrong!! Take it all with a grain of salt and move on… better to laugh about it later than to spend your wedding day crying over spilled milk. – Annie, the bride
Event Credits
Photographer: Smith Photos + Ink // Ceremony: Holy Spirit Catholic Curch // Officiant: Reverend Monsignor Charles H. Rowlan // Reception: Upstairs at Midtown // Florist: Tiger Lily Florist // Catering: Crave Charleston // Invitations: Vintage Twee // Transportation: Carolina's Executive Limo // Rentals: Eventhaus Rentals // Shoes: Madden Girl // Bridesmaid Dresses: J.Crew // Men's Attire: Pursuit // Ties & Pocket Squares: The Tie Bar // Suspenders: MeandMatilda // Guest Book: An Inspired Wedding // Tie Clip Gifts: Distinctly Ivy // Groomsmen Gifts: Peerless Custom // Custom Golf Balls: Inked Your Way
No related posts found.