I am so grateful I was able to capture Nina and Kenney's big day. Their wedding was one of those weddings you will never forget. So many amazing emotions were documented. Nina was beyond giddy, all school girl smiles when I greeted her earlier in the day. She couldn't wait to walk down the aisle and marry her man! Family and friends gathered and so many happy tears were shed! There were so many emotional moments to the day that I could probably list them, but I'd suggest just viewing the images below and see for yourself. Big thanks to my second photographer, Julia and assistant, Andrea who made the day a great success! – Jaye Kogut Photography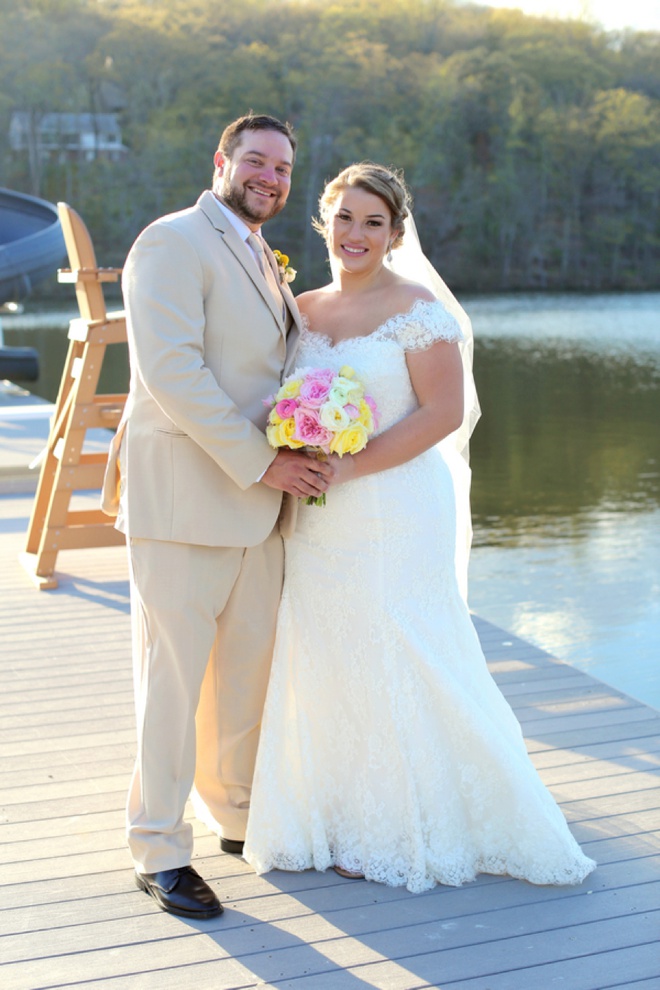 What is your favorite wedding day memory?
How do I just pick one favorite part of our wedding day. I spent so long figuring out the little details, I loved every single part. My most memorable moment was when the doors opened and I got to see Kenney for the first time. It was magical. We didn't see each other before hand, and I am so glad that we didn't. I wish I could go back and relive everything all over again. Being able to share such a wonderful day with all the people we love and care for as simple amazing!
What did you DIY for your wedding?
I honestly don't even know where to start. We basically did everything that we could. And by "we" I am happy to say that Kenney helped out and had an input and idea for everything! We made the boxes for our centerpieces – cut and stained all the wood. The letters on the mantels I put together and we filled all of the favors ourselves. Kenney put together the card box, and also the mason jars for the aisle. All aspects of our invitations I did with my bridesmaids. The invitations, RSVP Cards, Accommodation Cards, Menus for the tables, and the thank you frames for the tables were all made. One of my favorite parts of our décor was the seating chart. My Maid of Honor hand wrote all of the names on the window panes – beautiful! My grandmother made my gorgeous cathedral length veil, my guarders and also my sisters dress. I couldn't have been more pleased with how everything turned out.
Something old, new, borrowed and blue?
My something old was a hankerchief that my grandmother made way back when and also a pendant that my Great Grandmother gave to my Great Aunt on her wedding day, and she then passed it on to me. Something new, was a bracelet that Kenney had gotten me as a wedding gift. Something borrowed was a gold bracelet from my Nonna who could not attend the wedding. Something blue was the blue stitching that my grandmother put in on the guarder belt that she made.
Any advice for brides currently in the planning process?
Enjoy every single second of your planning – and especially your big day. You spend so much time planning for one day, and it goes by so fast. Before you know it, it is the end of the night and everyone is leaving. You cant help the weather – it is the one thing that you have ABSOLUTELY NO CONTROL OVER so don't waste time stressing over it. Just make sure you have a back up plan for bad weather. Take time and enjoy your husband before the hustle and bustle of your celebration begins. You will be together the entire day, but it will be rushing around to all of your guests, and dancing and maybe stealing a bite of your delicious food. And lastly, just take everything in. Enjoy and absorb as much as you can. It honestly has been the best day of my life thus far and wouldn't have changed a thing. – Nina, the bride
Event Credits
Photographer: Jay Kogut Photography // Venue + Catering: Lake Valhalla Club // Florist: Roots of Love // Cake: Palermos Bakery // Officiant: April Beer // DJ: This Magic Moment // Engagement Ring: Jared // Dress: Castle Couture // Bridesmaid Dresses: Bill Levkoff // Hair: Tracy, friend of the bride // Makeup; Lush Bridal // Men's Attire: Boss Tuxedo // Invitations, Centerpiece Boxes, Favors, Signs, Card Box, Menus, Seating Chart, Veil and all decor: DIY by the bride and her family
No related posts found.