"Julie spent two years living in Nashville while getting her masters degree at Vanderbilt and completely fell in love with the city – and with the love of her life – Kyle. She shares, "I love the sense of a big city atmosphere with a small town feel that you get in Nashville. The food and the music are amazing. But what I loved the most about Nashville was the people and the sense of being at "home" that I felt living there." When the time came for Julie and Kyle to pick a venue and plan their wedding, they had specific goals: "We wanted to do something unique that would showcase this sense of southern warmth and family…"
Julie also wanted to keep their celebration elegant and timeless. She achieved that balance between an intimate, family feel and classic sensibility by choosing long farm tables and a family style dinner. Julie, her mom and grandmother even made mini whiskey cakes from an old family recipe as guest favors. Staying on-trend with wedding fashion, Julie's bridesmaids wore modern mismatched dresses with a touch of sparkle, and the guys wore classic black tuxedos. And to make Julie and Kyle's wedding stand out from the crowd? Cedarwood's Outdoor Cathedral, erected on the venue's expansive green field, was an unforgettable ceremony setting for guests. Just before their big day, Julie told us, "I can't stop listening to my entrance music (A Thousand Years by the Piano Guys) and imagining those big church doors opening and seeing Kyle up at the cathedral altar."" – Cedarwood Weddings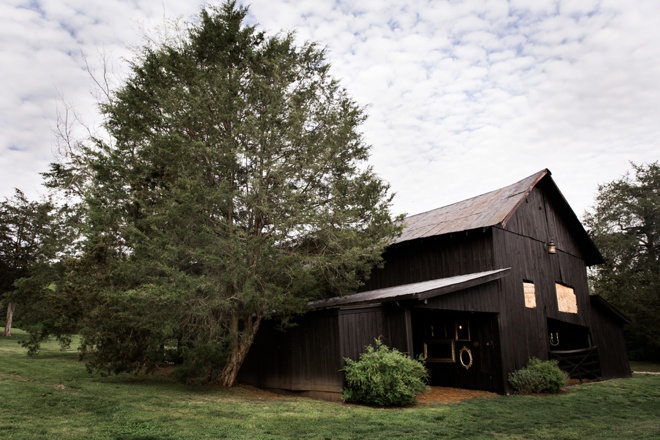 What is your favorite wedding day memory?
I can only pick one?! That's nearly impossible. The entire day was so special. Our goal of the day was to make all of our family and friends feel welcome and that they were an important part of our day. I think the moment that highlighted that sentiment the most was during the last song of the night when every one of our guests surrounded us in a circle and Kyle scooped me up in his arms and spun me around while Journey blared in the background. It sounds cheesy but it perfectly symbolized the love and support we felt from each one of our friends and family and the absolute JOY of starting our new married life together!
Two other moments that I want to relive over and over would have to be Kyle's and my first look and our ceremony. We worked hard to make our ceremony really personal and meaningful. Our officiant was a close family friend and she read words that Kyle and I had written about one another and it was so special to hear those words read aloud in front of all of our family and friends.
What did you DIY for your wedding?
With the help of my mom and the incredible staff at Historic Cedarwood, we were able to DIY many of the most special parts of our wedding day. I really wanted our wedding to be unique and to represent Kyle and me as a couple. From the hand-painted signs that lined the aisle with verses from 1 Corinthians to the mini Tennessee whiskey cakes that our guests took home as favors (made with my family's secret recipe), I made sure that I had my hand in nearly every element of the day.
Something old, new, borrowed and blue?
I did! My something old was also my something blue – a necklace that belonged to my great grandmother that had a tiny blue and white clock on a gold chain. I tied it around my bouquet. My something new was my dress and veil and my something borrowed were my earrings. I borrowed them from one of my best friends and bridesmaids who also wore them on her own wedding day!
Any advice for brides currently in the planning process?
My advice to future brides would be the same that many other brides gave to me. Don't sweat the little things. It is much easier said than done and I'm sure my now-husband would tell you there were many moments where I did not take my own advice but there will be things that go wrong and things that will be stressful but in the end, the day is about you, your husband, and your families and nothing else really matters.
Other little pieces of advice: Don't skimp on your flowers or your photographers. I have probably looked at our wedding photos 1000 times and I don't think I will ever get tired of them. Make sure you leave some time to just hang with your bridesmaids on your wedding day. It all goes by so quickly but I loved having that morning to hang out with my best friends in our pj's, drink mimosas, and get ready for the big event! Sneak away with your groom even if only for a minute to soak it all in just the two of you! – Julie, the bride
Event Credits
Photographer: Nyk + Cali // Venue + Planning + Flowers: Lori Seal of Historic Cedarwood // Catering: Chef Christopher // Cake: Patty Cakes // Invitations: Designs in Paper // Officiant: Rev. Dr. Patricia Kitchen // DJ: Premier DJs // Transportation: Matchless Transportation // Dress: Global Bridal Boutique // Jewelry: J.Crew // Shoes: Badgley Mischka // Hair + Makeup: Katie Russo Beauty // Men's Attire: The Black Tux