A funny little fact that you might not know about me is that I was a traveling wedding hair dresser for 12 years before I started this blog. I love wedding hair and it was my favorite to work on behind the chair. So today I'm sharing my professional hair tips with you on "beach wedding" hairstyles. Close your eyes and imagine the last time you went to the beach… was the wind blowing… was the sun shinning… was the air a bit sticky… was your hair messed up when you got back in the car? This is the dilemma – the beach is amazing, especially for a wedding but what it can do to your hair is not. So in this case I'm not necessarily giving tips on the hair style aspect, but more about the location and how to deal with the havoc that the beach can wreck on your beautiful wedding day tresses!
Hair Style + Image Credits
1 LEFT: Image: Lacie Hansen, via Wedding Sparrow // 1 RIGHT: Image: Lauren Conrad, via Elizabeth Messina // 2 LEFT: Image: Lost In Love, via Anna Campbell // 2 RIGHT: Daily Chic // 3 LEFT: Image: KT Merry, via Style Me Pretty // 3 RIGHT: Image: Corbin Gurkin, via Style Me Pretty // 4 LEFT: Image: Shannon Cronin Photography, via Something Turquoise // 4 RIGHT: Image: Carmen and Ingo Photography, via Fab Mood
---
What Type Of Styles Work Best:
Almost every single wedding day hair style that you can think of will work for a beach event. However, many beach-brides opt for the more casual, mermaid-ish, long wavy look because it feels beachy. The thing is there are low key, beach wedding venues and very high end, luxury beach venues – so your unique beach location and event style will most likely determine your look. Another element to keep in mind about the beach is the humidity, and unfortunately it's always changing. You could have a gorgeous, dry beach day (not terrible for hair) – or a super windy, sticky beach day (the worst for hair) and this is the gamble you take when having your wedding in the sand. So here are some tips:
All Down + Half Up + Loose Styles: These styles are the hardest to keep looking their best after time is spent on the beach, but don't let that bother you – just be prepared. For thick and curly hair, gently running a teeny-tiny bit of wax through your strands can help keep the beach frizz at bay for a little bit. Us curly girls know that the beach air will only make our hair more curly, so watch out. If you have straight or thin hair, wax is a no-no so you can use a humidity blocking mouse to start your style. All types of hair styles should finish their look with a humidity blocking hair spray.
All Up + Sculpted Up-do's + Tight Styles: These styles are the easiest to keep looking perfect all day long, no matter where you have your wedding. For highly sculpted looks like top-knots, a humidity blocking hair spray will be your very best friend. Load up. I'm talking really cover your hairstyle with spray so that when that ocean wind hits you, nothing will happen. Like the third little piggy and his brick house, lol.
Do A Location Trial Run:
If you can, plan a day to visit your beach wedding location at the exact same time you will be there for your event. You don't have to go crazy, but try to style your hair similar to how you are planning to wear it for your wedding day. Stand right where you will for your ceremony, walk to where you will take portraits, do whatever you are planning to do and make sure to spend the same amount of time there – then see how your hair holds up. This will give you a very real-life example of how the sea air will effect your hair on your wedding day and might further help you plan your style + etc.
BEST BEACH WEDDING HAIR TIP EVER:
Have your hair dresser give your hair style a touch-up hair after your time on the beach! Especially if you are doing a first look or taking portraits on the beach before your ceremony. The sad fact is that most styles fall flat or get wind blown after you spend 10+ minutes on the sand and as the bride you need to be looking your best. There is nothing worse than the feeling of beach blown hair on your wedding day. If your hair dresser won't be at your wedding, make sure to bring your curling iron/flat iron, hair spray and a friend who is really good with hair to your reception and before your grand entrance touch up your style just like you would your make-up. I'm telling you it will make all the difference. Include your bridesmaids in the "touch up" time… and maybe even leave your hot tools for your guests to use. Like I said, it could be an amazing day with no humidity or it could feel like the Amazon. Be prepared for both.
Perfect example: this gorgeous shot below of a beach wedding styled shoot looks amazing right? The model looks etherial and romantic with all her hair blowing around her beautiful face – but she won't look gorgeous walking into her reception looking like that! Get these amazing shots of yourself on the beach with your man and then re-style!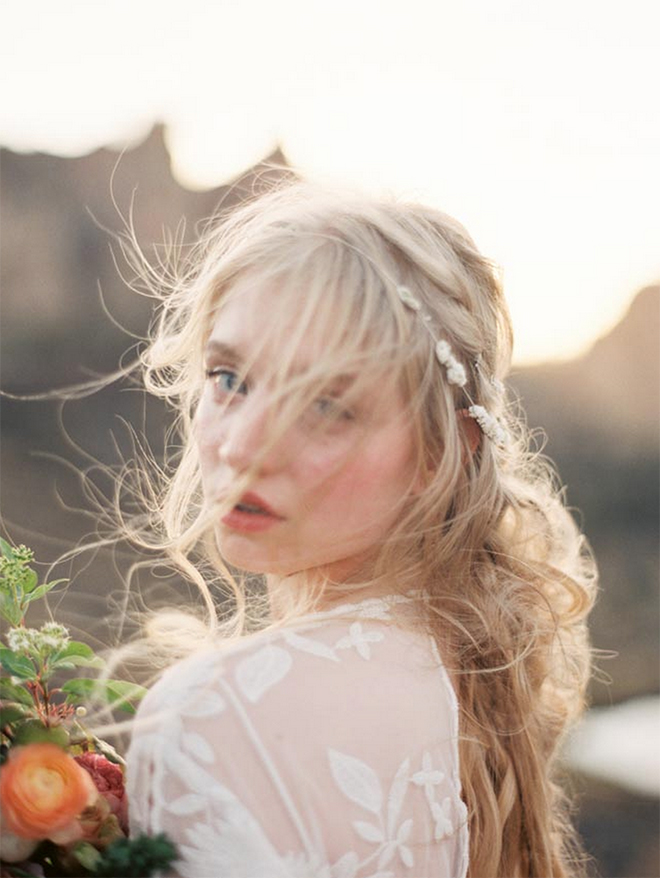 Image: Matoli Keely via Burnetts Boards
---
Gorgeous Beach Wedding Hair Accessories From Etsy:
I found some absolutely stunning wedding hair accessories on Etsy that would be perfect for a beach bride…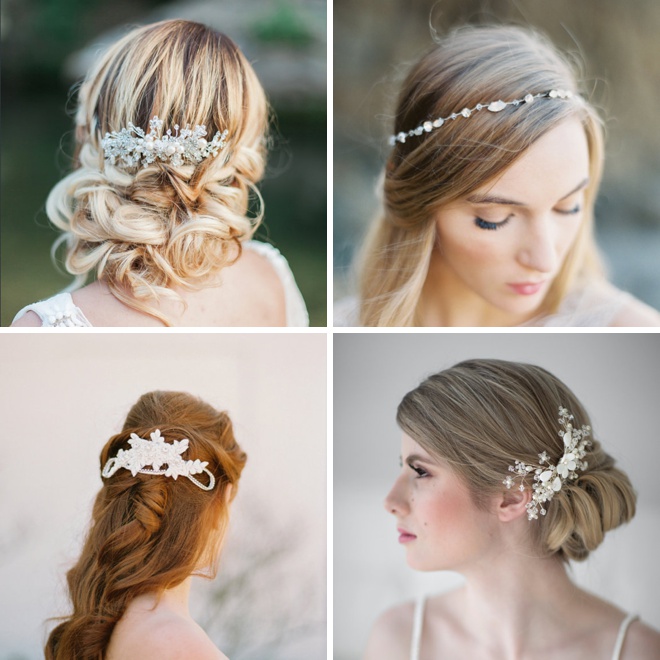 Image + Item Credits: Pearl Hair Comb by Gilded Shadows, $80 // White Opal Rhinestone Wrap Crown by Melinda Rose, $140 // Lace and Pearl Beaded Bridal Comb by Romantic ART Life, $225 // Delicate Crystal Hair Comb by Powder Blue Bijoux, $63
---
If you have a specific wedding hair style that you want Jen to discuss, please leave it here in the comments and maybe you'll see it next month!!
---
No related posts found.