"Lauren and Michael were married at one of our favorite venues in La Jolla. Their sweet details were paired perfectly with the Darlington House as their backdrop. It was so obvious how much these two are loved by their families and friends, and how much their love for each other radiates to others. The perfect afternoon turned into an amazing evening as everyone got their dancing shoes on to dance the night away! We were so honored to be a part of this gorgeous day and with you both a lifetime of love and joy!!" – Walking Eagle Photography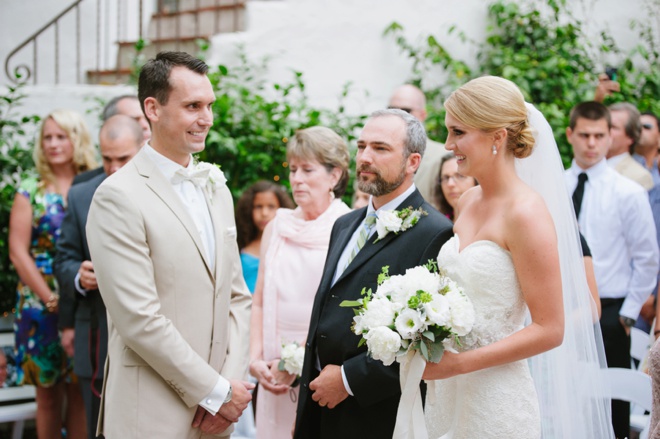 What is your favorite wedding day memory?
It's near impossible to narrow down just one favorite memory from the day. Obviously nothing made me happier than walking down the aisle towards my future husband and best friend, and dancing the night away with our closest friends and our families is tough to beat. But I think the time spent just the two of us, right after the ceremony has to be what I continue to relive over and over again. Being able to have some private, quiet time alone in what was a whirlwind of a day was so special… or maybe it was putting some cake in his face ;)
What did you DIY for your wedding?
My husband and I by no means had an unlimited budget to put together our special day, so Etsy was a lifesaver for me in gathering lots of little details for the ceremony and reception. My sister and Maid of Honor, luckily, is a graphic design whiz and helped me design, print, cut, and hand tie ribbon to our programs and seating charts the week before the wedding. I also wanted to do something personalized for my bridesmaids. I handmade charms with their initials to put on their champagne glasses while we were getting ready before the ceremony, because sometimes popping a bottle of bubbly with your girlfriends it just what you need to calm your nerves and start the celebration. I also painted a few picture frames with pictures of some of our favorite memories to place around the entrance and reception for guests to looks at. I also painted our monogram cake topper to match our color scheme.
Something old, new, borrowed and blue?
My dress easily accomplished my "something new" and I channeled my inner Carrie Bradshaw with my "something blue" shoes from Manolo Blahnik. I struggled for a while to figure out old and borrowed. My Dad passed away about 6 years ago and I knew I wanted to do something special to incorporate him not only into the day in some way, but to have him there with me on such a special and memorable day, especially for a girl and her father. I decided to borrow my parents' wedding rings and tie them to my bouquet for my walk down the aisle for my something old and borrowed. That way I was actually able to have a little piece of them right there with me as I said my vows.
Any advice for brides currently in the planning process?
Be yourself. Make sure the day is what you and your groom want it to be and that it reflects who you are and the relationship you have formed together. Keep your eye on the most important detail: getting to marry your best friend. Even if things don't go as planned, you still get to spend the rest of your life with your perfect person. And that's enough to make even tripping down the aisle something to laugh about later… ok, maybe not that, but you get the idea ;) – Lauren, the bride
Event Credits
Photographer: Walking Eagle Photography // Venue + Event Planner: The Darlington House // Catering + Rentals: Personal Touch Dining // Cake: Flour Power Cakery // Flowers: Timeless Blossoms // Officiant: Austin Ganyo; Bride's brother-in-law // DJ: Greg Shibley // Engagement Ring: Azul // Dress: Allure from Bridal Showcase // Jewelry: Hair Comes the Bride // Shoes: 'Hangisi' Jeweled Pump, Manolo Blahnik // Bridesmaids Dresses: Adrianna Papel // Bridesmaids Jewelry: New York and Company // Hair + Makeup: Glo Beauty Bar La Jolla // Men's Attire: Friar Tux // Table Numbers: Minted // Getting Ready Robes: Just Cottons // Hangers: DelovelyDetails // Guest Book: CraftyPiePress // Veil: BlancaVeils // Garter: TheLoveStory
No related posts found.