"Emily and Chad's day(s) was one of the most intimate and personal wedding days that I have had the privilege of photographing. These two decided to split their wedding in two. They held the ceremony on Friday, including only their parents, Chad's sister Katie, and Emily's brother Joe. Saturday evening they hosted a larger reception to celebrate with all of their family and friends. I loved that their ceremony was just the two of them and their immediate families. I thought it was the perfect way to keep the focus on their new marriage. I also felt like a part of their family by the end of the weekend. Often times I don't get to spend too much time with the families of the couple, but this was the complete opposite and I loved every minute of it…
Emily and Chad created so much for their whimsically classic wedding day. They made a couple hundred pinwheels to fill their reception space. Chad's mom made the best woman's dress and man of honor's vest. Emily customized their invitations with stamps, made the boutonnieres and bouquet and even made a clay ring plate to have the rings delivered on during the ceremony. They planned a lot of time for photos, which of course I wasn't going to complain about! As we walked out to the limo after the ceremony, the rain started to pick up, but these two barely noticed. They had brought along the most perfect clear umbrellas and we didn't miss a beat." – Katie Lindgren Photography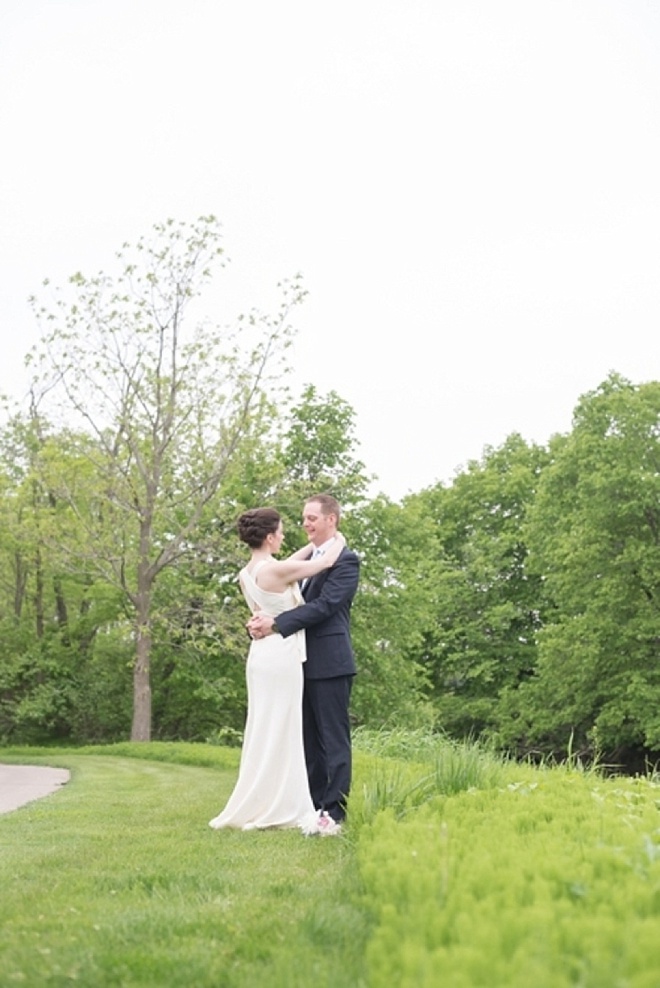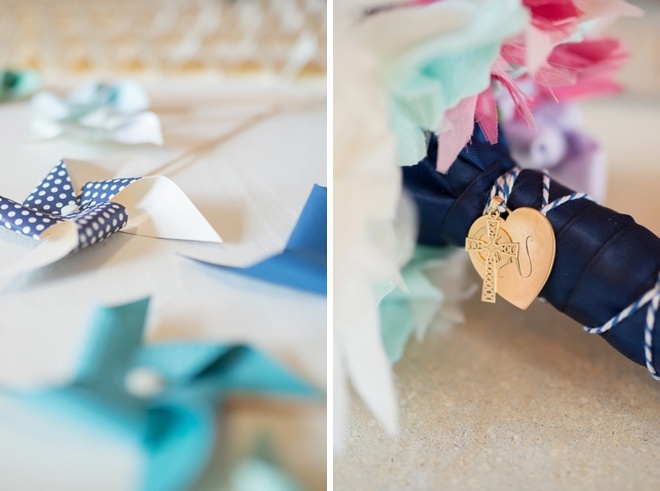 What is your favorite wedding day memory?
Chad and I decided to do things a little differently. We got married on Friday with just our immediate family and then had a more casual reception with extended family and friends on Saturday. We really wanted to focus on the commitment we were making – plus we got to celebrate twice. My favorite part was the dinner at a local restaurant after our ceremony and pictures – it was the perfect ending to a perfect day.
What did you DIY for your wedding?
I stamped, embossed and assembled our invitations. I modified the bow and added the brooch to my wedding dress. I made my bouquet and the boutonnieres out of fabric. Chad and I made all the centerpieces/decorations for the reception- about 300 pinwheels in mason jars with blue gift bag filler. I made the ring plate and all the signs at the reception. We used our engagement pictures and some of our own pictures to create a poster on Shutterfly to act as our guest book. Our favors were candy bags with stickers.
Something old, new, borrowed and blue?
I did! Old – on my bouquet I had a cross and a heart pendant – one from each grandmother. The heart pendant is engraved with my grandparents initials – they have the same first initials C &E. New- my dress was new. Borrowed – the heart pendant on my bouquet was borrowed. Blue – My engagement ring is a sapphire, so I had that covered easily. *The final line is "a sixpence in your shoe", so I found a website where you can order a sixpence in a specific year; I chose 1954 since that is the year my parents were born.
Any advice for brides currently in the planning process?
When I started planning, I had over a year – but it goes by so fast. Do what you can early to save your sanity later. DIY projects often take more time than you expect, so start early. – Emily, the bride
Event Credits
Photographer: Katie Lindgren Photography // Ceremony Venue: St. Boniface Church // Officiant: Fr. Vince Rosonke of St. Boniface Church // Reception Venue + Catering: Tournament Club of Iowa // Cake: The Cake House // Invitations: embellished by the Bride, printed by Ann's Bridal Bargains // DJ: Puttin on the Hitz // Transportation: Absolute Transportation // Engagement Ring: Anglo Diamon // Wedding Rings: Iowa Diamond // Dress: Ann Taylor Bridal // Shoes: Alex Marie from Dillards // Bridesmaid's Dress: Handmade by the Groom's Mother // Hair: Tara at Studio 118 // Groom's Attire: Halberstadts // Groomsmen Attire: Younkers // Guest Book Poster: Shutterfly // Magnet Boutonniere Bases: Designs by Buddy // Bridal Brooch: Classy Wedding // Bunting Stamp: Felicette Shop // Pinwheel Stamp: Japanese Rubber Stamps
No related posts found.