"Chris and Erin are my brother and sister in-law, so needless to say this was a very special wedding. Being a San Francisco wedding photographer, I shoot Bay Area weddings all up and down the bay. So, it's a joy and a surprise to shoot at a hidden gem like Stones and Flowers Retreat Center. Tucked up in the Santa Cruz hills, the venue had an amazing rustic chic barn and Chris and Erin brought in their own beautiful vintage details…
The day was full of stylish and artistic underpinnings. The succulents were their own clippings. The framed quotes were their favorites and all hand made. And the band that played was epic and raw. The laughter was genuine leading up to the ceremony but it paled in comparison to the laughter during the ceremony and afterwards. As the sun went down amidst the surrounding redwood trees, there was a glow to the party that made it feel like we were existing outside of time – like the evening would never end. After dinner, the band played in the barn and the newlyweds danced alone in between the band and the crowd. It was a lovely sight to behold and the ethos behind the moment was sheer bliss. They are a sweet couple and we couldn't have asked for a more magical night." –Evan Chung Photography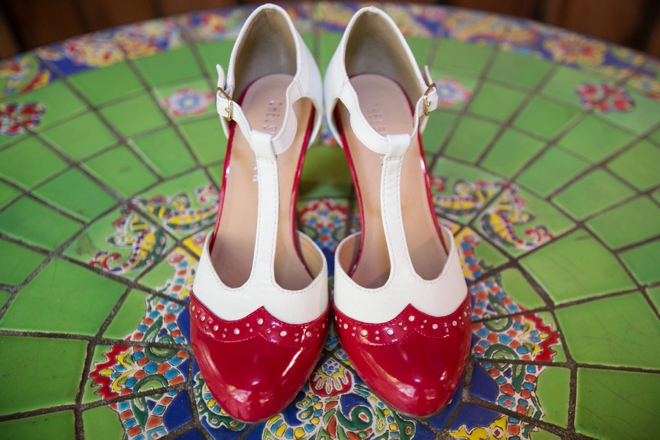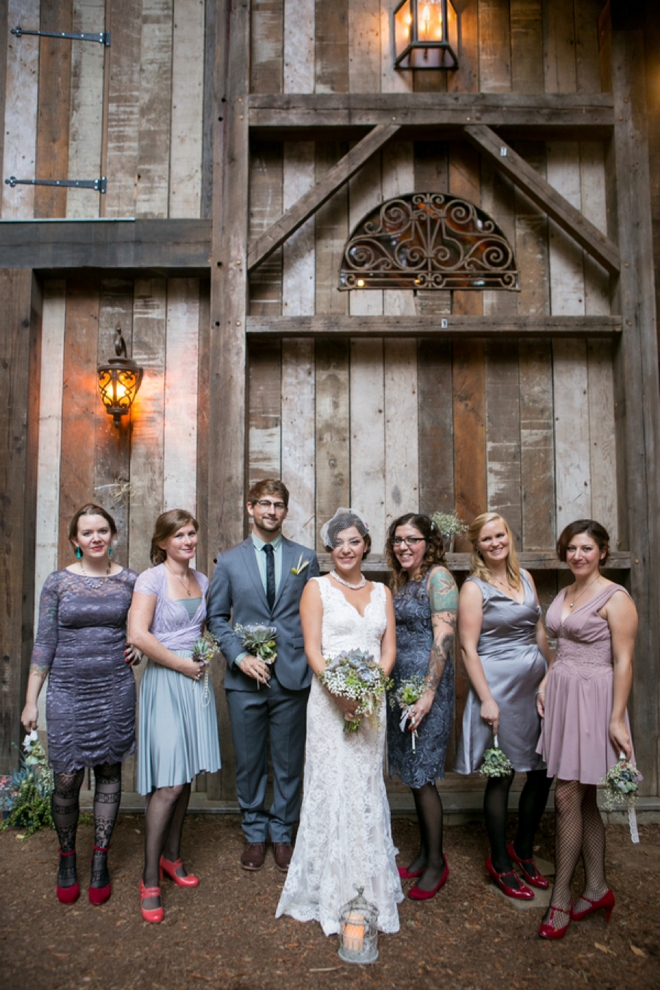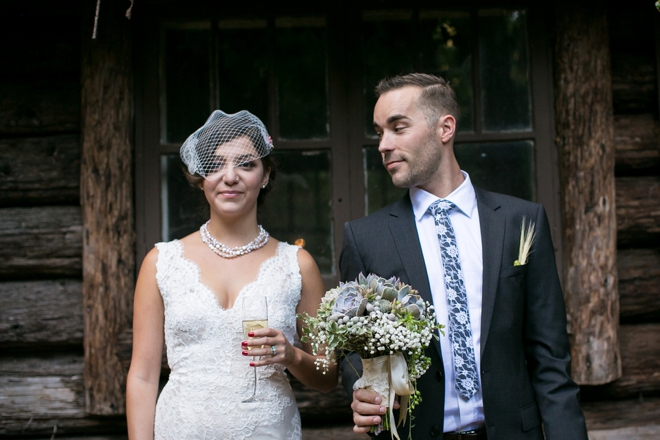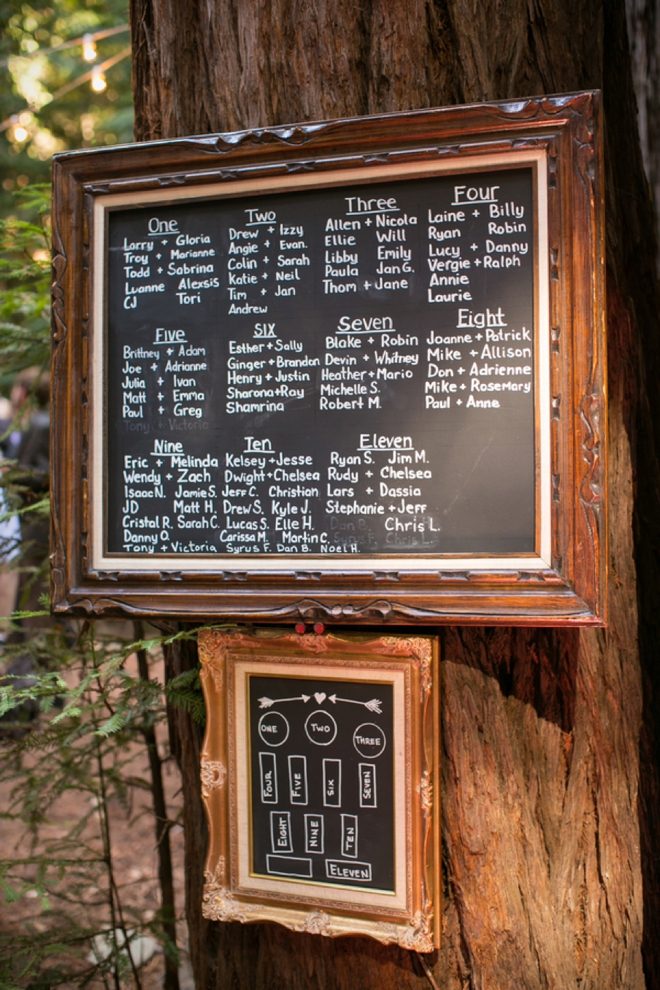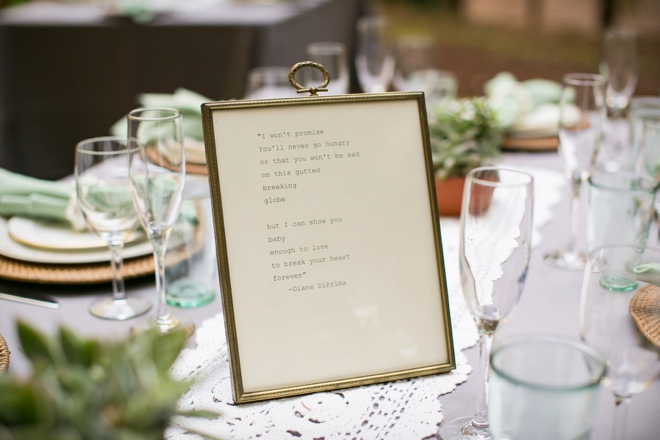 What is your favorite wedding day memory?
Hands down favorite memory was of the ceremony. The most beautiful thing about emotionally charged situations is the juxtaposition of feelings. Chris couldn't hold it together, he was teary most of the time, which made everything hyper funny. Our officiant was our best friend, and it was his first time. He didn't tell the crowd to "please be seated" so everyone was standing through most of the ceremony until one brave soul sat down. We were surrounded momentarily by the sounds of scooting chairs and whispers and giggles. Also, he dropped the rings. Our ring bearers had robot/ninja hands and were chopping things. Hilarious.
What did you DIY for your wedding?
The venue was the most gorgeous open canvas to start with; had we done nothing, it still would have been stunning. But we DIY-ed it to offset the cost of the venue (also, crafts are fun!). We ordered bulk baby's breath tied them together to make wreaths. I purchased flickering battery-operated candles second-hand from another bride on craigslist. I've always collected vintage gold frames and I put them to work: I printed quotes from astrophysicists, scientists, artists, and beat poets (our favorite) on fancy paper and framed them. Chris built me a sewing table out of a raw slab of walnut and we dragged it out there and ate at our own sweetheart table. Gorgeous.
Something old, new, borrowed and blue?
Old: My mom's gold bangle bracelet
New: Chris gifted me a string of raw pearls earlier that day during our "blind first look"
Borrowed: Several Hankies
Blue: My engagement ring is the most beautiful opal you've ever seen.
Any advice for brides currently in the planning process?
I would give my best friend the advice she gave me. I was having a standard pre-wedding melt down and met her out for a beer. I never really panicked about the wedding day, but I panicked about our future together. I said, "MaryAnne, but it's like, forever – F.O.R.E.V.E.R." and she said, "Yeah, but it's forever one day at a time." That is some advice. Not for the wedding, which you shouldn't freak out about since it's probably going to be one of the easiest days of your entire marriage – but for your lives together. One day at a time. – Erin, the bride
Event Credits
Photographer: Evan Chung Photography // Venue: Stones & Flowers Retreat // Florist: Apis Floral // Catering: Local Harvest Catering // Officiant: Tony Schulte // Rentals: Alexis Party Rental // Engagement Ring: Ruby Lane // Dress: Haute Bride // Jewelry: Marolsha // Shoes: Modcloth // Bridesmaids Dresses: they picked their own; lace wrap dress from Coralie Beatrix // Men's Attire: Hugo Boss // Ties: Miss Engaged Boutique // Invitations, frames, decor, signs, etc: handmade by the Bride
No related posts found.