"They met in high school and fell in love. When he joined the Coast Guard she knew she couldn't live without him. So they planned an intimate wedding at the lake where she grew up. Under the soft spanish moss dripping from the trees and lit by the bright spring sunlight they said their vows in front of their closest family and friends and began their life as husband and wife." – Jessica Connery Photography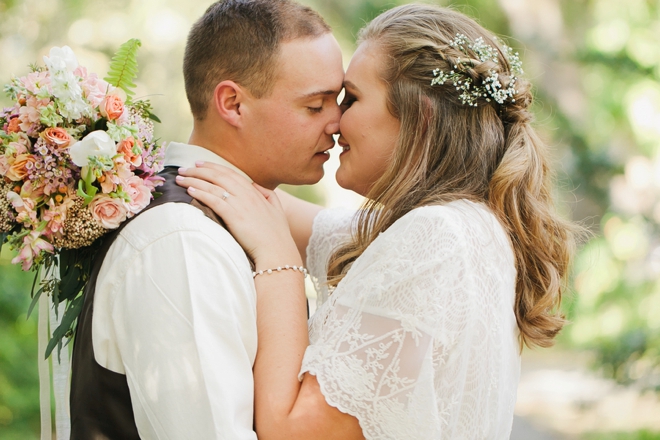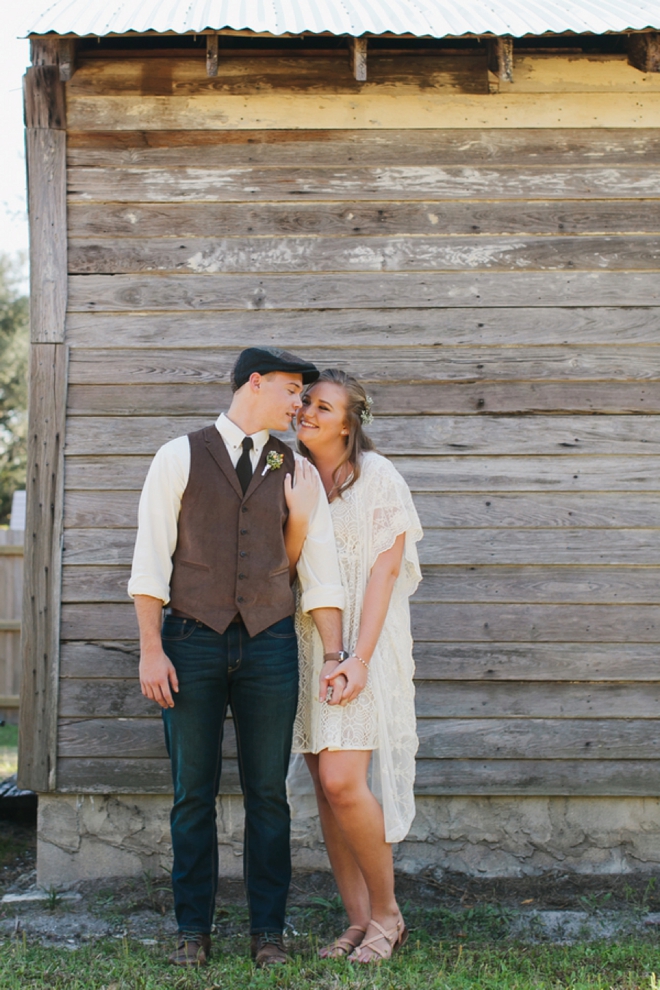 What is your favorite wedding day memory?
Aside from saying "I do!" to spending forever with my man, my favorite memory from our wedding day was about 45 minutes before the ceremony began. Nigel and I wrote our own vows so we wanted to share them with each other in a private intimate setting. We decided to combine a "first look" with reading our vows so that we could have that moment, just the two of us. Nigel stood with his back against the tree down by the lake waiting for me to walk up to the other side. We snapped a few pictures with the photographer before turning around and sneaking our first peek. I remember standing there shaking and thinking, "This is really happening!!!" We turned around and his little dimpled smile gave me all the comfort in the world. Then we read our vows… both our voices were trembling and eyes filled with tears. It was the most defining moment of the whole day and I would love to relive it all over again.
What did you DIY for your wedding?
My mom and I are very thrifty and crafty people so we loved the challenge of DIY-ing wedding decorations. Our biggest DIY project was the ripped fabric backdrop. The girls and I had a little too much fun with that one! We also dipped my grandmother's lace doilies into liquid starch to stiffen them up and then strung fishing line through them to hang them in the trees over the cupcake table. It added the perfect soft vintage touch! Some of our DIY projects were surprises to Nigel and I. My mother-in-law made us a pallet wood sign that hung above the archway with lyrics from the song I walked down the aisle to… that was incredible. My mom made a hanger mobile that started with baby pictures all the way up to recent pictures that blew in the wind under the tree. Our day was full of sentimental surprises!
Something old, new, borrowed and blue?
At my bridal shower my grandmother gifted me my great-grandmothers hankie, broach for my bouquet and glass beaded necklace to wear on my wedding day. Since my mom walked me down the aisle we took the extra beads and made her a matching bracelet. I also wore my late grandmother's vintage pearl ring. I was so blessed to have all those incredible pieces on our special day. My toes were my something blue :)
Any advice for brides currently in the planning process?
No matter how much you stress, worry or plan, what's going to happen on your wedding day… is going to happen. If there are components of a traditional wedding you aren't really comfortable with, leave them out! We only had about 50 guests, my mom walked me down the aisle, we didn't have a bridal party, bouquet toss or the awkward garter teeth hunt, how's that for non-traditional? We got married 2 months after Nigel proposed and a few people said, "what's the rush?" and "you need to plan!" but to us, our relationship isn't defined by the color of the napkins, where the dress is from or who sits where. Therefore, we kept the planning to a minimum and were able to start our lives together sooner. We wouldn't have changed a thing! – Haylee, the bride
Event Credits
Photographer: Jessica Connery Photography // Venue: Margaret Wesley Park // Flowers: Country Club Flower Shop // Desserts: Cupcake Crazy // Rentals: Orlando Wedding & Party Rentals // Officiant: Bill Behrman // Engagement Ring: Zales // Brides Dress: Ralph Lauren // Hair + Makeup: McKenzie Fawcett
No related posts found.