"McKenzie & Jonathan's wedding was so full of love and joy! They chose to get married at the picturesque Solitude Mountain Resort in the mountains of Utah. Beforehand though, they decided to do a first look – which is ALWAYS a great idea, in my opinion! This let us capture some truly amazing moments at the nearby Silver Lake in Brighton, Utah. The couple got to have a beautiful private moment together and then relax and enjoy time with their bridal party before the ceremony. I also loved their red, white, and blue palette – so classic! Another fun note? Jonathan said he had always imagined his bride in red shoes and McKenzie surprised him by wearing beautiful red heels! These two are so cute together and I was so happy to be a part of their wedding day!" – Angela Howard Photography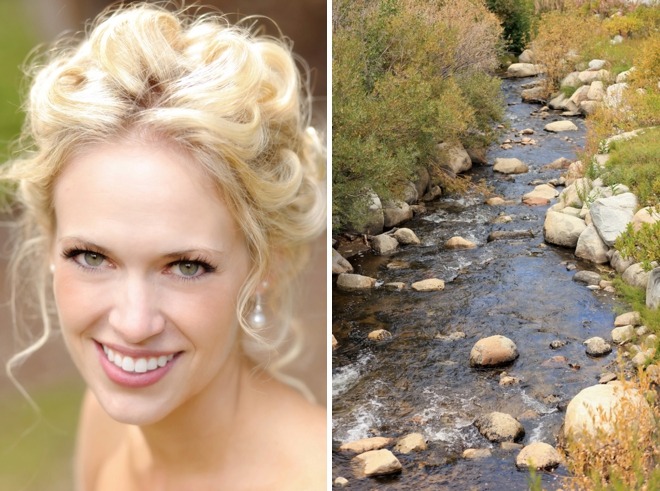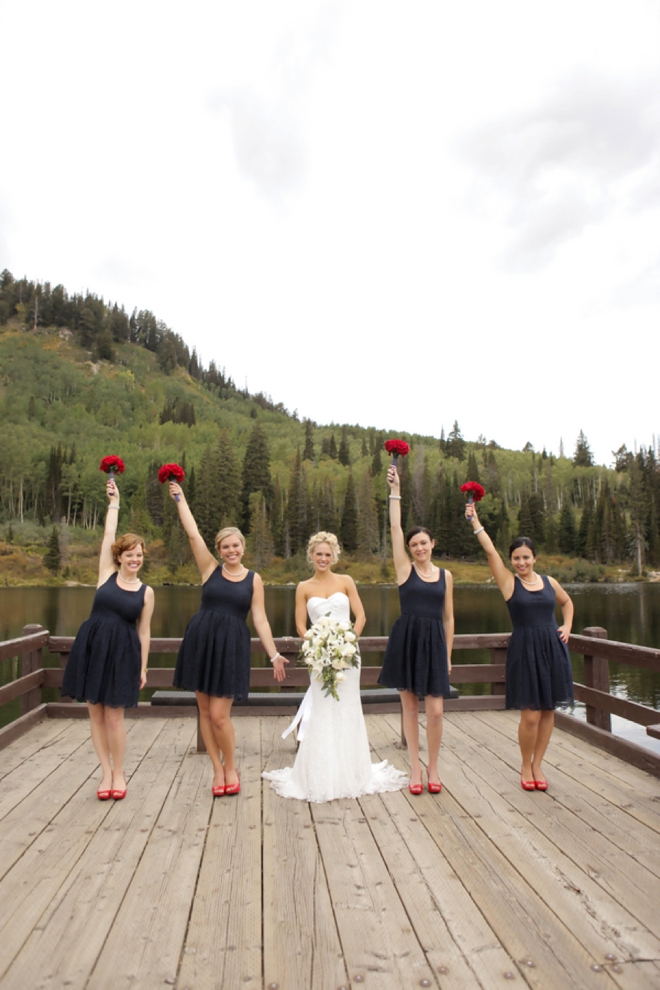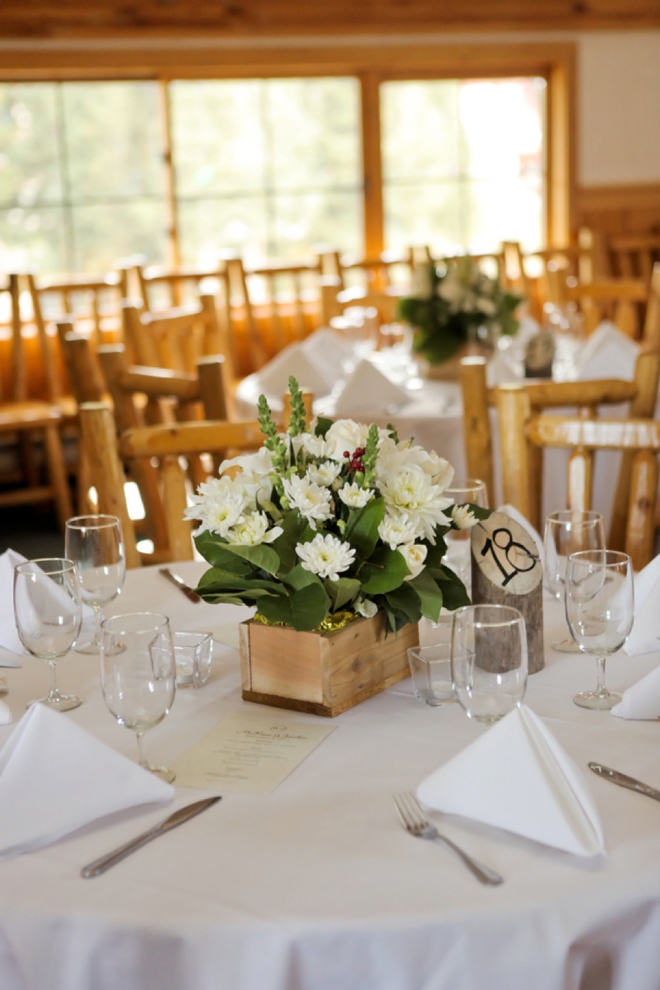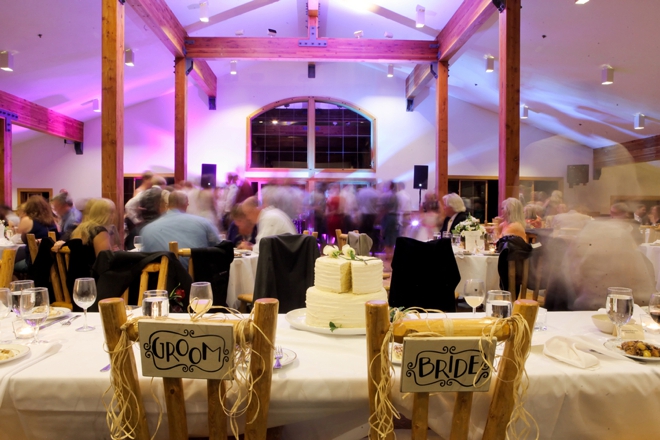 What is your favorite wedding day memory?
I LOVED our first look. It was a stressful time leading up to the wedding and after a morning of so many emotions it was perfect to finally see Jon and it was the calm we both needed. I love the moment he looked at me and pulled me in – I wish I could re-live it every day!
What did you DIY for your wedding?
We DIY'd almost everything! We had a crazy creative friend design our invitations and I loved them! They set the theme for the mountain wedding with the embossed trees. Jon and a groomsmen collected fallen aspen trees to make the table numbers with (They turned out beautifully!) Jon made the flower boxes by hand and he and my dad built the arch we were married under together. I love the symbolism in that! The give-aways were sweet jam jars with an old family recipe – Jon's mom made 150 jars worth for our guests! Apart from the actual 'things' of the day, we had so many family members and friends come together for us – my hair, my dress, even our cake was made by a friend (and it was AMAZING!) We loved how people were so willing to do anything to help and contribute to our day – it made every detail so much more personal, and special to us. We've heard people loved being a part of the day and it made them feel invested in our wedding and marriage – We love that!
Something old, new, borrowed and blue?
I did! For "New" and "blue" my mom bought me a silk and lace garter. What made it special was for my something "old" she sewed on the penny that was sown to her garter at my parents wedding! Borrowed – my earrings were the same ones my maid of honor wore at her wedding. #kindredspirits
Any advice for brides currently in the planning process?
Love the people around you and let them help! We couldn't believe how many people wanted to contribute their time and talents to our day! The details made with extra love make the day extra meaningful. There are so many ideas out there, it's easy to get overwhelmed – don't go with what's exciting or trendy – go with what's truly you and your man!
I'm VERY patriotic and it was fun to incorporate that into our day in a subtle way. We had red, white, and blue, in a few places and we made it work – Stay true to your own style and likes. In the same way, we were very involved in the ceremony design, structure, and content – it kept it personal and we loved that. If you want to make your day extra special, keep it personal so it's the best fit for you and the most important people in your life. Overall, I loved our wedding! I almost wish we could do it again! (Almost!).. All the work was SO worth it!! ENJOY every minute of it! – McKenzie, the bride
Event Credits
Photographer: Angela Howard Photography // Venue + Catering: Solitude Mountain Resort // DJ: Metro Music Club // Dress: Galina Signature for David's Bridal // Shoes: Ivanka Trump // Bridesmaid Dresses: J. Crew // Arch, favors, flower boxes, cake and signs: all DIY by the couple and their family
No related posts found.