"I walked into the house where Kaylee was getting ready and instantly fell in love. What made her parent's home so unique and amazing is that it's over 100 years old. There were so many spots with gorgeous window light, wood floors and stairs… (my favorite part was a hidden passage way from the kitchen to the dining room that went through the stair case!). Tyler rocked suspenders and a bow tie while Kaylee wore a beautiful white sleeved dress and flower crown. The ceremony and reception were held at Camp Okihi where Kaylee and Tyler decorated everything themselves. My personal favorites were the gorgeous cake table, the lawn games, and the "make your own s'mores bar" at the fire pit. Complete with sunset photos of the bride and groom against the Kern River, their wedding was pure happiness and picture perfect!" – Ashley dePencier Photography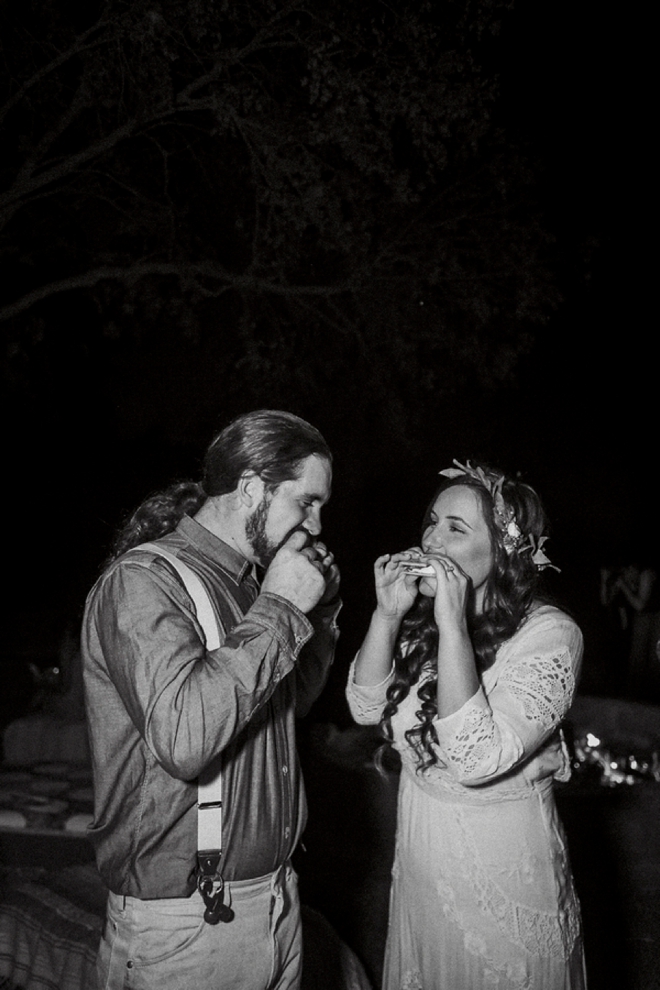 What is your favorite wedding day memory?
The whole day flew by so quickly but I think by far my favorite memory was when the doors opened and I saw my husbands face at the end of the aisle. Seeing his face instantly calmed my nerves and filled me with so much love and happiness I knew I was so lucky to be able to spend the rest of my life with such an amazing man!
What did you DIY for your wedding?
I've always loved yard sales, I would buy any old book, jar, or piece of wood I could get my hands on for years! This paid off big time leading up to the wedding. I used my beloved old books and vintage jars for my centerpieces.
With the help of my dad and future husband we used old fence boards and two vintage doors I found at an antique store to create an outdoor entrance to walk through. I also revamped a fire damaged piece of furniture I found at a second hand store to make a one of a kind sweetheart table. I also made several painted wood signs and chalkboard signs!
We decorated the wedding with furniture, rugs and even vintage chandeliers from around the house I had also been collecting and some cool yard sale finds! My family thought I was crazy until they saw it all come together day of, it made for some cool pictures that my guests Instagramed!
My Nanny(grandma) was our flower girl and my Papa(grandpa) was our ring bearer along with my nephew. My grandparents play such an important role in our lives and are such a wonderful example of what a Godly marriage is, it was so wonderful to be able to include them in the ceremony in such a sweet way.
Something old, new, borrowed and blue?
My something blue was my garter. My something new was my dress. My something old and borrowed was something so special to me. It was a cross necklace my Papa(grandpa) gave to my Nanny(grandma) when they were dating and now they having been married for 62 years!
Any advice for brides currently in the planning process?
I know it's very much your day but when planning your wedding think about being in your guests shoes, especially older guests. Making everyone feel comfortable happy, and entertained was very important to me. I had games set up for when we were taking pictures and simple bar (beer and wine)and other drinks to keep cool, snacks, we even asked our guest input for dancing music!
If someone offers to help you say yes! People truly want to help so don't feel bad. You will need every bit of help to make the day go perfectly!
Don't skimp on the wedding photography. We had a low budget wedding and we made sure to budget for an amazing photographer! It is also important to have a photographer who makes you feel comfortable! Ashley was so sweet and wonderful we had no awkwardness while shooting and she got some amazing shots because of it!
We had a buffet style dinner and my husband and I stood at the front of the line and handed out plates. Our guests felt so special and we got to talk with all of our guests! Then we got to eat our dinner in peace!
Still to this day almost a year later my family and friends ranging from 5-82 tell me it was the most special/meaningful wedding they have ever attended! That means so much to me! Don't be afraid to let your unique personality shine throughout your wedding! Don't panic it will be the best day of your life! – Kaylee, the bride
Event Credits
Photographer: Ashley dePencier Photography // Venue: Camp Okihi // Wedding Planner: Bride's Aunt // Florist: Flower Bar // Catering: Cope's Food Fair No.2 // Cake: De Coeur Bake Shop // Officiant: Riverlakes Community Church, Milt Cole // DJ: Event Services by Peter Wonderly // Rentals: Best Party & Event Rentals // Engagement Ring: Kristin Coffin Jewelry // Dress: Free People // Bridesmaid Dresses: Charming Charlie // Men's Attire: Western Emporium // Invitations: Minted // His + Hers Aprons: Pressed Cotton // Bridesmaids Robes: Comfy Clothing // Groomsman Gifts: Teals Prairie & Co. // Brides Parents Gifts: Susabella // Grooms Mom's Gift: Trendy Tz // Cornhole Bags: oddsandends2010 // Cornhole Vinyl Decal: Empwr Designs
No related posts found.