"I'm totally 100% smitten with by this one-of-a-kind beach wedding. There were so many custom pieces and handmade details, you can't help but drool. Cedric is an amazing woodworker and created all the floral boxes for the reception tables, bench seating for the ceremony and a beautiful wedding arch to say their wedding vows under. Lindsay's family pitched in and made the assorted table runners, the stunning cake backdrop and soft pink wedding florals. The ceremony was on the beach, just a short walking distance from their beach house, and made for a picturesque view with the lapping emerald water. Most of their guests were from out of town so renting a beach house was a clever and fun way to celebrate. After the ceremony, guests enjoyed a relaxing reception at the beach house." – Valerie of Fleur de Lis Event Consulting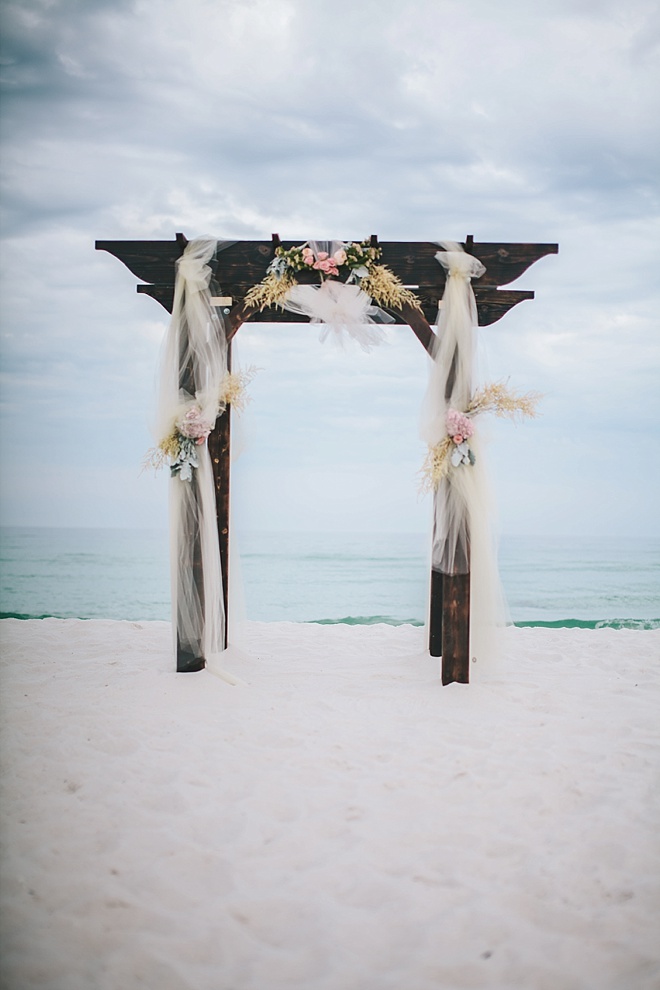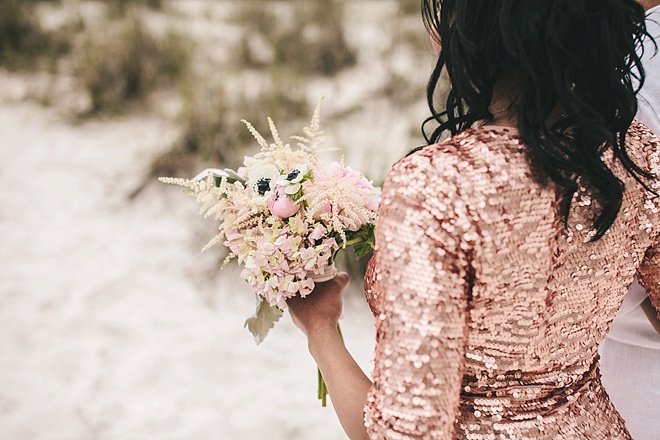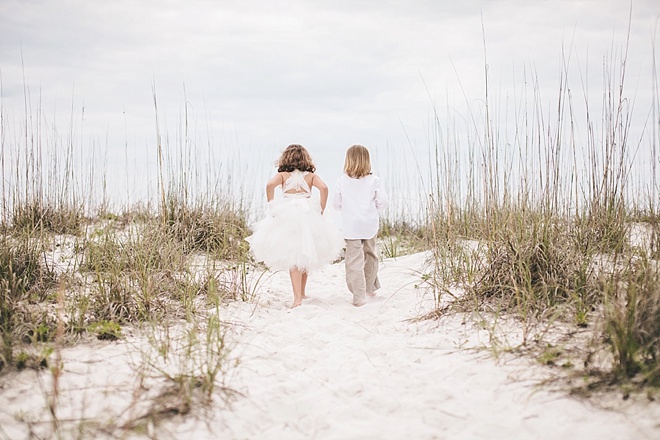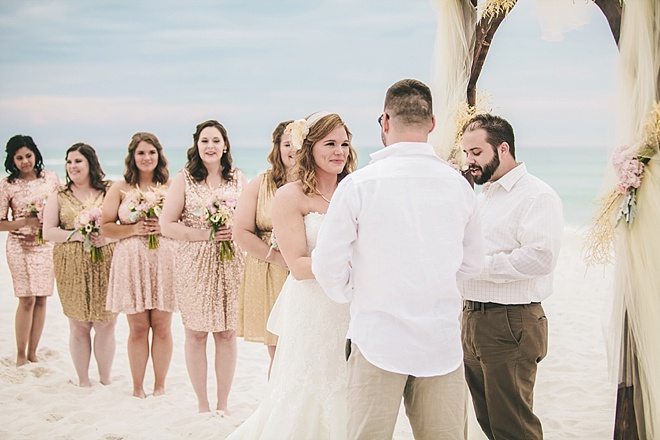 What is your favorite wedding day memory?
Seeing Cedric as I was walking down the aisle; everything prior to that was just a blur. I'm not a person that likes a lot of direct attention so having everyone look at me when I first was at the end of the aisle was very stressful but as soon as Cedric turned around and I could make eye contact all the stress was gone and it was just the two of us. Of course I was crying my eyes out the entire time with my second favorite memory coming in the form of some comedic relief; the officiant mispronounced Cedric's name and that was all it took to send the entire bridal party into fits of laughter; in the midst of everything it was perfect to calm me down and refocus :-)
What did you DIY for your wedding?
SO much! Between my mom making a huge portion of our decorations (table runners, backdrop, chair covers, candle vases, cake table linens, my sash, my headband, and the list goes on!), my aunt putting together all the flowers (for the tables, the bouquets, the boutonnieres, the decorations for the arbor) as well as all the headpieces for the bridesmaids and the earrings I wore, and my fiancé (now husband!) making not only our arbor but also all the seating for the actual ceremony, the boxes for all the table arrangements, our gift table, and our sign in board. We also made a majority of the dessert table including meringues and several different flavors of dessert "shooters" (chocolate mousse, key lime pie, and trifle). All rehearsal dinner food was also made by our families; we had a Cajun inspired theme to represent our Louisiana roots including crawfish stew and seafood gumbo. My uncles also provided the ceremony music with acoustic guitars which was very special to hear as I walked down the aisle. We DIY-ed the majority of everything at the wedding! We started making everything really early and finished up the month of. The flowers were all ordered wholesale months in advance and arrangements were made the day before/day of. My entire family pitched in the day of to arrange everything and it was everything I could have ever wanted!
Something old, new, borrowed and blue?
I did! I used a vintage brooch on my bouquet from my grandma that recently passed away and it was very special to be able to incorporate that into our day. I also had my new wedding dress, my maternal grandmother's borrowed pearls, and blue toenails!
Any advice for brides currently in the planning process?
Start early! All the small details add up the last month and having as much done before makes it much less stressful. Hire at least a day of coordinator – he/she will make your life SOOOOO much easier the day of an they are great sources of information for any vendors/details you might need. Final advice is on the day of just focus on enjoying everything you've worked so hard for and most importantly the entire reason you're there is waiting for you at the end of the aisle! All the stress disappears at that point so just enjoy! – Lindsay, the bride
Event Credits
Photographer: Blake Jones Portrait & Wedding Photographer // Venue: Paradise Beach Homes // Wedding Planner: Valerie Pritt of Fleur de Lis Event Consulting // Catering: Culinary Productions // Desserts: Frosted Moon Bakery // DJ: Any Day DJ // Transportation: Dream Catcher Shuttle // Dress: LaSposa from Blush Formal & Bridal // Hair + Makeup: Crystal Conch Hair & Makeup // Men's Attire: Island Importer // arbor, all seating for the ceremony, boxes for the table arrangements, our sign in board, and gift table: Easy Street Woodworks