"The rolling hills of Salem Oregon were the serene backdrop to these beautiful summer nuptials. Forgoing the typical first look, Aaron waited expectantly at the altar as his ethereal bride Whitney walked toward him. Dear friends and family smiled there support and tears streamed down cheeks of loved ones. As they said their "I do's," the coordinator was bustling behind the scenes inflating several huge pink balloons for their photos. It was a balloon bonanza! Taking a few minutes to collect themselves and enjoy their first minutes as husband and wife, Aaron and Whitney chose the vineyard for their portraits, loving every minute of that romantic evening. Their love was so tangible, everyone could feel it – it spread from guest to guest and lit up the night. Because Whitney loves Independence Day, they incorporated fun pops of patriotism on the dessert table, with the centerpiece from Myriad Cakes. As the light waned, the guests joined the happy couple on the dance floor and danced the night away!" – Christa Taylor Photography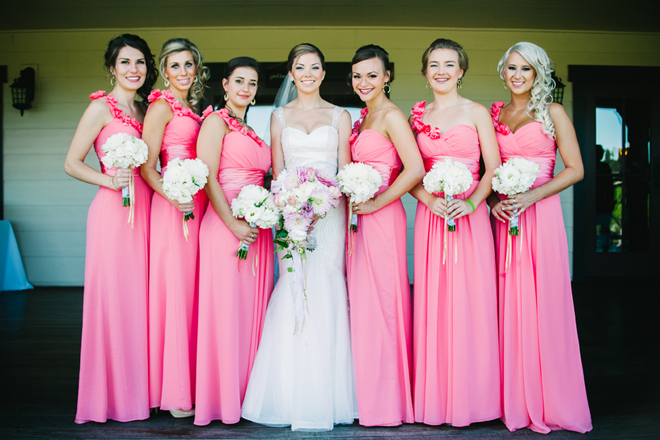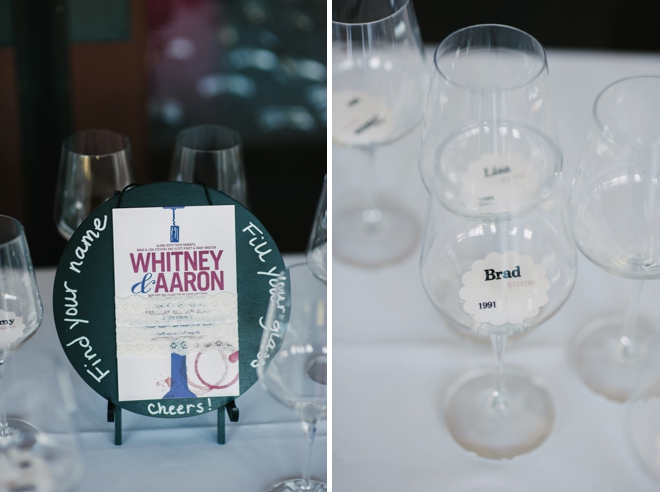 What is your favorite wedding day memory?
Picking one favorite wedding day memory is nearly impossible however I would say my least expected favorite wedding day memory was standing across from my husband during the Lords prayer. After our wine ceremony (drinking of wine during the ceremony- b/c we're at a vineyard, so we had to do that of course) my veil swooped over the wine barrel in between us, which was holding the wine and wine glasses. My husband tried to help by reaching out to grab my veil but he accidentally knocked the wine glass over, which inevitably spilled the wine all over my veil (thankfully white wine). Without thinking I yelled an inappropriate word out during the Lord's prayer, but within a few seconds my husband and I realized how funny the situation was and it created one of the most memorable moments and most beautiful pictures of us leaning over laughing and my veil flying around us (with white wine on it, of course). Standing there laughing so hard in the most beautiful weather, with the most picturesque clouds and vineyards as the backdrop in front of all of our family and friends was truly an unforgettable blooper that we'll never forget. And I think it stands as good advice for everyone planning your wedding – that things will go wrong, but sometimes those moments make the best memories!
What did you DIY for your wedding?
Where do I even start? I did so much DIY that some of it didn't even get used. The centerpieces were wine bottles that we painted gold. The head table had over 50 jones soda bottles painted gold with gold sparkles and had a white rose placed in each one. The table numbers were written in chalk with a year and then we had pictures of Aaron and I from that time in our life. Ranging from 1989 to present day. We also DIY time capsule bottles with old wine bottles and had a typewriter for people to write notes for us. We made candle holders by cutting wine bottles in half and placing candle inside unfortunately our wedding planner forgot to put these out though :(
Something old, new, borrowed and blue?
My something old was one of my grandmothers necklace's that I wore as a bracelet. She passed away when I was 17 but had given me this gold necklace that I've worn every day since I was 15. Since the necklace didn't work with my dress, I wrapped it around my wrist twice and it worked as a bracelet and matched our colors of pink and gold really well. My something borrowed was my hair piece, unfortunately I didn't end up wearing it for the wedding. My something new was my earrings. And my something blue, was under my dress ;)
Any advice for brides currently in the planning process?
You'd think it shouldn't be this much work to plan a wedding should it? Know every girl who's had a wedding understands the stress you are going through – don't be scared to reach out for help. As stressful and time consuming as it will seem, you'll look back at it and remember how much fun it was. When else do you get to plan a day to celebrate how good you and your man are together? – Whitney, the bride
Event Credits
Photographer: Christa Taylor Photography // Assistant Photographer: Jamie Rae Photo // Videographer: Focal Point // Venue: Zenith Vineyards // Wedding Planner: SHE Designs // Catering: Willabys Catering // Cakes: Myriad Cake Design // Pies: Sugar & Spice Bakery // Cookies: Sarahs Cookies // Officiant: Jen Martin // Florist: The Little Wild Flower // Dress: Pronovias // Bridesmaids Dresses: Charolotte's Bridals // Hair + Makeup: Michelle Lummus of Face Body Beauty // Men's Attire: Men's Wearhouse // Ties: Tommy Hilfiger // Balloons: Lippman Co. // Music: Aussie DJ // Invitations: Kitty Meow Boutique // Programs: Yellow Brick Graphics
No related posts found.