"Dennis Vineyards was such a beautiful setting for Morgan & John's wedding. Their Sunday event was amazing, from the ceremony under large trees, beautiful decor, and the cutest wedding brunch you've ever seen. We loved how they incorporated their Christian faith into their ceremony including special moments as well as the entire ceremony taking place in front of a large cross. Blue and gold details were seen all throughout their reception and if the simple flower centerpieces don't wow you, their sweet and lovely cake will!" – Just A Dream Photography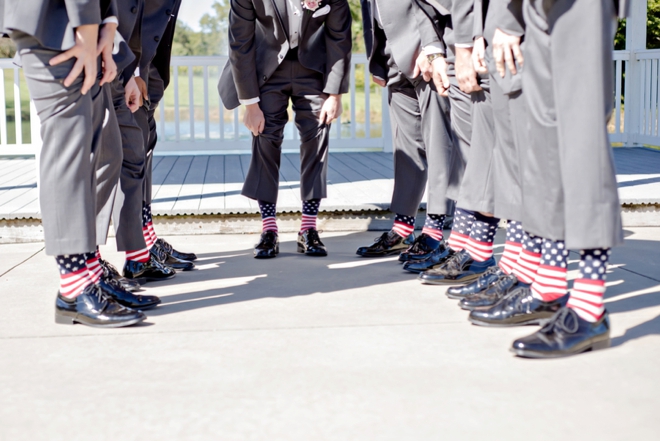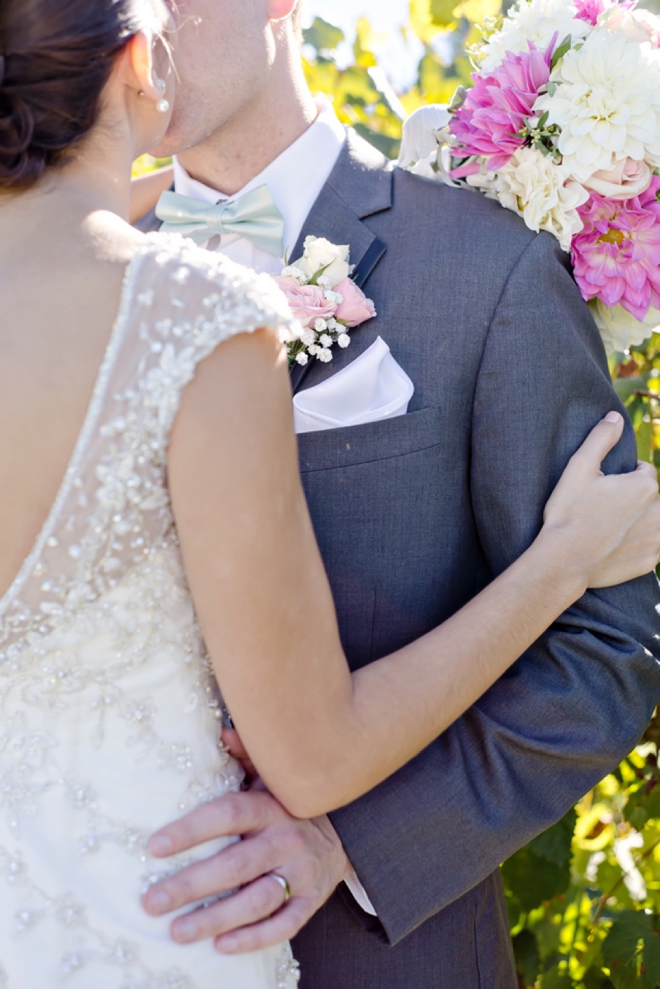 What is your favorite wedding day memory?
My favorite memory was our "first touch" where John read our daily devotional and we exchanged letters. It was so exciting to hear his voice and hold his hand knowing that in just a little while we would be married!
What did you DIY for your wedding?
My Mom had so many DIY ideas for the wedding that we got to do! My favorite was our place card holders. My Mom ordered wine corks and we shaved off the bottom so they wouldn't roll away and made a slit for the paper to go into. It fit so well since we were getting married at a vineyard! We made a banner for the gift table out of all types of beautiful ribbon. Our centerpieces were mason jars that were painted blush pink at the bottom to hold the flowers and the gold floating candles. Instead of using an actual florist we got flowers from a local Farmer's Market and my family arranged them for the centerpieces, they turned out beautiful. We wanted to do something different for a guest book so we made a "wishing tree". We found branches in the woods and spray painted them gold and stuck them in a large mason jar with rocks to hold them down. Then our guests wrote on pieces of paper that had strings attached that then hung on the tree. My father-in-law made our invitations and programs and they turned out so beautifully.
Any advice for brides currently in the planning process?
Have fun! We had intended to wait a year and a half to get married since the planning process can take time but after a few months we decided that it was too long and we moved it up! It was so fun to let go of what we thought it had to be and make it a day that was exactly what we wanted. – Morgan, the bride
Event Credits
Photography: Just A Dream Photography // Venue: A Place In The Vineyard // Catering: The Buttercup Cafe & Catering // DJ: Split Second Sound // Engagement ring: Diamonds Direct // Dress: Bridal Mart // Bridesmaid dresses: David's Bridal // Men's attire: Men's Wearhouse