"There was no shortage of wonderful at Lauren & Brandon's Captiva Island wedding! From a gorgeous couple to an amazing venue, their wedding was definitely a photographers treat! As we got to know Lauren while she was planning the wedding it was clear she was just as beautiful on the inside as the outside. She so thoughtfully put together all of her amazing details, not missing a single thing and yet was completely laid back and (from our perspective) she didn't seem to stress one bit from the planning straight through the wedding. When the big day did finally come, it was so obvious that all her planning had paid off! The overall vibe of the day was marked by laughter and smiles. From a few tears of joy in the morning to a completely packed dance floor right to the very last dance, it was clear their guests were having a great time and this was a day they would be talking about for years to come! So glad we got to be a part of this special day, I'm still smiling just thinking about it!" – Impressions Photography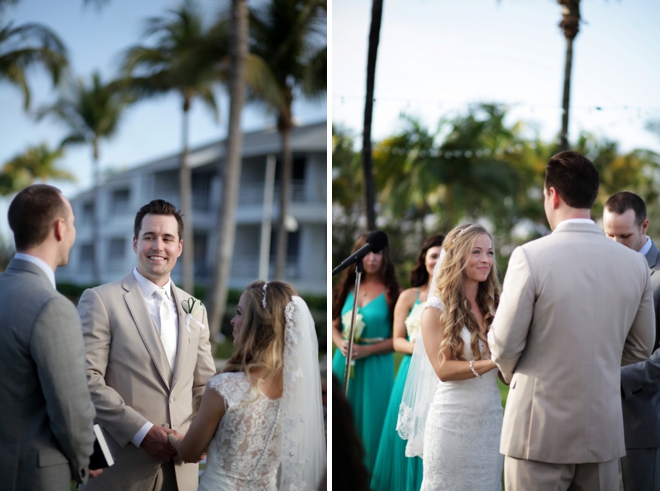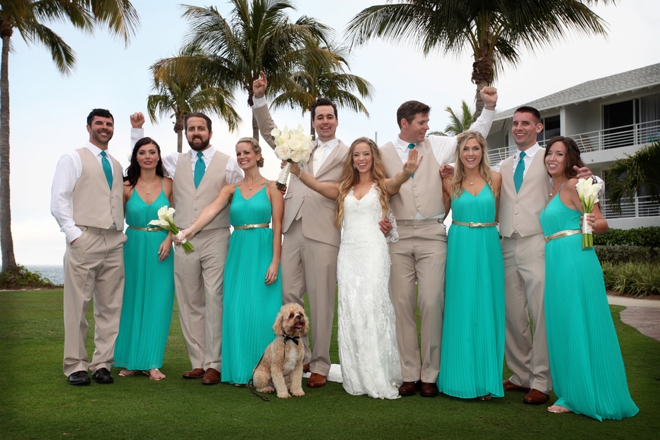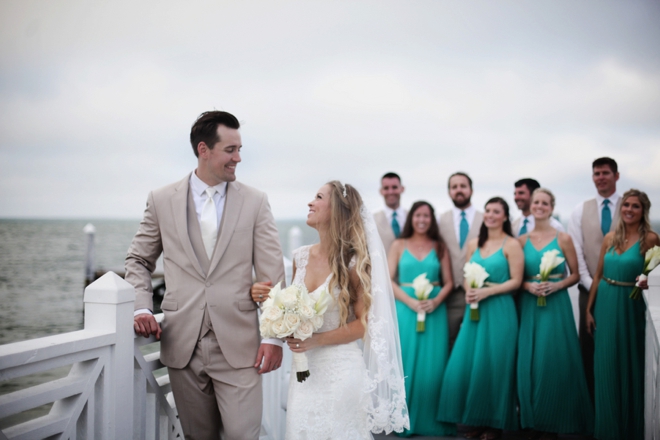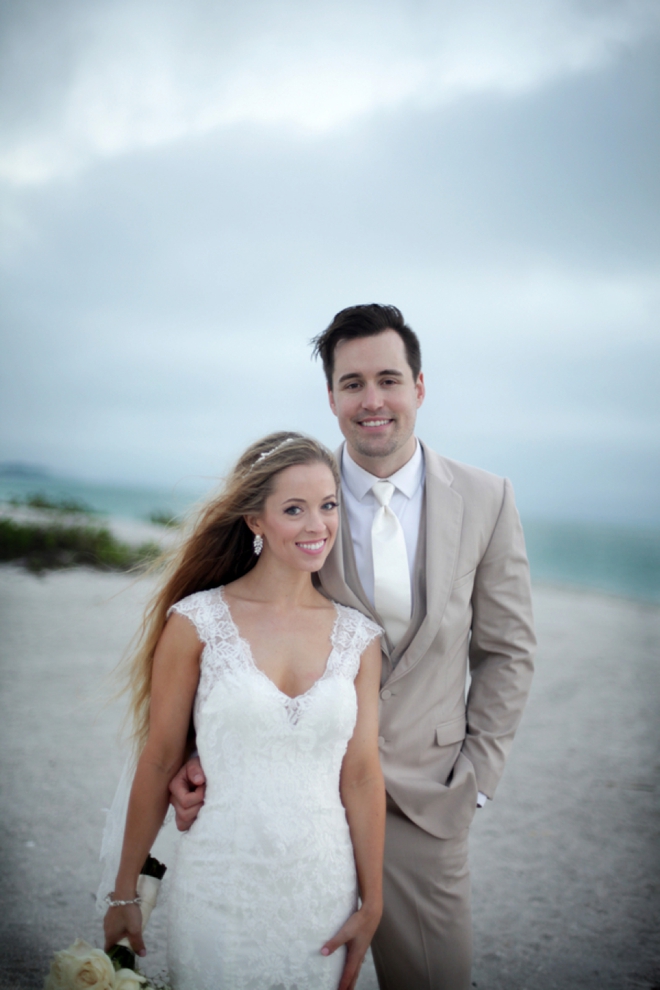 What is your favorite wedding day memory?
I'm not sure I could narrow down to one favorite memory! We wanted a beach wedding that everyone could have fun at, I truly loved hanging out that morning and early afternoon on the beach with my bridesmaids! The groomsmen all played beach volleyball and everyone came to the wedding… sun burned! Haha, it was funny but I was glad everyone had a great day even before the wedding festivities began! We had our dog as our ring bearer which was so great having him there and provided some comedy for our guests! We wanted a day filled with love and fun and I think we got it!
What did you DIY for your wedding?
I get my crafty-ness from mother and wanted to have a nice wedding but not spend an absurd amount of money on things I knew I could do myself! DIY-ing various aspects of the wedding left us able to splurge on certain things and save on others! My mother, sister and I did all of the floral arrangement and bouquets. We bought the flowers in bulk, collected vases we liked over the year and got together 2 days before to put everything together. It was a lot of work but also a lot of fun for the 3 of us as we don't get to see each other often! My sister, who had no experience with flowers, ended up being the mastermind behind a lot of the bumps we ran into and helped me make my bouquet more beautiful than I could have imagined! We made random small things like the card box, the sparklers holder, the wooden frame for table arrangements and all of the favors! I also did my own hair on our wedding day. I have a lot of hair and no one can ever master it how I like so I decided I would DIM!
Something old, new, borrowed and blue?
I hadn't planned on doing the something old, new, borrowed and blue… but I did have something old; it was important to me to have my Grandmother's emerald and diamond ring on the day of. She passed away when I was 18 and I wanted something to tie me to my Landgraf name on the day I became Mrs. Coon!
Any advice for brides currently in the planning process?
I've told my friends all the details you stress over don't matter. I only saw my groom during the ceremony and nothing else mattered. The reception was so fun but it was such a blur. I am excited to be getting pictures back to see all of the details we put so much time into that I didn't get to enjoy the day of!
My wedding day couldn't have happened without my Mother's help. She has always been the most supportive and wonderful person in my life and was no different throughout the entire wedding process. From the moment we got engaged, it became her mission to help give us the wedding day we dreamed of! With financial, physical and emotional help from her and my Father, our wedding day was so beautiful and special and I hope they know how much we appreciate everything they have done for us! – Lauren, the bride
Event Credits
Photography: Impressions Photography // Venue: South Seas Island Resort // Cake: Sassy Cakes // Officiant: Steve Cusick, Brother in Law // DJ: Dan Confrey // Videographer: Garter and Whiskey // Dress: Allure Bridals // Shoes: Lulu's // Jewelry: BHLDN // Bridesmaid dresses: Victoria's Secret // Bridesmaids shoes: Steve Madden // Bridesmaids jewelry: Kate Spade // Makeup: Lauren Basilone // Men's attire: Allure // Men's shoes: Allen Edmonds // Invitations: Shanon Perry // Guest Book: DIY on Shutterfly // Guest book and Sparkler signs: You Got My Sunshine // Table Numbers: Better Off Wed // Sequin hanger: Pearls & Pastries
No related posts found.