One of my absolute favorite details from my wedding day was the perfume that I bought to wear on our wedding weekend and honeymoon. I read in an issue of Martha Stewart Weddings that if you wear a new fragrance during your wedding and honeymoon, your memory and feeling of that special time will be forever tied to that scent. Meaning when you smell that specific fragrance, long after your special day, which can be purchased at Fragrance Revival and it will bring those wonderful memories and feelings right back to you. This happens because the olfactory bulb that is part of your brain's limbic system (which is an area so closely associated with memory and feeling it's sometimes called the "emotional brain"), can call up memories and powerful responses instantly by smelling a certain smell. Sounded great to me and so we did just that (yep, hubby did it too!) and it was truly AMAZING. You don't realize it during your wedding or honeymoon but when you get home and spray that scent, your stomach will flutter and your heart will warm because you will experience the feeling of your wedding, all over again!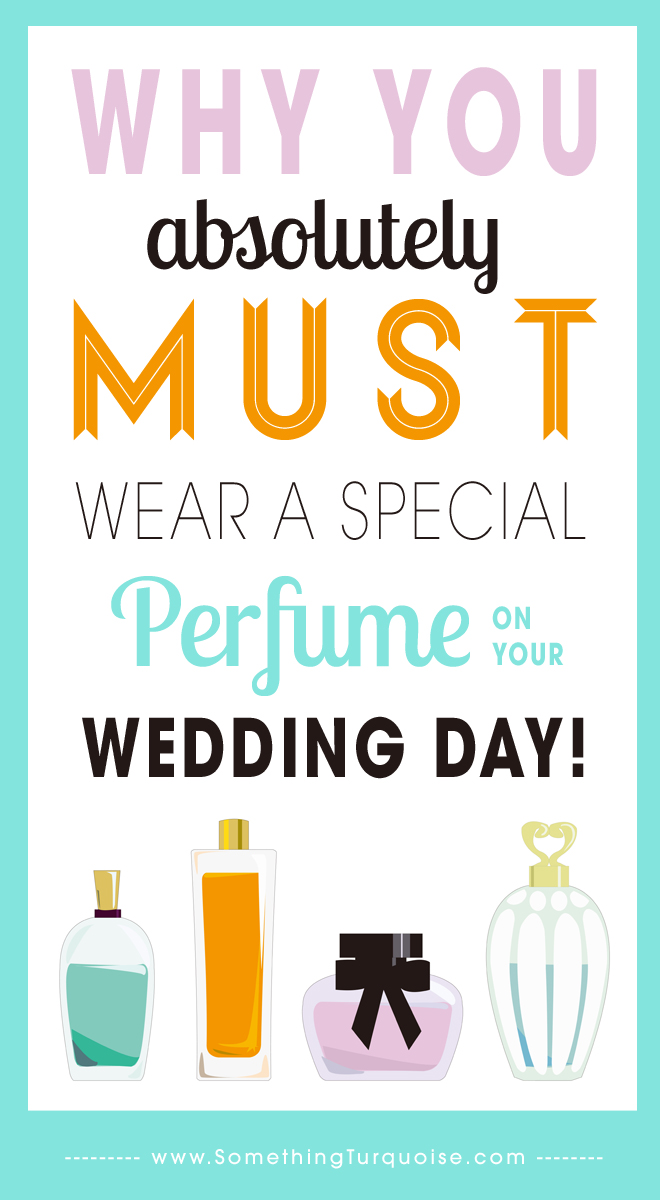 We went shopping together visiting Nordstrom, Sephora and a few other retailers – sniffing and searching for the perfect scents. It took a few trips to finally decide, and funny enough we both settled on Tommy Bahama fragrances. They were actually brand new in 2006 and created for a younger generation than that normal TB shopper, lol. We bought the gift sets that contained perfume, lotion and body wash – his also came with scented deodorant! We had a destination wedding, and on the morning of our departure we both started wearing our scents. Every time I thought about it, I just added a little spritz. At that point, I wasn't sure if it was going work so I was diligent about showering with the scent, using the lotion and so forth until the end of our honeymoon. I didn't get too crazy, and I didn't overwear the scent like a cab driver – I just made sure to wear it everyday, even if we were just going to the pool.
We got home, unpacked and started living our lives as Mr & Mrs. Thanksgiving was just around the corner and the holidays are always busy but we were extra busy; playing with wedding gifts, talking to family and friends about our honeymoon, getting ready for Christmas and time was flying… totally not thinking about the fragrance. Getting ready to leave for our family Thanksgiving I put on the perfume, and WOW. It was like I was there, saying I do and drinking that margarita on the beach. It worked. It actually worked and he had the exact same feeling. From that short 2 weeks after our event to the present day, 8 years later – it still happens. When I smell that scent, I'm instantly transported back to that wonderful time. It was one of the best presents we could have given ourselves, the gift of memory.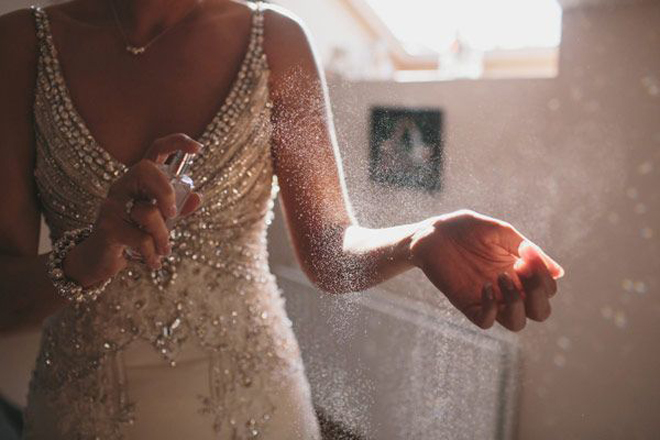 Image courtesy of: Paula O'Hara Photography via One Fab Day
---
I'm excited to tell you that it doesn't just work with weddings and honeymoons, it works for any special trip. For example, we went to Hawaii for the first time last year and I was able to tie that wonderful memory to a scent as well! 8 amazing days of wearing Dolce & Gabbana Light Blue in paradise. Now when I smell or wear that scent I'm instantly relaxed and happy, it's so crazy! It also doesn't have to be perfume, it can be an essential oil, and you don't have to wear the scent – you can just as easily smell it to evoke the same experience.
Here are a few simple tips on finding the right perfume:
Purchase a popular fragrance that isn't likely to get discontinued. If it does, that memory-tie gets discontinued as well :-(
It must be a scent that you have NEVER worn before.
Wear or smell it everyday. Be diligent. The more the better.
Today I've rounded up some classic, fresh scents that are perfect for your wedding and honeymoon! However, just like art, where beauty is in the eye of the beholder; the perfect scent is up to the nose that's sniffing it – lol! So make sure to do your scent sniffing in person!
[show_shopthepost_widget id="691213″]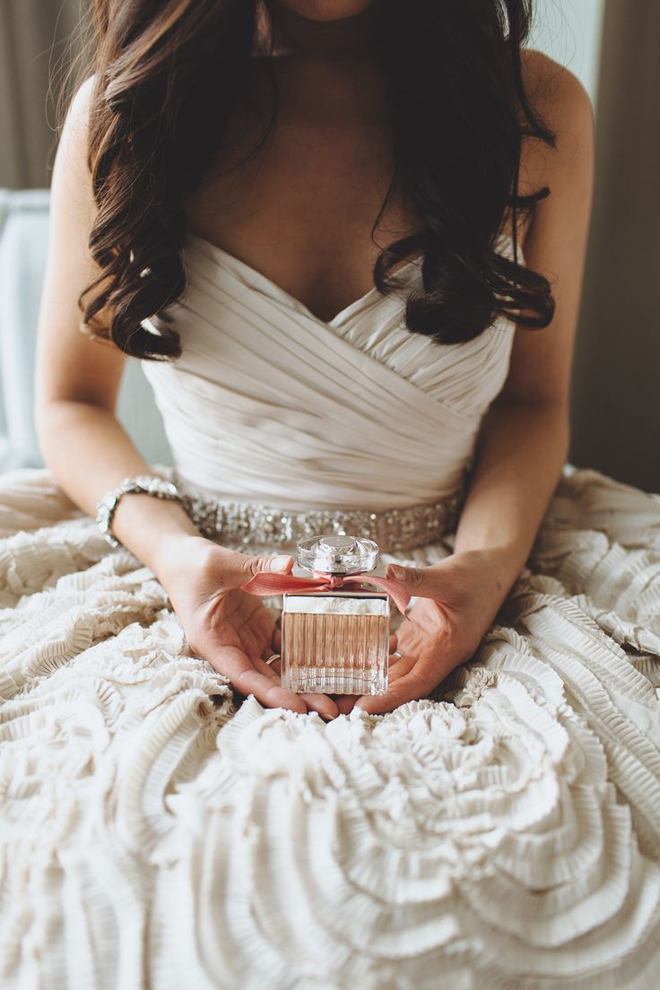 Image courtesy of: Mango Studios via Style Me Pretty
No related posts found.