"Honestly, I never knew a place like this existed in Virginia. Ashton's family farm was a bit off the beaten-path (my iPhone literately said, "NO SERVICE" in the top corner) but the day unplugged from a phone was actually really refreshing. The farm has been in Ashton's family for several generations and the farm itself dates back to before the Revolutionary War! Each generation has added their own flare and built onto the home to expand with their growing family. I loved how the different houses were connected by beautiful garden walkways! This is where the bride grew up running around the woods and playing in the creek with her brothers and her grandparents were actually married there as well! You could tell the location of the wedding made the day that much more meaningful to the couple and the family." – Common Spark Media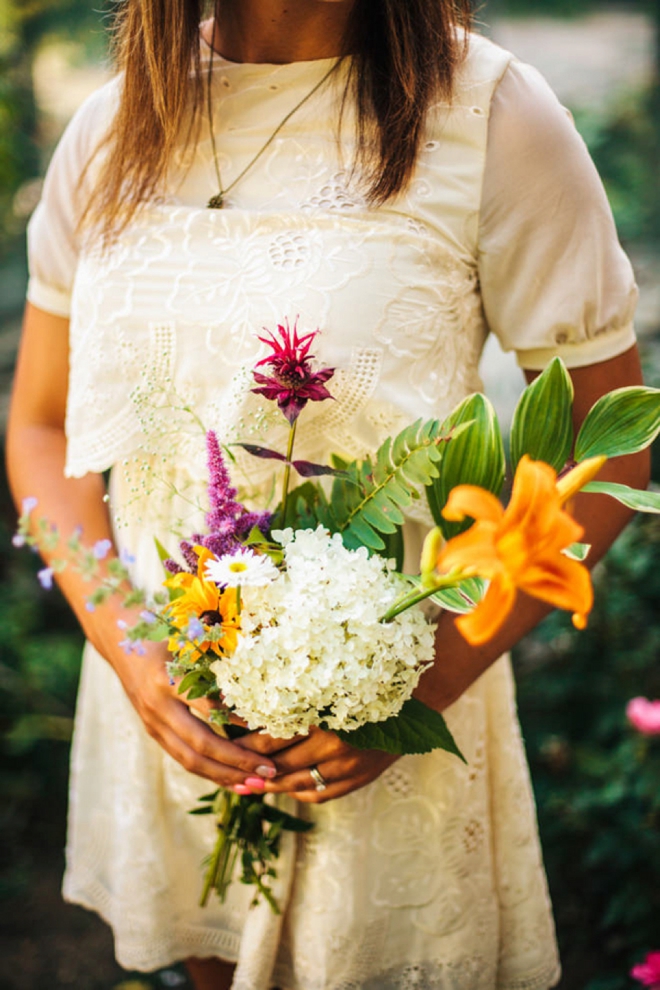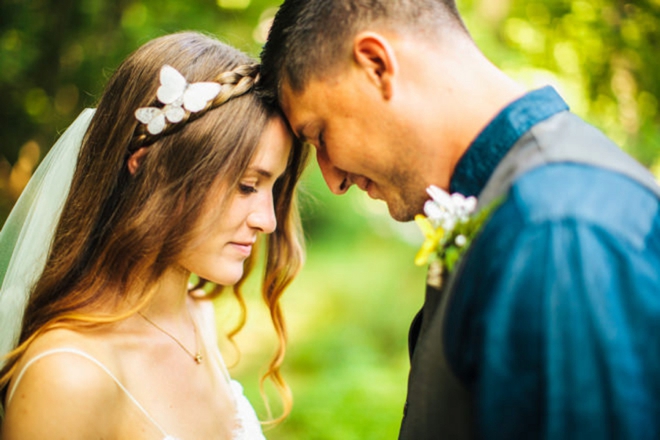 What is your favorite wedding day memory?
My favorite wedding day memory was the madness of preparing before the ceremony actually began. Being that it was on our farm and very DIY, there was a lot more family sweat and blood (but really) poured into it than the average wedding. My best friend and I were shuttling ferns to the wedding field in my car, my uncles and brothers were building the arbor, my mom was picking flowers from the garden, family friends were keeping everyone organized, my grandpa was helping to put picture posts in the ground. In fact we were so busy, that an hour and a half before I walked down the aisle I was still un-showered, in my sandals, driving around the field. The whole thing felt like a step back in time; like a pre-revolution era village coming together to put on a grand celebration; which was fitting because of our farm's history. It was homegrown and organic in that sense. I wouldn't have had it any other way.
What did you DIY for your wedding?
Our wedding took place on my parents' farm where I grew up, and almost all of the DIY items were inspired by the nature and beauty of the area. Here are the items we "did ourselves":
Boutonnieres (Bride and MOH) · Corsages (MOH) · Bridesmaid and flower girl flower crowns (MOH) · Flower girl baskets were thrifted from a goodwill in Charleston, SC (Bride) · All floral arrangements were DIY (Table centerpiece flowers were picked out the day before by mother of bride, MOH, and bride at local nursery) · Bridesmaid bouquets were picked the day of from mother-of-bride's garden · The wedding was set back in the woods behind a few fields. There were a couple of paths you could take to get there, a direct path and a "Scenic route." These paths were marked by signs made from old fencing from the farm and painted by bride. · Pallet sign painted by bride · Chalkboard featuring Emerson quotation · Arbor built from saplings, vines, and fencing/draped with flowers. Brides brothers, father, and uncles designed and built the arbor. · Posts along the wooded path to the ceremony site featured framed wedding pictures from former generations on both sides. · All hair/makeup etc was DIY · Fern lined aisle · Pinecone Bridesmaid necklaces made by bride
Any advice for brides currently in the planning process?
Try to complete all the details you'd like; and when you inevitably realize you can't and won't finish everything, realize that it's still going to be the best day of your life thus far. No one is going to notice that missing sign or incorrect start time of your "walk down the aisle" song. Yes, that happened to me. – Ashton, the bride
Event Credits
Photography: Common Spark Media // Venue: Bride's Parents Farm // Catering: Loudoun Golf and Country Club // Cake: Angelcakes // DJ: Djs2GO // Rentals: Capital Party Rentals // Engagement Ring: Bradley's Jewelers // Dress: Grace Loves Lace // Bride's Hair Pins: Anna Marguerite // Veil: Pure.Blooms // Brides Bouquet: paulajeansgarden // Shoes: Steve Madden // Bridesmaid Dresses: Lulus Boutique // Invitations: Wedding Paper Divas // Fox Cake Toppers: Fairyfolk Weddings // Grooms Wedding Band with the brides fingerpirnt on the inside: Brent & Jess
No related posts found.