EWA Free Downloads // Bride & Groom Wedding Day Cards
We have a wonderful treat for you today that I know you are going to go absolutely nuts over! 2 of our incredibly talented Etsy Wedding Artists have very graciously designed FREE custom downloads for you in the theme of "bride and groom wedding day cards"! Whether you are giving your beloved a gift on the morning of your wedding or you just want to write them a lovely little note in honor of the day, these two options have you covered!
Download the free designs below, print onto cardstock, cut, personalize and give to your fiancé on the morning of your wedding! By the rare chance that you don't want to make them yourself, fully finished designs are for sale in the artists Etsy shops. If you fall in love with any of these designs but are looking for something a little different, contact the designer as they will be happy to make something extra special to fit your unique idea!
---
Magnolia Letter Arts
Magnolia Letter Arts is a shop run by a calligrapher who happens to love crafts, supplies, and DIY. These cards are part of a new line of brush calligraphy stationery that is simple but elegant, and perfect for a sweet wedding day note. For these cards, an A2 envelope liner added detail without being too feminine for a groom. The envelopes were sealed with a monogram stamp and a strip of washi tape and lettered with a craft store opaque white pen. Check out Magnolia Letter Arts on Etsy to see more of the bridal stationery line, envelope calligraphy for every budget, custom rubber stamps, prints, and more.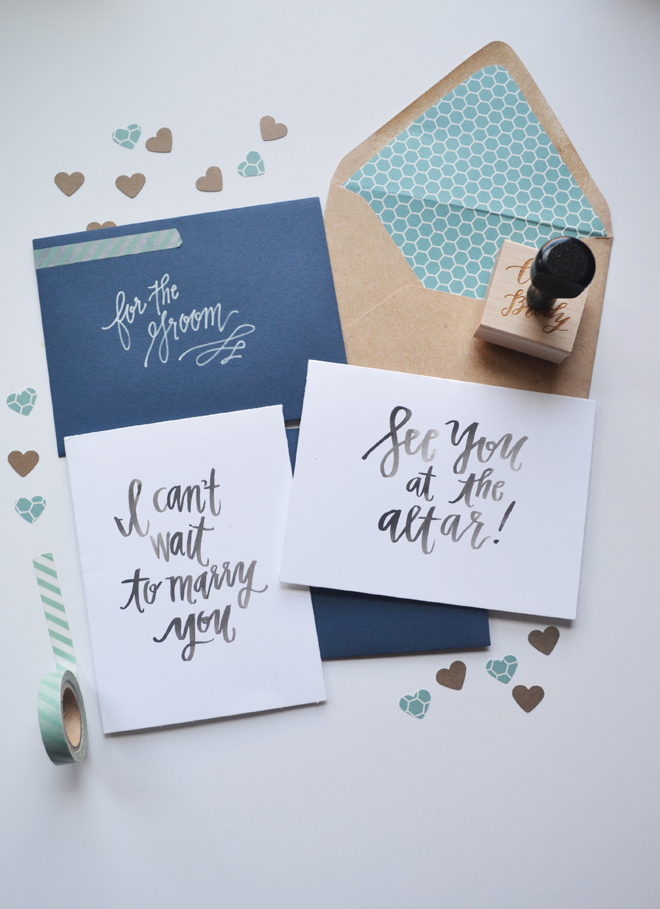 How-to: These files are PDFs sized to an A2 card. Print on white cardstock at home and cut to size using the light shaded border. Make sure to choose to print them "actual size". Fold in half and use your palm or a scoring tool to make the center fold nice and crisp. Choose an A2 envelope (4.25 x 5.5) and insert the folded card inside! If you'd like to cut your own liner, choose a thin piece of paper or a piece of wrapping paper and trace around an A2 envelope liner template. Insert the cut liner in the envelope, trim to size, and attach with a strip of adhesive roller on the top of the liner.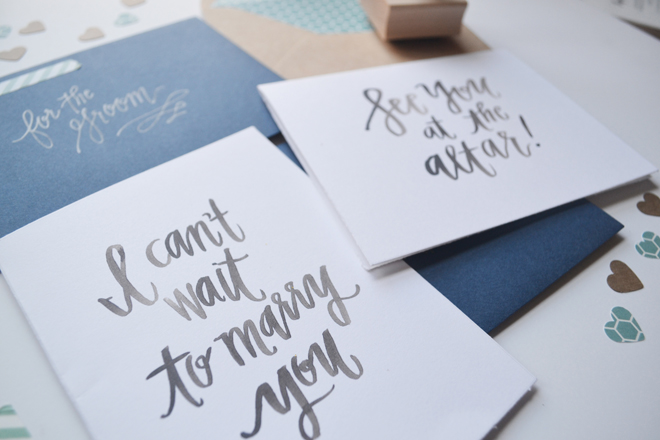 ---
Just For Keeps
Since so many couples exchange gifts on the day of their wedding I thought why not create and share gift tags with the creative brides on Something Turquoise! These tags measure approximately 3″ x 6″ which gives you plenty of room to write a personal heartfelt message on the back to your bride or groom. Like the previous "Will You Be My…" downloads I designed, these are simple in design and are meant to be embellished to fit your wedding theme. One of the photos below shows the bride tag with a wedding ring holder that is available for purchase in my shop justforkeeps. The ring holder is a nice personalized gift that can hold the bride's rings when she needs to take them off!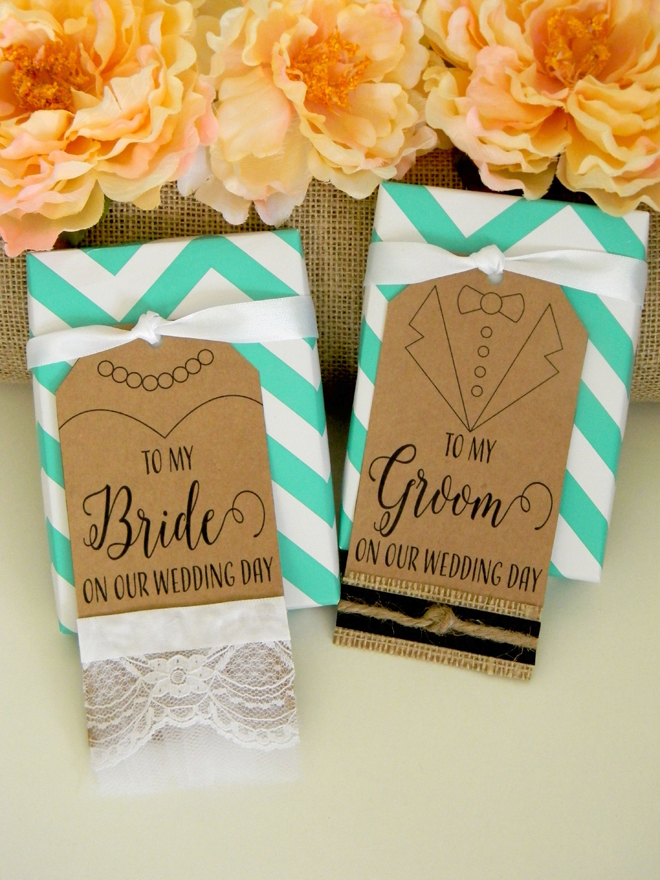 How-to: Print the PDf onto almost any color cardstock, medium to light shades will work best. Make sure to choose to print them "actual size". Trim around the tag, hole punch the top and embellish to fit your gift or wedding theme! I embellished the bride tag with tulle, lace, & ribbon. The groom tag is embellished with burlap, ribbon, & jute rope.
---
Etsy Wedding Artists
Our Etsy Wedding Artists are talented artists selling their amazing goods on Etsy. They are actually some of the best of the best that Etsy has to offer, so make sure to check them out! Although we call them "wedding artists", most of them sell many different types of items. This group is incredibly creative, they are easy to work with, they love custom orders and they can't wait to help you create something unique for your special event. We love promoting small businesses, especially these artists because as you know we love and respect the handmade.
Are you an Etsy artisan (that sells wedding goods) who'd like to have a listing in our special EWA Gallery? If so, you can apply here. Thanks for being interested!
---
All design files featured here are copyright of the respective artists. Something Turquoise does not own the above images or designs. If you want to share these images/designs you must obtain permission from the individual artist. These are intended for personal use only and cannot be sold or used to make a profit of any kind.
No related posts found.