You might be shocked to hear that the only color turquoise present at my wedding, was my "something blue"… hence the blog title. In the planning of my wedding color palette I looked at 3 major things; the theme, the location/venue, and the season. Whether you have yet to land on your perfect wedding colors or if you have already set your palette in stone, you'll want to take a moment to read my valuable color tips below. I've been wanting to talk about this topic for a while now and when JoPhoto sent over this bright, Lilly Pulitzer styled shoot, I knew it would be the perfect background for me to share my wedding color theory with you!
I had a fall, destination wedding on the beach. From the gates I knew I wanted all soft, organic colors that you would naturally find on the beach, so I went with browns, creams, and a few complimentary shades of coral and orange. Which worked perfectly for the beach ceremony and our beach theme. Our venue had all white walls (with retro beach posters) and instead of black tablecloths they were able to secure espresso brown, which I was so grateful for! When dealing with destination locations, your options become very limited. My color scheme worked perfectly for fall flowers, we had orchid bouquets with fall leaves and sticks wrapped with raffia (fairly untraditional for the time – 8 years ago). Based on the flowers I had my bridesmaid wear an expresso colored dress with cream pearl jewelry… and all the guys wore browns and beiges. It might seem like my color palette came together pretty easily, but I truly took all of the below into consideration and hope you do to!
1. Take cues your wedding theme
Have you decided on your wedding theme yet? If so what is it? Rustic, modern, boho, or maybe even destination. You really need to finalize your theme before color makes it's way into your plans. Let's say you're planing a modern wine theme, right there I think of dark espresso, merlot, soft browns and metallic copper… and if you were planning a rustic barn wedding, your colors would be hugely different. Your wedding theme is the perfect starting place for your color inspiration. If you are dead set on including a specific color in your event, no matter the theme, there is always a way to start with that one color and work around it. Once you have settled on your theme you are ready to move forward.
2. Look your venue
Put your eyes on your venue! Yes, physically go and look deeply at everything. Some venues have stunning wooden walls or rolling wheat fields or maybe even turquoise waters. Beyond the theme, the next element to your color decisions will be your venue itself. Sadly some venues aren't gorgeous (ie. bad carpet or funky wall paper could be in your future) and there may be awkwardly designed areas that you will have to spend time in, take photos in or even just walk through. Let's start with where you will be getting married, the ceremony. Where will you be standing? What is the floor like? Is it floor? Is it grass? What is behind you? A wall or maybe a custom backdrop? Or better yet, the ocean? How will your color ideas effect this space. Fashion + Flowers will play a huge roll at your ceremony location and so the colors of both should blend seamlessly with the surroundings. Otherwise you'll cringe later at the pictures. As you walk through your venue space, I would recommend taking notes + pictures of the exact places that you will be using so that you can refer back to them later and plan accordingly.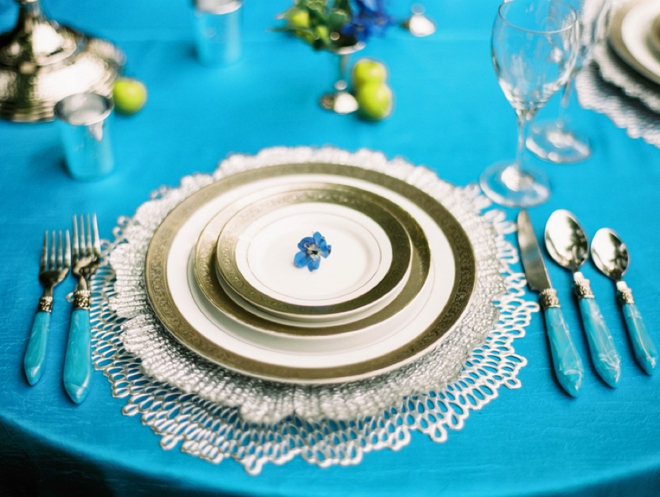 3. What is the season?
What season will it be when you say "I Do"? Winter, spring, summer or fall… they all definitely have their perks and their downfalls. Most of which being flowers and temperature. Many times wedding themes and the season get all wrapped up together, which can be awesome and easy. Keep in mind the season will greatly effect both your fashion and your flowers, ie. destination beach wedding, lightweight flowing gowns and sandals + tropical blooms. Seasons can really help influence your color decisions, in a gentle but good way. In winter we naturally pull towards darker colors. In spring it's all about pastels. In summer, brights are the way to go. In fall, muted dusty shades are best. How the season plays into your overall color palette is up for your interpretation.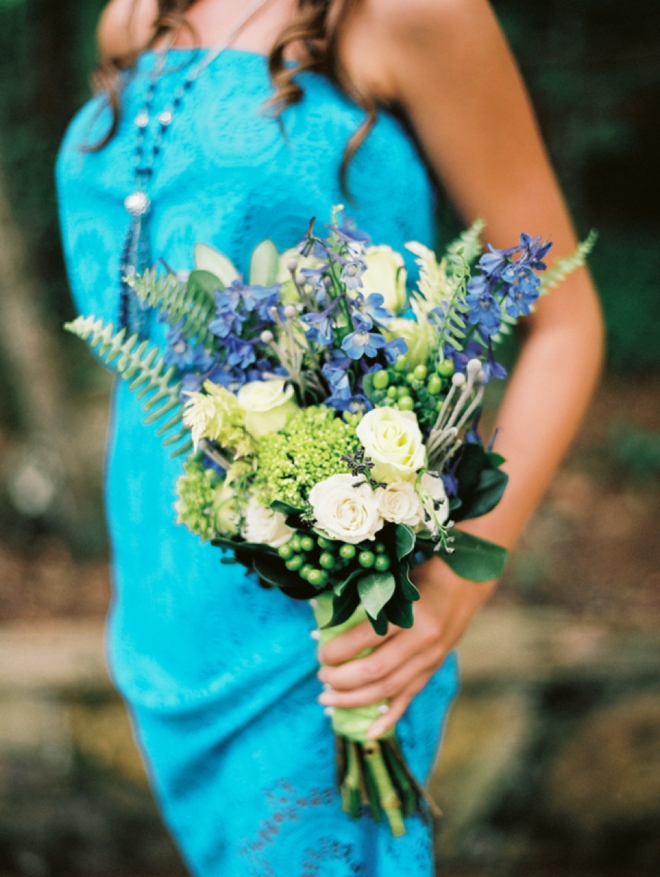 4. Fashion Comes Next
After you have considered the 3 points above, fashion is next and it's a big one. Choose your dress first!!! Yes! And get a swatch of the fabric if you can. There are a million different whites and ivories out there and you need to carry yours in your pocket. That way anything else you buy will be on target. Then after it's over you can make this necklace with that darling little scrap of your dress! The color you choose for your bridesmaid fashion should play well with your choice of bouquet color, the overall theme of your wedding and the scenery at your ceremony. Your bridesmaids will make the BIGGEST impact at your ceremony, so consider where they are standing and how the overall picture will look – because that's what your guests will see and that's what you'll get from your photographers. Many times the biggest color statement comes from your bridal party fashion, so use that to your advantage. Making sure that the fashion + flowers + venue all line up can be a bit of a task but I know you are up to it!
5. Make a Palette Guide For Yourself
After you've touched on all 4 points above, you should be able to narrow down what color scheme will look best for your day. I'm going to limit you to about 5 colors; 1 neutral (ie. white, cream, light gray), 3 complimentary hues and 1 deeply saturated color (ie. black, espresso, darkest gray) – you can always expand. From there you should pin point the exact shades and you can do this by visiting your local hardware store and looking through the paint chips and saving your favorites. Or if you are tech savvy, you can use an app like Adobe Color CC to import a picture, find exact colors from it, and save that palette. Or you might get lucky and find an inspiration palette from Pinterest that works just perfectly for you. Add things like texture, metallics and material that matches your color palette + theme and you'll have created the ultimate wedding shopping tool for yourself!
Browsing Pinterest can really help when looking for color inspiration but keep in mind once you find something you love – you should stop looking! There are endless color combos out there and tons of pretty and you could get lost amongst it, lol.
Styled Shoot Credits
Photography: JoPhoto // Ceremony Location: Dara's Garden // Equipment Rentals: Event Rentals by Rothchild // Other: Honeybee Events // Event + Floral Designer: LB Floral // Mens Attire: Savvi Formalwear // Linens: The White Table // Hair: Tony Williams II // Dress Store: Wedding Wonderland
No related posts found.