"We think the best part of Ashley and Randall's wedding is how sincere and family-oriented the entire day was. Since most of Ashley and Randall's families are from the midwest, they made it a priority to share as much of their wedding week with those who had traveled to NC for the big day. We also appreciated how the many small details of the wedding fit perfectly with Ashley and Randall's style – their wedding, much like their home, was full of color, beautifully handcrafted decor, and a heavy emphasis on the love they share." – Rob + Kristen Photography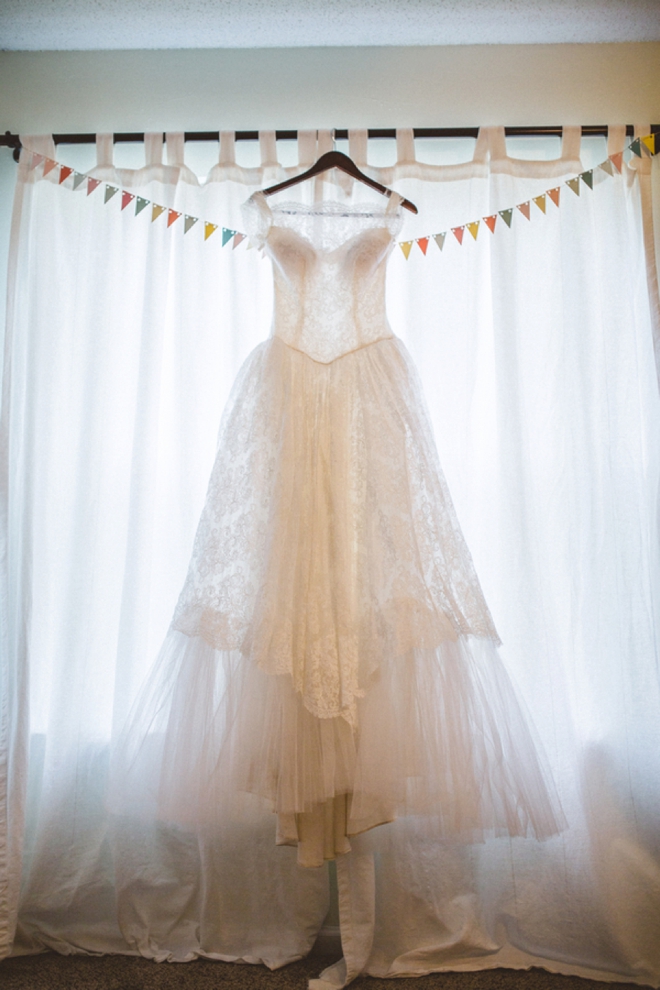 What is your favorite wedding day memory?
My favorite memory is my husband and I reciting our vows. When we got married, we had been together over 10 years and honestly had felt married for a long time. However, there was truly something very magical about committing ourselves to the next phase of our lives in front of so many loved ones. It also helped having my sister officiating because she helped me feel less nervous.
What did you DIY for your wedding?
I DIY-ed all of our decorations, from the programs to the cake toppers to the favors! I'm an art teacher so I love to make things with my own hands. Our outdoor venue had so much natural beauty that I didn't want to distract from but we also wanted to have pops of color around us. We decided on a vintage/eclectic feel for the decor, which was achieved by mixing and matching different colors and patterns. I scoured thrift stores for interesting glass vases, which I painted and used for table settings. I also created the floral arrangements, bouquets, boutonnieres, and corsages from flowers with lots of different colors, textures, and shapes because I wanted them to seem very natural. Bunting made with scrapbook paper and yarn also brought in accents of color and the pom poms that hung from ceiling were made from coffee filters and wiffle balls. The dishes for our candy buffet and our cake platters were also so easy to put together. I collected vintage-looking platters and glass bowls and simply glued candle holders to the bottom of them. In the end, I was so happy with how many personalized details we were able to have and the only negatives were my many glue gun burns!
Something old, new, borrowed and blue?
My "old" was my wedding dress, which was vintage from the 1950s. My shoes were "new" and my earrings were my "blue." At the last minute, I realized that I forget my something "borrowed" so my sister in law lent me her lip gloss!
Any advice for brides currently in the planning process?
For anyone interested in creating their own decor, I would definitely recommend spreading out the work as far ahead as possible. This saved my sanity as the date got closer because I didn't feel like I still had a huge list to tackle. The day itself also goes by incredibly fast so it's important to remind yourself to pause and experience as many moments as possible. – Ashley, the bride
Event Credits
Photographer: Rob + Kristen Photography // Venue: Carrigan Farms // Cakes: Whole Foods // Officiant: Bride's sister, Jenny // Dress: The Vintage Mistress // Shoes: Elle // Bridesmaid dress: Modcloth // Men's attire: Kenneth Cole // Men's shoes: Steve Madden // Ties: Nautica // Invitations: Wedding Paper Divas