"Bethany and Brad were the most cool and collected bride and groom I've ever photographed. They were so happy and in love which made it easy to capture their radiant essence. Bethany's attention to detail and thoughtfulness behind everything made this wedding so special. The guests were filled with happiness for them, the day was absolutely gorgeous and as a wedding photographer I couldn't have asked for a better couple to photograph!" – Elizabeth Burgi Photography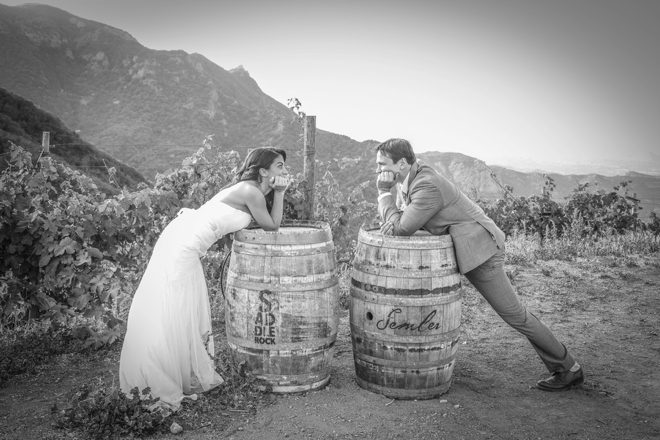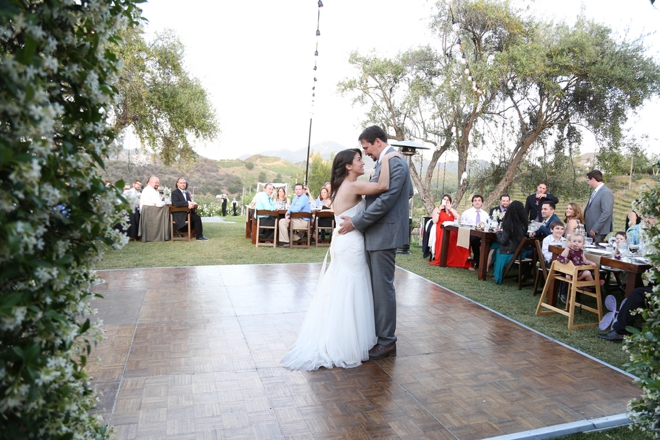 What is your favorite wedding day memory?
A few of our sweetest memories were just before and just after the wedding. As our guests were arriving, we were waiting in the "dome," a cute little bridal space at the top of the hill where we were married, where we and our families got ready. There was a window to the outside space where guests would wander in to the venue, and we got to peek out and watch as our friends and families all filed in (and occasionally wave excitedly as one of them caught us grinning through the window). Having our family and friends (most of who traveled to be there) all together was a big deal for us, so watching them arrive was so exciting. And after the wedding, as everything started to quiet down, we walked down the hill back to our ceremony site and sat and watched the string lights twinkling over the dance floor and listened to the laughter of our guests from a distance for a few minutes. That lovely moment of quiet after the day will always stick with us.
What did you DIY for your wedding?
As much as we could and enough that I was worried I'd have hot glue scars on all of my fingers for the wedding :) We painted pink and grey pots to plant succulent favors (which are fun to see growing at our guests' houses even now!) that doubled as "escort cards" with hand-written name flags we put together. My dad handmade planters for the succulent centerpieces we planted and he even engraved the wood with our initials. We wrapped mason jars in fabric and lace to hold flowers to line the aisle for the ceremony, and to hold candles in the trees at the reception. I drew chalkboard signs for the menu, program, desserts, and drinks, and painted peg doll cake topper versions of us (which I still keep at my desk!). We also made a timeline photo collage, starting with pictures from our parents' weddings, that lined the entranceway to our venue.
Any advice for brides currently in the planning process?
Only do as much as you enjoy. For me, the planning and the DIY parts were a really fun hobby in the months leading up to the wedding, but if something stopped being fun and started feeling like a chore, we'd look for an alternative instead. I love that we can look back on the wedding planning and all as a stress-free, joyful time. Also, find really good vendors that you can rely on for the things you don't want to or can't do yourselves. For us, having a great day-of coordinator was a splurge, but she made the day so incredibly easy and helped bring together all of the things we'd done in advance. And find an awesome photographer to capture it all; ours helped us make the time spent taking photos fun and full of laughter. – Bethany, the bride
Event Credits
Photographer: Elizabeth Burgi Photography // Venue: Saddlerock Ranch, Malibu // Wedding Planner: Lina + Stephanie of A Stunning Affair // Florist: (bouquets and boutonnieres) Peony & Plum // Catering: Command Performance // Cake: Sweet & Saucy Shop // Officiant: The Groom's Brother // DJ: DJ WesLee from Red Shoe // Transportation: ITS // Rentals: A Rental Connection // Dress: Lovely Bride // Hair + Makeup: Susie Chhour Studios // Succulents: The Succulent Source // Lapel Photo Pin: Delaney Jewelry // Guest Book: Claire Magnolia // Ring Bearer Bow Tie + Suspenders The Baxter Boy // Paper Heart Garland: Couture By Ayca
No related posts found.