"There are so many ways to approach a DIY wedding. It doesn't necessarily mean that you have to actually DO IT ALL YOURSELF. Jenn and Bryan did an amazing job of having friends and family contribute what they could to make their wedding day both affordable and unique! Whether it was the bride's friend who made the beautiful (and delicious) wedding cakes, her friends who helped her create their bouquets using flowers from a farmer's market in Atlanta, or using vintage family heirloom items to bring the decor together. It was an all-around fantastically handmade wedding for an amazing couple! Enjoy Bryan and Jenn's wedding at the High Point Farm in North, GA!" – Katey Penton Photography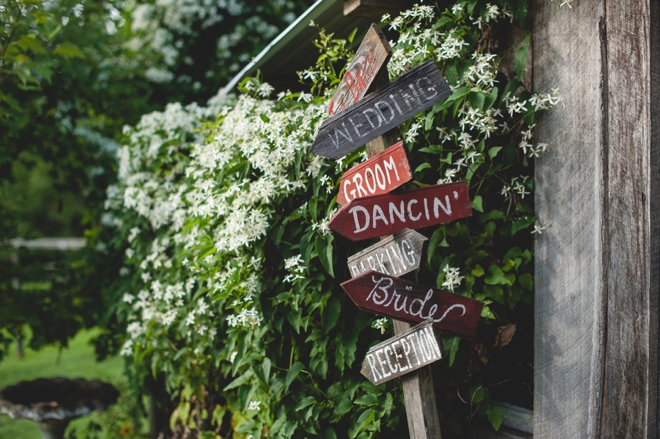 What is your favorite wedding day memory?
Our favorite memory from our wedding day is just being surrounded by all of our family and friends who have loved, encouraged and supported us through the years!
What did you DIY for your wedding?
Being on a budget and knowing how expensive weddings can be, we tried to DIY as much as possible. But, we were also realistic in knowing what our limitations were. What we couldn't DIY, we called upon our crafty friends to help. We took care of all the planning and coordination with the exception of implementing the day of- a family friend took the reins and actually set our plans in motion- what a huge help!
We DIY-ed all of the decor and table decorations. Since we got married on a farm, we wanted to keep our decor in theme with the setting. We borrowed old jars and bottles from family and filled them with various items we found around the house-buttons, grains, beans, coins, pebbles, etc. We also utilized free decor that the venue offered.
Both Bryan and I have sweet-teeth, but we aren't crazy about traditional wedding cake and had heard from other friends about being stuck with tons of excess cake. So, we decided we wanted multiple single layer cakes to provide a variety in flavors and to avoid having tons of cake left over. This is one of the things we realized our limitations on. We have a dear friend who wants to open her own bakery business, so we enlisted her to make our wedding cakes and she made the most delicious and beautiful cakes! As for the groom's "cake", we wanted to do something unique and since we were getting married at the end of August, in Georgia, we figured what would be better than popsicles! We contacted a local vendor here in Georgia who is famous for their pops and ordered them as the "groom's cake".
We also DIY-ed our programs using different ideas we saw on Pinterest. We designed them with our friend, Jessica Dodd, who also designed our invitations, and bought the supplies from a local craft store and printed them using our home printer.
For our handmade guest book we had guests sign quilt squares that our moms are sewing together to make a quilt.
Perhaps most ambitiously, we DIY-ed the flowers. Flowers can be so expensive, so we went to the local farmer's market and bought bunches of varying flowers we liked and my bridal party assembled the bouquets, boutonnieres and centerpieces the morning of the wedding, over breakfast!
Something old, new, borrowed and blue?
Old- I carried a butterfly that had been crocheted by one of my grandmothers with my bouquet.
New- dress and earrings
Borrowed- I wore my aunt's veil
Blue- my shoes! They were blue and white pin-striped and matched the groom and groomsmens' bowties
Any advice for brides currently in the planning process?
I would say remember why you're planning the wedding – it's not about having a perfect day, it's about standing before your closest family and friends with the one you love and making a commitment. DIY is awesome and definitely helps budget-wise, plus, there are a lot of great resources (including this blog!) and you can add your own personal touch, but, recognize your limitations and don't stress yourself out! Breathe and enjoy this time! – Jennifer, the bride
Event Credits
Photographer: Katey Penton Photography // Venue: The Barn at High Point Farms // Wedding Planner: Mrs. Bonny Bryant (family friend who helped the day of) // Officiant: Rev. Richard King // DJ: Simply Celebrate Events // Videographer: Chad Mozley, friend // Catering: A Silverware Affair // Wedding cake: Alyson Kuhl, friend of the bride and groom // Groom's popsicles: King of Pops // Dress: Formally Yours // Bridesmaids attire: chosen by each gal // Hair and makeup: Meagan Morrison from Tease Salon //