– Sponsored Post –
To us, being a DIY bride means that you are all about individuality. Being able to dream up your ideal wedding theme and design it from scratch takes skill, patience and creativity. The wedding trends that we've been swooning over lately are all about the custom and ultra-personal details that couples are designing to celebrate their relationships. Gone are the days when your wedding has to fit into that cookie cutter mold of banquet halls and satin chair covers, now it's not only acceptable to host a unique wedding but it's also admired. So what is going to make your wedding day stand out? We say that personalizing the little details is a great place start and StickerYou.com is here to help!
StickerYou is the only online platform in the world where you can upload your own designs or artwork to create completely custom stickers, labels, large format decals, temporary tattoos, iron-ons and magnets. You can order a multitude of sticky products in any shape, any size and any quantity you wish. That's right, they have no minimum order quantity on most products so you can order the exact number of stickers or labels you actually need. The custom die-cut algorithm they use allows them to die-cut around the edge of your sticker or label design creating a unique shape. So if you are working on creating a one-of-a-kind detail, they can help you execute it without breaking a sweat (literally, their labels are waterproof!). Since we love wine, and we know you do too… that's what we're talking about today!
Will You Be My….?
Design your own custom wine bottle labels to include in your "Bridesmaid" + "Groomsman" ask gift! Upload your wedding logo, a special photo, or choose to customize existing templates to easily add that unique touch to any wine, champagne or hard alcohol bottles. These labels are made of high quality, glossy vinyl material. They are water resistant, and will stick strong and last long on your bottles. Looking to remove existing labels on your bottles, they can help with that too – visit this link to learn how.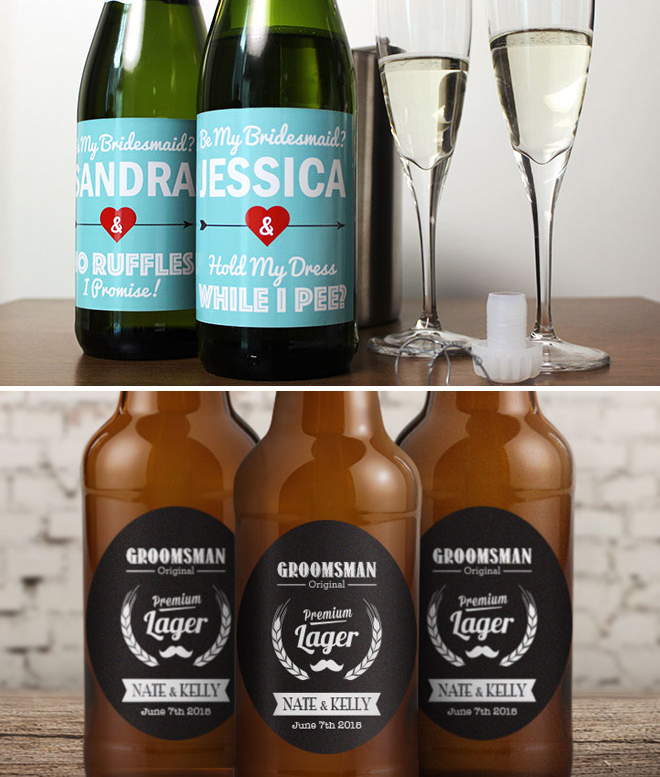 Table Numbers + Favors
One of our favorites. Your guests have to find their seats, so you need table numbers. They also need to have a drink to help you celebrate, so you need wine. Seems like the perfect fit to us. Purchasing inexpensive (or expensive, depending on your budget) bottles of wine, adding adorable custom labels and using them as your table numbers is a win-win for everyone, including your wait-staff. An even better idea is doing the same thing but for favors, we guarantee not a single guest will leave theirs behind. Wine as a favor is almost as good as giving them gold, are we right?
Water Bottles + More
From wine and alcohol bottle labels to water bottles, StickerYou has the perfect solution to energize your wedding details. Providing themed water bottles in your guests welcome bags or hotel rooms is an awesome treat that will easily show your guests how much you care. All of these custom labels are waterproof, so if your bottle needs to be chilled you don't have to worry about the label getting ruined. You can write on them with with permanent markers, meaning any label could double as a guest book. They are microwave and dishwasher safe, not that you will be putting alcohol bottles in either but it's so cool that we had to mention it!
Here's a fun video from StickerYou, advising you to "ask" with caution, lol.
To learn more about the custom wedding detail options StickerYou offers, please visit their website StickerYou.com.