"Phil and Jess have been friends of ours for years. When we met with them about their wedding, to say we got wildly excited to shoot it was an understatement. We've found we always get the best stuff of a couple when you know them and their style well. Their love, constant laughter and smiles shined through all day which made for a very fun and exciting shooting experience. This wedding was absolutely beautiful and went off without a hitch. A big thank you to the ever amazing coordinator, Jessica Adler from JA Special Events, Statice Floral and everyone else involved. Ten Mile Station was just incredible and that scenery is truly one of a kind. Thank you, you two for letting us be a part of it! We only hope you love the photos as much as we do!" – Brinton Studios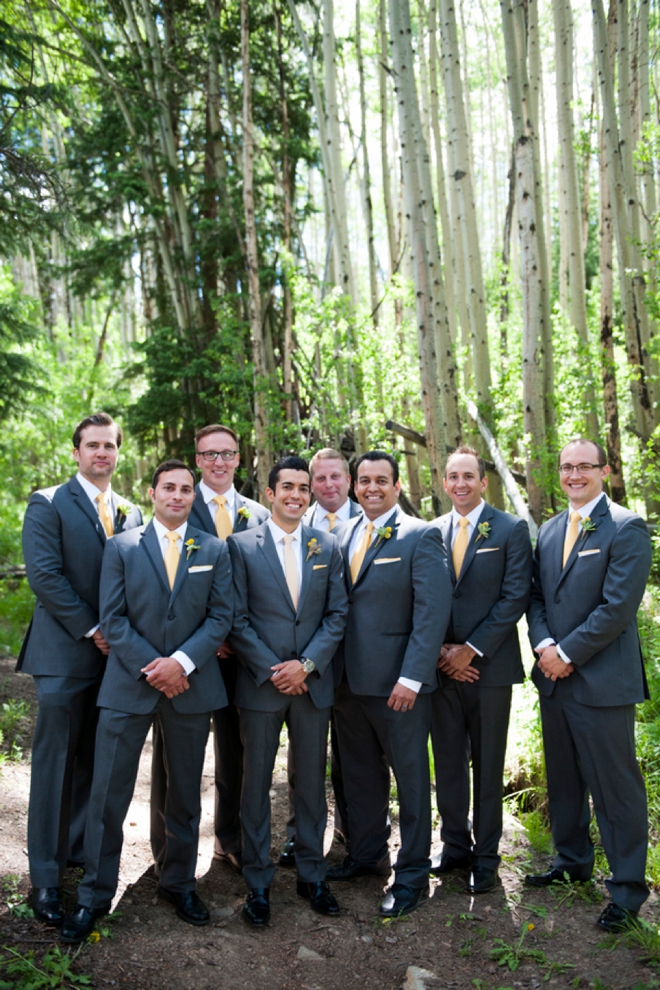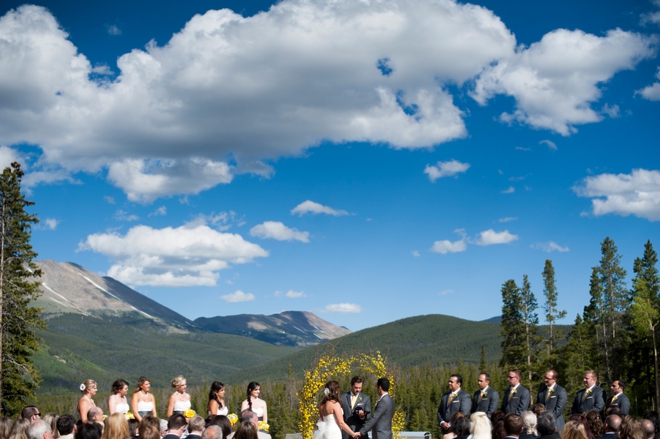 What is your favorite wedding day memory?
Probably when my Dad gave his welcome speech – so nice to hear him talk about our relationship, how much he loves Phil and how proud he is of me. I also loved our ceremony, it was the most perfect, blue sky Colorado day and having everything come together all in that moment, looking out to see all of our family and friends was just perfect.
What did you DIY for your wedding?
So much! Everything from the Burlap Bow "Reserved" signs to our Chalkboard "Welcome" sign – my Mom had her hand in helping with so many personal DIY details! She took a flower girl basket that I carried in my Uncle's wedding when I was 4 and added lace and yellow ribbon for Phil's niece Zamora to carry!!! She also was able to custom make Dominic's ring bearer pillow with pinecones and ties to hold our rings and it had a screen print of a photo on Phil and I on the top! Such a great keepsake.For the table numbers we took photos of Phil and I from each age 1-15 and my Mom put the photos in custom wood frames along with rustic barn numbers! So many guests made it around to every table to see every photo! Our wedding planner, Jessica Adler coordinated custom, Colorado barnwood frames which also worked as our place cards. So people found their table with the name in the frame and we left a note in the back so they knew to take the frame home to put a memory of the day inside!
Something old, new, borrowed and blue?
Yes! My old was vintage Eisenberg earrings gifted to me by Barb Walker, the mother of one of our groomsmen, Geoff Walker. She never had a daughter so all of the women who her son and son's best friends married are gifted a piece of her jewelry that she collected from the 1940's and I just love my earrings!
My borrowed was a Tiffany heart and pearl bracelet from my Mom. It was something my sister and I gifted to her long ago and she lent to me to ear for the day. My Dad helped me put it on! I was shaking from nerves so I needed his help!
My blue was the bottom of my Betsey Johnson shoes! The perfect touch!
Any advice for brides currently in the planning process?
We wanted to make the experience for our guests one they would never forget, so remember the little details, focus on making it a party and a celebration and a great wedding planner like Jessica Adler makes everything 150% easier. Also, photos are so important and loving the style of your photographers will make sure every time you look back on the day there is a new detail you see for the first time, and they always bring a smile to your face – Brinton Studios were PERFECT for us! – Jessica, the bride
Event Credits
Photographer: Brinton Studios // Venue + Catering: Ten Mile Station // Wedding Planner: JA Special Events // Flowers: Statice Floral // Cake: Kelley Kakes // Officiant: Groom's Brother-in-law, Josh Coe // Music: Dave Kreider // Transportation: Fresh Tracks // Dress: Alvina Valenta #AV9307 from Anna Be // Bridesmaid dresses: Bella Bridesmaids // Hair: Jess Durado with Matthew Morris // Groom's suit: Hugo Boss, Red Label // Men's attire: BLACK by Vera Wang from Men's Wearhouse // Ties: Tie Bar // Guestbook: Two One Photography
No related posts found.