I'm excited to be sharing a brand new feature with you that I'm calling…
Etsy Wedding Artist // Wedding Advice
..where our talented artisans graciously share their unique perspective of weddings with us. It thrills me to promote these Etsy shops because I deeply value small business and since I have a slight obsession with the handmade, that you are all clearly aware of. So if you are a bride looking to find supplies to make things for your wedding, or don't have the time to make something yourself, or are looking for that unique item that has a handmade feel — you will be able to find it from our Etsy Wedding Artists. I conducted a reader survey (which you might remember) over the holidays wherein I asked if you would be interested in this type of article and an overwhelming amount you said Yes! So today we have 6 artisans sharing their wedding advice narrative with us, I hope you enjoy the read and get to know them a little better!
Advice for Brides-to-Be from Kiwi Tini. "Congratulations on your engagement! Now the fun begins. Today it is easier than ever to search for ideas and inspiration for your wedding. The hard part will be narrowing down your ideas! Social media, wedding blogs and of course Etsy are all great places to find inspiration. I think the starting point for planning hinges upon two major decisions: the style of your wedding and your color scheme. For the style of your wedding, I mean what kind of mood or overall impression will your wedding have? Will your wedding day be a casual outdoor venue, rustic, woodland, french chic, vintage, a destination wedding, or a formal affair? The products and decor items in my shop are designed along three main themes, Paris chic, rustic woodland, and destination or beach weddings. Once you have decided on a theme you should pick your color scheme. The colors you choose will coordinate and thread together all your details, from save the dates, invitations, decor items, and favors. Most of the products in my shop can be color customized and this is a service that I get a lot of requests for. Lately I have been getting a lot of requests for navy blue, blush and gold, and eggplant. So when working with an Etsy artist be sure to ask about any customization on products, the processing and shipping timelines, so you will be sure to receive them in time. Best of luck in your planning!" – Kathy, Kiwi Tini on Etsy
Hot Air Balloon Cake Topper from Kiwi Tini, $24
---
Stationery Advice from LaneLove Design. "So you're planning your wedding. You've picked your favorite place and booked the day of. And maybe you've already found the perfect dress or photographer. Now it's time to talk paper! If your wedding is ten plus months away, send out a Save the Date to let your guests know about your day. Then it's on to THE Invitation… with so many choices out there it can be hard to pick ONE. My advice is to pick a few that you love pieces and parts of, and then have your Stationer customize the perfect invitation just for you. That way you'll get a unique invitation no one else has and you will love every aspect of it! At LaneLove Design we love getting custom orders for designing one-of-a-kind invitations. Be sure to send these out a few months in advance so your guests know important details in order to plan accordingly." – Katie Lane, Owner of LaneLove Design
Custom Envelope Liners from LaneLove Design, $2.25
---
5 Quick Formal Wedding Invitation Wording Tips from The Spotted Olive™
The bride's name always comes before the groom's name on a wedding invitation.
Spell out numbers except for those in an address. For example, spell out the year as "two thousand twenty" or the time as "two o'clock in the afternoon" but use numbers for an address such as "847 Evergreen Lane."
Abbreviations should not be used on wedding invitations. For example, spell out the state as "New York" instead of using it's two letter abbreviation.
Zip codes shouldn't be included on wedding invitations.
Registry information should never be included on wedding invitations.
BONUS! If you are having an informal wedding, anything goes! Just be sure to include the important details such as the event request, names of the happy couple, date, time and location. Relax and have fun with it. It's your special day afterall! – Debbie, at The Spotted Olive
Violet Watercolor Wedding Invitation Suite from The Spotted Olive™, $50+
---
Wedding Advice from sockprints. "Say, "Thank You!" – While looking at my wedding album recently I was reminded by a photo that my husband and I wrote "thank you" letters to our parents to share how appreciative we were for their love, guidance and support on our journey to our wedding day. I know they appreciated that we took a moment during the wedding to acknowledge and thank them. Along those same lines, however much more creative, a bride reached out to us at sockprints last fall with a similar idea. She requested that we print special notes to her father, brother and groom on men's dress socks. This small token of appreciation made the perfect "thank you" note and supplied a fun accessory for their wedding attire. They'll always have a little thank you note in their sock drawers too! Below you can see a picture of them, aren't they darling?" – sockprints
Custom wedding socks from sockprints start at $24
---
Wedding Planning Advice from CereusArt. "If there's one piece of advice I would share with every bride-to-be, it would be to start planning early! You don't want to be that frantic bride hurrying to place last minute orders, stressed to the max, and forced to make decisions based on shipping limitations instead of your personal taste. When you begin to plan your wedding, give some thought to your hobbies, likes, interests and how you might incorporate them into the theme for your special day. Having the time to thoughtfully consider unique, personal touches to share with your guests will not only make your wedding day especially memorable for those in attendance, but will give you peace of mind in knowing that each element of your day is a true reflection of you. Planning in advance will save you time, energy, heartache and money! Avoid priority shipping costs at the last minute and reduce the risk of low inventory with your favorite vendors. Take the time to try out your DIY ideas in advance without the pressure of a fast-approaching "deadline" so that you can identify what is easily managed in your busy planning and what you might want to outsource to professionals. When it comes to DIY and those special moments you want to share with your guests, giving yourself all the time that you need is the difference between perfection and chaos." – Dana of CereusArt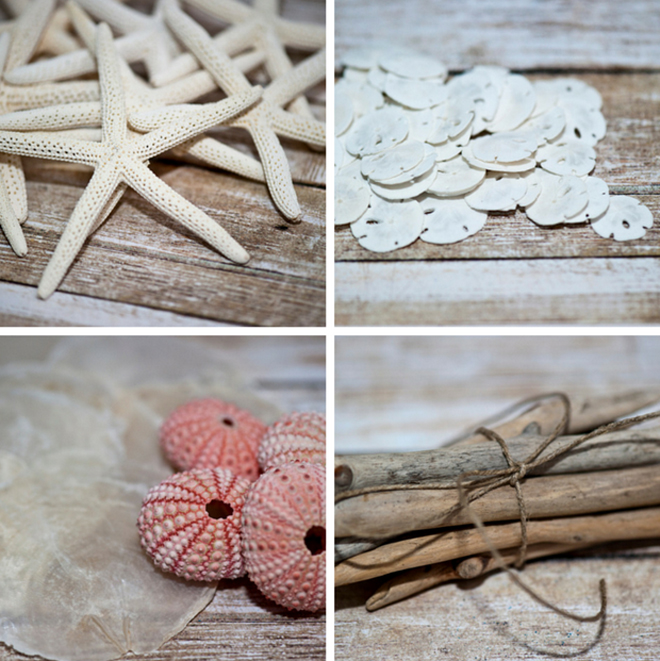 Bulk seashell supplies from CereusArt starts at $5
---
Wedding Budget Advice from Tri~Elegance. "Regarding wedding planning, I learned the importance of setting an initial budget and being creative with the spending (e.g., choosing an unpopular day to have your wedding). It's easy to overspend because there are so many wonderful wedding ideas and items available to brides to be. Use Excel or similar software to track your spending. Although the goal is to stay within budget, set the maximum you are willing to pay for your wedding and don't go over it. Guess what? Most likely you'll go over your initial budget! So, knowing that cap ahead of time will keep your spending in line and your creativity will help you save money." – Patricia, owner + designer of Tri~Elegance
Custom, real wood wedding invitations from Tri~Elegance start at $100
---
Etsy Wedding Artists
Our Etsy Wedding Artists are talented artists selling their amazing goods on Etsy. They are actually some of the best of the best that Etsy has to offer, so make sure to check them out! Although we call them "wedding artists", most of them sell many different types of items. This group is incredibly creative, they are easy to work with, they love custom orders and they can't wait to help you create something unique for your special event. We love promoting small businesses, especially these artists because as you know we love and respect the handmade.
Are you an Etsy artisan (that sells wedding goods) who'd like to have a listing in our special EWA Gallery? If so, you can apply here. Thanks for being interested!
No related posts found.