"Colorado residents Rachel and Andrew planned a sweet and intimate wedding in Charleston, SC. As a College of Charleston alum, the city held special meaning for the bride and the two could not think of a more romantic place to wed. Guests flocked from all over the country to celebrate this wonderful couples day. They handmade the majority of their decor, choosing to mix elements of the grooms hometown of Indiana and the bride's home of South Carolina. The bride screen printed "yay" flags for their ceremony and handmade their wedding invites. Carolina sweet tea and the groom's family recipe for sugar cream pie served as party gifts, while tables were decorated with candles and Indiana geodes hand crafted by the father of the bride." – Gillian Ellis Photography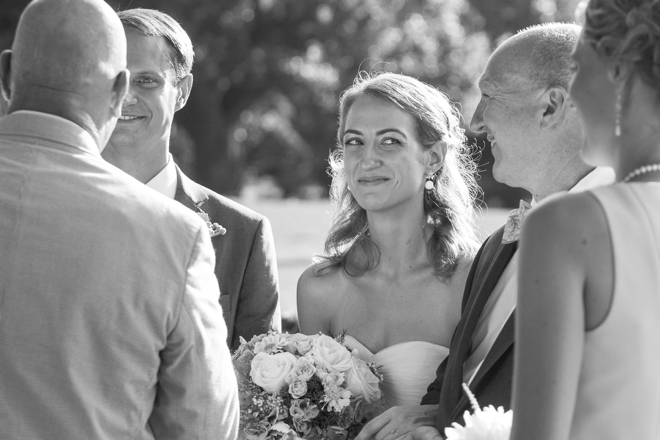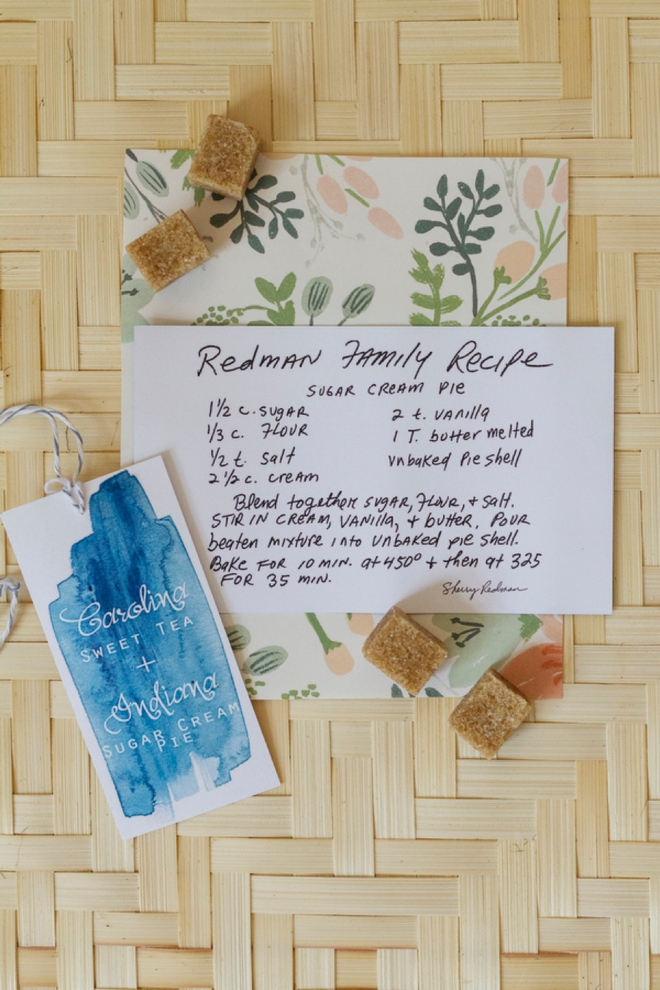 What is your favorite wedding day memory?
Other than marrying the guy of my dreams?!?
For our wedding weekend, Andrew and I rented a beach house along with our wedding party. The morning of our wedding everyone was buzzing about the house, ironing suits and dresses, making mimosas, playing music, laughing, crying, eating and getting ready together. I loved that. Our friends are such a part of our tribe and in many ways that morning was the calm before the storm. It was really meaningful for us to be surrounded by not only our love for each other, but for our close friends as well. It was the perfect reminder on what really matters in life, love.
What did you DIY for your wedding?
We did a lot! I never was the girl day dreaming about her wedding throughout childhood, with grand ideas on a dress or a venue or how everything would go. So, when I found myself engaged and planning a wedding I took a laid back approach. I started browsing magazines, blogs, and Pinterest (of course) I found so many fun ideas that I could tackle myself! Andrew and I designed our save the date cards along with our invitations and programs for the ceremony. I had a lot of fun finding the perfect font, and mixing and matching materials to create an expression of us together. I screen printed canvas flags for our guests to wave after we were announced that said, "YAY" which were quite the crowd pleaser! During our planning, we also wanted to mix elements of where we came from. Andrew is from Indiana, so we had his family collect geodes from his hometown to send to my dad, and he incorporated them into candlesticks that were displayed on all the tables. We made our wedding favors that hit on our love of sugar, combining Charleston tea bags and raw sugar with a Redman family recipe for sugar cream pie, Indiana's state pie.
The day before our wedding we had our friends meet us at the venue to arrange flower's for the space, we set up the tables and furniture, and mixed in heirloom pieces from my Grandmother's family. Because we were so involved with each detail, everything had a special story to associate with it. We had a lot of fun making our wedding an expression of who we are!
Something old, new, borrowed and blue?
Yes! Borrowed = My bridesmaid Chelsea's sash. Blue = My Grammy's sapphire ring. Old = My great, great grandmother's diamond and sapphire pin that I put on bouquet. New = Earrings (made by Dee Ruel).
Any advice for brides currently in the planning process?
Have fun! I know, that's what everyone says once it's over, but it's true. This is such a special time, so enjoy it! Start early if you are planning on making a lot of the details yourself, and remain agile if things don't work out the way you thought, in the end it probably doesn't matter. The last bit of advice is something a friend of mine said before we got on a plane to South Carolina, "Experience the day of your wedding together with your groom as a team. When you look back and remember your story, you'll want to remember it together." – Rachel, the bride
Event Credits
Photographer: Gillian Ellis Photography // Ceremony: Hampton Park // Reception: Upstairs at Midtown // Florist: Tiger Lily // Catering: Salthouse // Cake: WildFlour Pastry // Dress: BHLDN // Shoes: Target // Earrings: Dee Ruel // Brides rings: Nixin // Grooms suit: Brooks Brothers // Bow Tie: Knotty Tie // Ring: Derek Ralat // Hair: Kelly Hylton // Makeup: Elise Hyer
No related posts found.