"There are days as a photographer where I have "pinch me!" moments. Rebekah and Kevin's engagement session had so many of those! Not only did I get to ride in a hot air balloon (bucket list!!) but I was absolutely honored to be documenting the love of some of the most contagiously happy people ever. Their session started in a vintage ice cream parlor, followed by a walk through the historic city of Easton with balloons spelling out "love" and red heart-shaped umbrellas overhead. Even a little rain couldn't dampen the spirits of these two love birds. We wrapped up to their session at a hot air balloon festival where they got to dance around inside a partially-inflated balloon and go up for a ride after dark. Rebekah did such an incredible job dreaming up such a beautiful shoot and she tied it all together perfectly with the styling! Enjoy! " – Joy Michelle Photography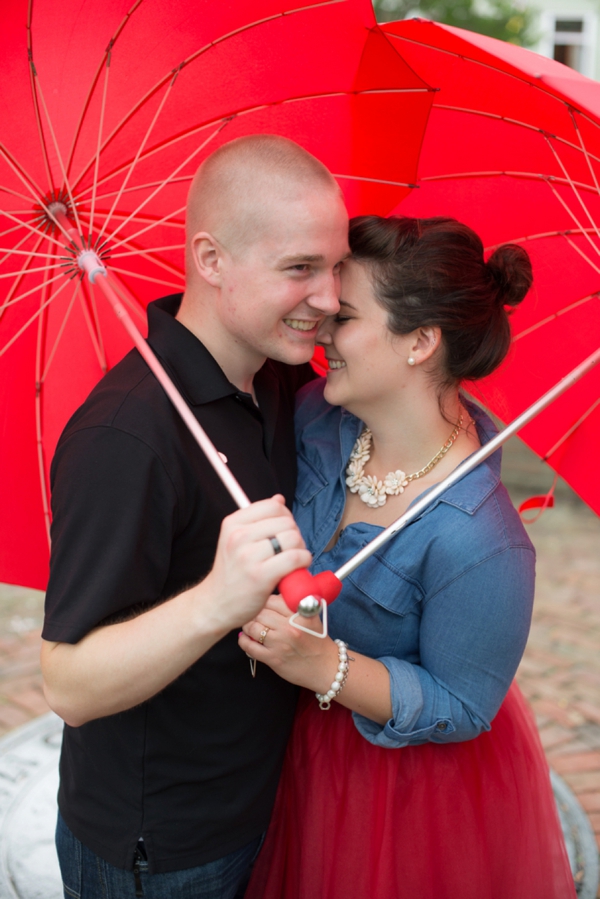 How did you find your photographer?
We actually went to high school together! I'm obsessed with pictures, which is obnoxiously obvious if you look at any of my social media so I knew I needed a special photographer for my most special day! Kevin and I were talking about photographers before we got engaged and I was raving about Joy Michelle to him! Little did I know he would store that info away later and use joy as the photographer to capture the moment he actually proposed!
What are you DIY-ing for your wedding?
For my wedding I am DIY-ing 2 marque signs, both the word 'love' one is a little over 3 ft tall and the other is a little over 1 ft. I am also making my archway with reclaimed columns from an old house. I am making 4-5 ft boxwood covered letters and some other special details for my day!
What are you looking forward to the most?
Our first look! I cannot wait to have a special moment with my husband and it just be us! I cannot wait to see the pictures capturing my most special moments! There will be a few surprises to be captured in those moments too! – Rebekah
Event Credits
Photographer: Joy Michelle Photography // Tulle Skirt: Sweetpea & Buttercup via Etsy // Ring: Family heirloom // Ice Cream Parlor: Olde Towne Creamery