"It was a rainy day in Chattanooga, but a little (or a lot) of rain never hurts for your wedding day, after all isn't is good luck? I adored this wedding from start to finish – even the part of driving the golf cart around the community in the storm. Her wedding dress was beautifully designed and completed with cowboy boots. I could get lost in the fall colors of her bouquet. The love and sincerity this couple share is breathtaking. I am absolutely honored to have captured this heartfelt wedding." – Jewels Photography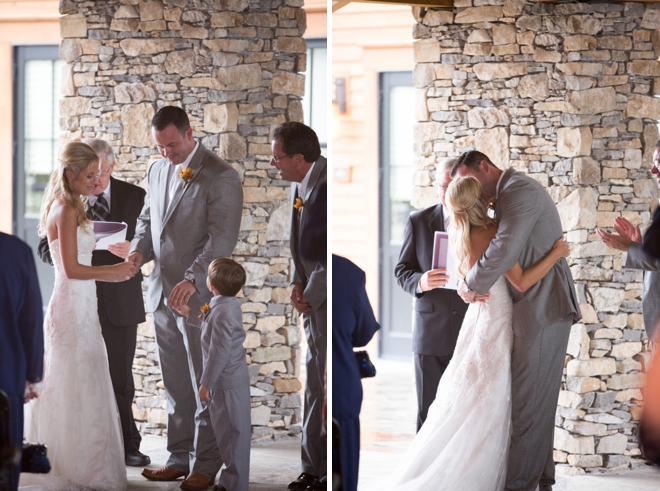 What is your favorite wedding day memory?
Our favorite memory was our first look! We have such a deep level of love for each other and the first look just solidified our feelings for each and the reason why we were getting married.
What did you DIY for your wedding?
We made our signs of wooden arrows that had our names, date, and wedding and/or reception in order to guide guests to our location and add a creative touch to our big day. We also made a "directory" like pallet… we took an old wood pallet used normally for stacking freight and used each piece to direct guests where all the festivities of the event were. Third, we made a "S'MORE LOVE" sign to go above our s'mores station. 4th, we made our own wine labels making each wine bottle unique for our event. 5th, we made our "guestbook" a print that had the state of tennessee on it and had guests sign it instead. 6th, we made and personalized mason jars with burlap and velvet letters and filled with moonshine for the groomsmen. 7th, we personalized flasks for the groomsmen. 8th, we took mason jars and made burlap bows around them for the vases of flowers to serve as centerpieces for the reception tables. 9th, we did all of our own planning. 10th, we personalized totes for the groomsmen. 11th, we personalized our rehearsal dinner menus to say our names and date. 12th, we used sparklers for the guests and a chalkboard in which we wrote "let love sparkle" beside them to use as our send off for the night. 13th, we made a slideshow of pictures of us throughout our time together and had it play throughout the reception. 14th, we incorporated our BRIDE and GROOM shades we got at a bridal show for a couple pics taken by Julie Crawford. 15th, we arranged our own flowers for the centerpieces on the tables for the reception.
Something old, new, borrowed and blue?
I had a NEW wedding dress :). I had OLD shoes (cowboy boots in fact). I BORROWED some pearl earrings from my sister.
Any advice for brides currently in the planning process?
I would suggest not trying to plan everything at once. Take it in stride and be on the same page with your fiancé throughout. Include the most important people in the planning process and do not try to please everyone because it's impossible and stressful. Remain true to yourself, as the event will be much better that way and memorable as a result. Try to make the planning as fun as possible, whether that means taking along your fiancé, friends, family or narrow your selections of vendors before you get overwhelmed. Finally, do not let it consume you all day everyday because then you lose focus on other important things in your life. – Rachel, the bride
Event Credits
Photographer: Jewels Photography // Venue and catering: The Club at Black Creek Mountain // Bouquet Florist: Flowers by Tami // Cake: Publix // Officiant: Anthony Sargent (Fresh Fields Ministry) // DJ: Sound Force // Dress: White Lace and Promises // Hair: Kristi Dickson at Hair Benders // Makeup: Criss Skinner at Hair A Go Go // Bridesmaids Dresses: David's Bridal // Men's Attire: Men's Wearhouse // Decor, signs, guestbook, reception flowers and more: DIY-ed by the bride and her family
No related posts found.