"Rebecca and Mitchell, got married at Roaring Camp Railroads in Felton, California. The sun was shining, the birds were chirping and yes, the train whistles were blowing! It was such a unique place to get married and all the details she incorporated made it so much more special. It was the most "DIY" wedding I've ever shot. She designed the table layouts, the menus, the flowers, her own brooch bouquet and she even wrote an original song for her husband that they did their first dance to! Honestly, the list goes on. Rebecca had a way of saving money, but still making the day look very stylish. If you're a crafty bride on a budget, this is the wedding to study." – Briana Calderon Photography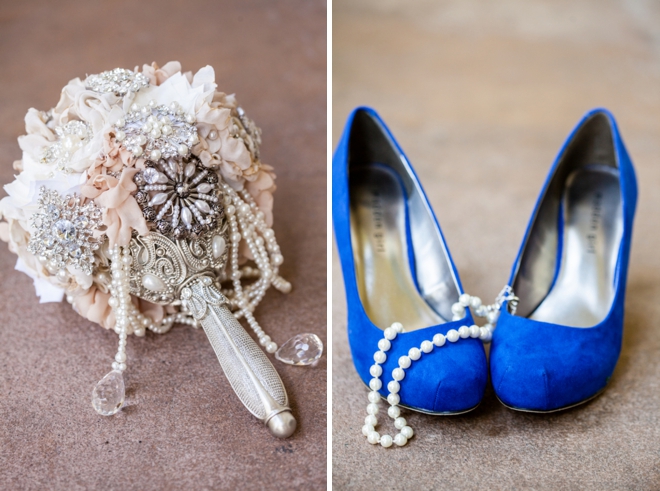 What is your favorite wedding day memory?
I'm not sure if I have a favorite part from my wedding, but some memories stand out more than others. I dated my [now] husband for over six years prior to the wedding. We were so used to being together, that the finality of getting married didn't hit me until I was at the venue, alone in a room, staring at myself in the mirror. The six months of planning and doing everything myself had become routine, all for THIS day. I couldn't look at myself without crying. Suddenly, the idea of the wedding actually became real.
I also enjoyed the speeches. It felt like we were getting roasted because we were so awesome. Tons of kind words and affection from our family and friends. My father started it off, basically saying that Mitchell is going to have his hands full and he's happy he is now a part of our family. My matron of honor (and sister) followed with a joke that had everyone laughing and cousins from the audience yelling their comebacks, my maid of honor (and cousin) said such sweet things that now I really have to plan for her wedding! And my best friend who knows my relationship with my [now] husband the best, gave her reasons for why she gave me different nicknames and how each one of them makes us perfect for each other. The best man gave a nice speech, my brother said a few words, and the other groomsmen said things as well (one a little too intoxicated to be coherent, and another forgot my dad's name). It definitely didn't go as planned, but it was my wedding, and it was one of the times I felt no stress, only joy.
What did you DIY for your wedding?
Aside from creating the save the dates, invitations and rsvp cards, I did all of the decorations for my wedding, with a little help from my family. I cut burlap circles for tablecloths to counter the lace tablecloths for the opposite tables, I made a monogram with burlap, lace, shotgun shells, and camouflage – a mix that is us. I made the kids books, signs, labels, photo handouts, and menu. I also wrote and sang the song that we had our first dance to (shhh, it was a surprise). The flower arrangements for the tables, and the bridesmaid's bouquets were made at a wholesaler near my home with the help from some of my bridesmaids, my new cousin (basically an honorary bridesmaid), and my mom. I wanted something to pass down, and since I wasn't sure what quality my dress would be or how big/small my future family would be, I decided to make my own bouquet with fabric flowers (some I made) and broaches. I also added pearls and glass beads to make it more dramatic.
It took a lot of sleep depravation, but I knew my decor turned out the way I wanted. A lot of it is getting put into our house. Taking the time to do it yourself is especially worth it if you plan on saving anything. It alos makes for easy conversation starters!
Something old, new, borrowed and blue?
Yes! I had old, new, borrowed, and blue, I even had a sixpence for my shoe, but we couldn't find it. My old and borrowed was a pin that was made for my great grandmother, it had pearls and fit perfect as an addition to my bouquet. I also wore a ring that used to be my grandmother's. My new was my dress. I bought it online, not thinking it would look as nice as it did. My blue was mainly my shoes… I also bought earrings and a necklace with a blue stone at the last minute, they fit in perfectly!
Any advice for brides currently in the planning process?
It's really nice having everything done yourself and to your own standards. DIY all you want, but remember that the day is a party in your (and your husband's) honor, have someone else set everything up and coordinating the events of the day, someone outside your immediate family. It goes by so much faster than you think, and it's just gone. Make sure you get a chance to really enjoy it. – Rebecca, the bride
Event Credits
Photographer: Briana Calderon Photography // Venue and catering: Roaring Camp Railroad // Officiant: Martin (a friend) // All event design and wedding planning: All DIY-ed by the bride // Dress: DHgate.com // Shoes: Madden Girl // Hair and makeup: Bride's sister // Bridesmaid dresses: by each girls choice // Men's attire: Mens Warehouse // Guest book: Photobooth
No related posts found.