"I knew we were going to be shooting outside in the mountains surrounded by thousands of gold trees. I wanted to bring in some sort of element that would allow me to utilize the natural gold color palette of the aspen trees so I decided to work with reflective surfaces for my table tops. I selected a mirrored dining table and paired it with a matching sofa table from ZGallerie. In addition, I selected a secondary color pallet inspired by a simple fig to offset the richness of the gold hues. The textures of this shoot are rich with nature-inspired elements that complimented the intricate patterns and textures of the place mats and flatware at each place setting of this regal dining table…
The paper suite stole my heart! Moira Design Studio produced a custom watercolor design per my request and I just can't get over how beautiful the gold calligraphy of the menus, name tags, and more turned out. I wanted simple yet elegant and I am thrilled with how these delicate paper pieces tied in the overall theme of this shoot. I couldn't decide on just one cake for this shoot so my cake designer, Cake-A-Licious indulged me with three, individual cakes. Each a work of art. From the simplicity of the naked cake adorned with figs, to the sugar spun cake and an amazing metallic gold and white cake, who wouldn't want to dive in and have a feast of yummy, sugary goodness?!
There's a wide variety of texture throughout the fashion elements of this shoot also. The rich pattern on the brides dress works nicely with the soft and flowing chiffon of the maids. Each bouquet is bursting with various textures of blooms and berries that add to the richness of the season and compliments what the girls are wearing." – Michelle Leo Events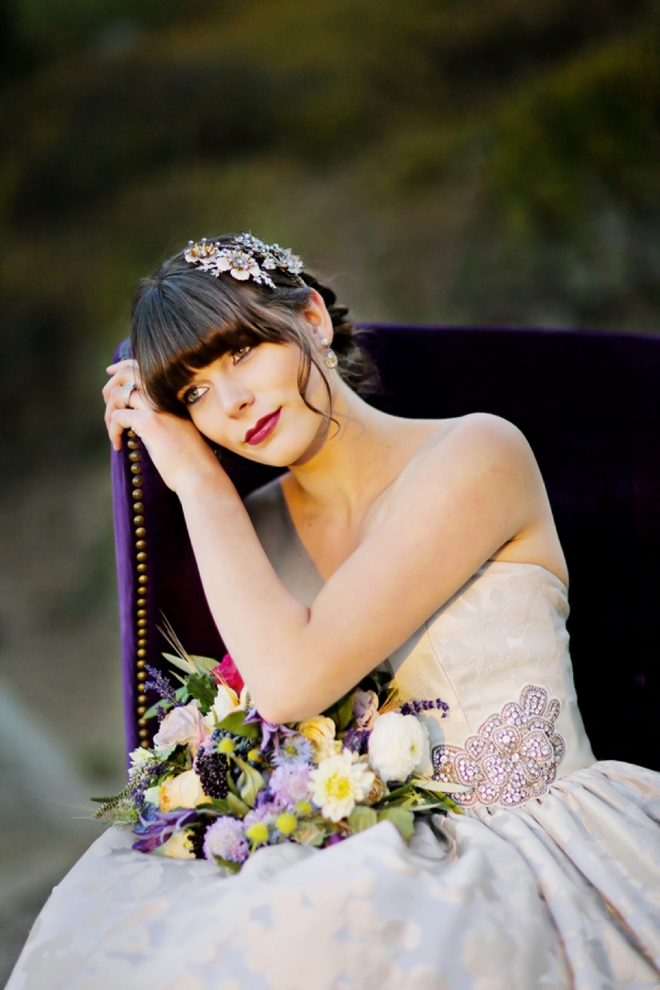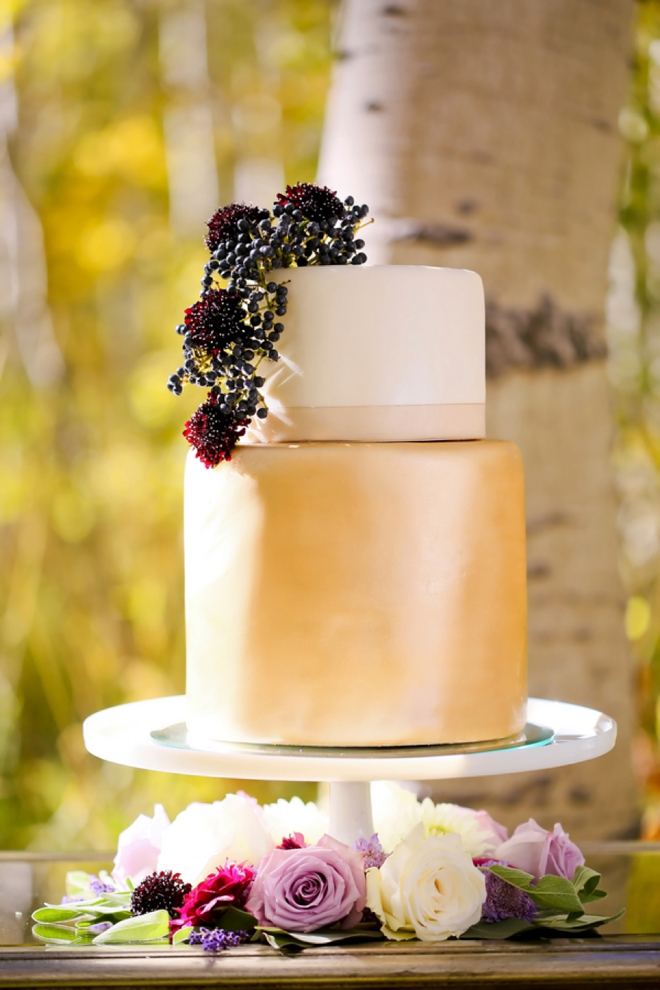 Shoot Credits
Photographer: Pepper Nix // Event Coordinator and Designer: Michelle Leo Events // Venue: Camp Cloud Rim // Makeup: Kristen Packard // Cake: Cake-A-Licious // Caterer: Brown Brothers Catering // Cinematography: Chris McClain Productions // Dress Shop, Jewelry & Veil or Hair Accessories: Alta Moda Bridal // Dress Designer: Modern Trousseau // Flowers: Blooms and Blossoms // Stationery: Moira Design Studio // Props: ZGallerie // Vintage couches and chairs: Big Day Vintage Rental // Bridesmaid Dresses: Amsale and Ivy & Aster, from Lily & Iris // Hair: Ashleigh Barlow & Taylor Packard
No related posts found.